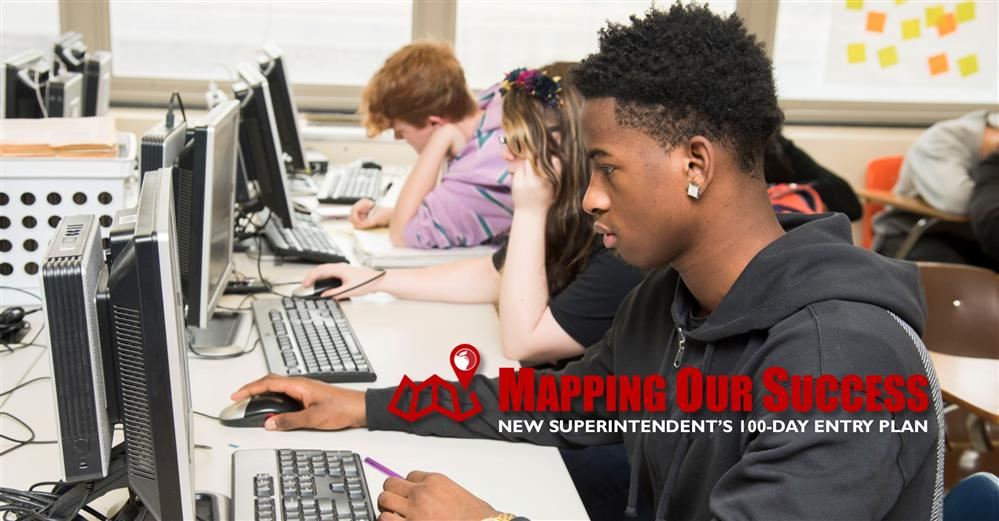 Mapping Our Success - 100 Day Entry Plan
On March 4, 2019, Columbus City Schools and the Columbus Board of Education welcomed Dr. Talisa Dixon as the 21st Superintendent and Chief Executive Officer of Ohio's largest school district. Starting on her first day, she launched the "Mapping our Success 100 Day Entry Plan" to spotlight the first 100 days of her administration and to emphasize an extensive outreach effort to hear from stakeholders - students, staff, families, partners, and community - about the future of the District. She officially wrapped up her 100 days on June 11 and with a report to the Board of Education on June 18.

"Mapping our Success" recognizes that the District's 110 schools are each filled with successes and with challenges. You can have plenty of both, and often one in spite of the other. It's important to understand exactly where the District stands on both in order to build up our students' academic successes and break down the non-academic challenges they continue to face. This understanding is even more so important given the District's "F" grade on the Ohio Department of Education's 2018 Local Report Card for Columbus and the subsequent threat of a state takeover if that grade does not change by the end of the 2019-2020 school year.

Over the first 100 days, Dr. Dixon visited classrooms and interacted with thousands of students across dozens of schools. She heard directly from building principals, teachers, and classified staff. A series of Community Exchange meetings provided families and community stakeholders with an opportunity to meet personally with Dr. Dixon, hear about successful neighborhood partnerships in action, and ask pressing questions about our schools. She brought together several of Columbus' non-profit and public partners to gain insight and information on the services these organizations provide in support of our students and their families. And she met one-on-one with leaders and elected officials at the local, state, and national levels.

Below are some of the highlights of the "Mapping our Success 100 Day Entry Plan."
Starting on the First Day
Dr. Talisa Dixon's first official day as Superintendent of Ohio's largest school district set the tone for the style of hands-on, high-impact engagement and interaction that would fill her first 100 days and the efforts behind "Mapping our Success" in Columbus City Schools.

On March 4, Dr. Dixon started this new chapter in our District's history in the place where the greatest impact on its future could be had: in the classroom with our students and teachers. She visited two of the District's priority elementary schools to see academics in action, with stops at Watkins, Trevitt, and Beatty Park Elementary schools. She also dedicated time to meet with and hear directly from student representatives from all 21 of our District's high schools (through the successful Student Ambassador program).

Her first day included open conversations with members of the classified instructional support staff and with members of the District's senior leadership. She had an opportunity to share updates with members of the local news media who joined her on her school tours. And she spent important time meeting State Superintendent of Education Paolo DeMaria (which included lunch with students at Trevitt Elementary) and with Columbus Mayor Andrew Ginther.

Capping off Dr. Dixon's first day, St Stephen's Community House - a long-time and highly-valued partner of the District in the Linden community - hosted the first Community Exchange. More than 100 people attended this open forum to meet and interact with the new Superintendent, who shared in her opening comments: "The future of our District isn't just about me. It isn't just about the work of our teachers and principals. It's not just about the help of the Mayor, and it surely isn't going to be found only from the State. The future success of Columbus City Schools is going to rely on ALL of our community stepping up, speaking out, and rallying behind us."
School Explorations
Work in the classroom is at the heart of our mission every day. Over the first 100 days, Dr. Dixon visited nearly a third of our District's schools to hear directly from students, teachers, and staff. These visits included pre-arranged tours (often led by students), academic showcases and extra-curricular events, and special classroom interactions, such as reading to students in elementary classes.

More than just a quick tour, Dr. Dixon's pre-arranged School Explorations included longer classroom observations, so she could see academics in action. That included teachers and administrators providing examples of our Academic Surge efforts and the Level Up initiative aimed at giving students stronger reading and math skills in specific curriculum areas that state tests revealed a need for added support.

During those first three months, the new Superintendent saw examples of classrooms where young people were engaged in their learning, teachers created spaces that encourage interaction, and desks were only one of the places where students learn. She also witnessed buildings with strained physical conditions, classrooms with few students or academic expectations, and limited year-to-year growth in performance.
Community Exchanges
Starting on her first day, Dr. Dixon made clear her commitment to hearing from the full Columbus community, noting that the future of our District would rely on all of the city supporting our mission. A series of five Community Exchanges were designed to give families, neighborhood partners, and community stakeholders an opportunity to meet personally with Dr. Dixon, hear about some of the successful community partnerships currently active in our schools, and share concerns and valuable feedback about the issues they saw as most pressing for our schools.

These Community Exchanges were hosted by many of the District's dedicated community partners and non-profit service providers, including St. Stephen's Community House, Southside STAY and the South Side Area Commission, Clintonville Go Public and the Weinland Park Area Commission, Westside Urban Ministry, and the King Arts Complex, leading African-American fraternities, and Franklin County's youth mentoring program.

Hundreds of community members attended, in all, with questions ranging from wraparound services for students and families, improved safety and climate in our buildings, adequate staffing levels, higher graduation rates, greater engagement of parents and families, and a continued commitment to providing quality Special Education, Gifted programming, and English as a Second Language services for our New Americans.
Direct Student Chats
Feedback from our primary customer is always important, and Dr. Dixon was intentional about spending quality time listening to as many of our nearly 51,000 students as possible. Throughout the first 100 days, she had numerous direct conversations with many of our students and student-led groups, either as part of school visits, speaking engagements, or building-based events. At every grade level, young people are never shy about sharing their true thoughts and opinions.

High school students were especially insightful, including the opinions shared by members of the Student Ambassador program, which features at least two student representatives from each of the District's 21 high schools. Repeatedly, student shared their frustrations on limited curricular options, strained building conditions, and safety concerns inside schools and out in their neighborhoods.

During the 100 days, Dr. Dixon met young people who represent the District's best outcomes: student recognized for their long hours of community service, middle schoolers who learned life-saving techniques from first responders, scholars athletes who prevailed as State Champions, young women who served as role models for younger girls, graduating seniors who netted some of the more than $61 million in scholarships and grants earned by the Class of 2019, and young actors, actresses, singers, and performers who received well-deserved standing ovations.
Partner Roundtables
Columbus City Schools is fortunate to have an extensive number of non-profit and public partnering organizations who aid in our efforts to support our students and their families. Their services are an invaluable resource and often assist students in ways the District cannot. As noted often by Dr. Dixon, "we can't do it all, and we surely cannot do it alone." These partners are dedicated to a wide-range of services and assistance: pre-Kindergarten access and grade-level reading in our elementary schools, near-peer mentoring and improved attendance in our middle schools, collegiate-level coursework and career training in our high schools, college access and affordability after graduation, increased safety in all of our schools, help to families who are homeless or face food scarcity, health services for students without primary care physicians, support and growth of alternative discipline and school-culture training, and improved service to our exceptionalities.

During the first 100 days, Dr. Dixon met individually with many of the District's largest partners or brought together key partners and vendors who work in similar areas. These meetings provided an opportunity to gain insight and information on the services they provide. As she discovered, many of these partners have long histories with the District and impressive data to show the success of their efforts. Some are funded directly with District dollars; others operate on outside resources or other public funding.

In some cases, clearly-defined expectations and agreements were in place; in far too many others, there were not. While many partners have demonstrative data in fulfilling their own goals, their successes were not always aligned or representative of meeting the District's greater mission. In every meeting, it was agreed that by working closer together, both the District and these organizations could find ways to best maximize these partnerships.

ENGAGING OUR ELECTED LEADERS

The District's partnerships with elected leaders and appointed officials serve very unique roles, from oversight and rulemaking to funding and resource development… and often with politics playing some impact. From the start of her 100 days, Dr. Dixon fully recognized that the District's future depends on having open and productive conversations with all of the public offices - local, state, and federal - who have a jurisdiction over some or all of our District's operations.

Dr. Dixon began her first 100 days meeting with two of those partners who perhaps have the most potential for impact: Dr. Paolo DeMaria, State Superintendent of Education and head of the Ohio Department of Education (lead oversight agency over all schools in the state), and Columbus Mayor Andrew Ginther, who has fulfilled pledges to provide resources and support to the District including funding for expanded pre-Kindergarten, additional safety forces, and increased coordination with public improvements and recreational offerings.

Over the course of the first three months, Dr. Dixon also met with: representatives of Central Ohio's Congressional delegation and the U.S. Department of Education; the State Representatives and State Senators whose legislative districts include sections of Columbus City Schools and the leader of the Senate Education Committee; two of the three Franklin County Commissioners and the heads of Franklin County Job and Family Services and Franklin County Children Services; and the seven elected members of Columbus City Council, Mayor Ginther's Education liaison, the former and interim Chief of Police, and the directors of key city departments whose services benefit students, their families, and our District.
Gathering Feedback
TALKING WITH OUR TEAMS

In addition to having the largest number of students, Columbus City Schools also has the greatest number of caring, dedicated employees of any school district in the state, with more than 9,000 full-time and part-time employees - a combination of certificated, classified, and supervisory/administrative positions. On several occasions, Dr. Dixon met with specific "teams" of employees within the District, or she had opportunities to converse with groups of staff while visiting their schools or worksites - including classrooms, main offices, nurses' stations, cafeterias, buses, and administrative sites (such as the District's new Southland Center at 3700 South High Street).

More than simply "getting to know you" sessions, these conversations included frank dialogue about challenges and gaps that District employees felt impeded their abilities to provide the highest levels of service to our students and stakeholders. Often raised were concerns about a lack of full staffing (with shortages caused by past budget cuts), needs for newer or updated equipment or working environments, few opportunities for professional development geared toward specific job groups, and additional support in settings where workload is far higher.



LEARNING FROM BEST PRACTICES

The size of Columbus City Schools - it's large student population and employee count, expansive geography and number of schools, and diverse family and community service base - can make comparisons to other district in Ohio difficult. However, successful efforts in education should be scalable, and valuable insight can be gained by learning from the best practices found in districts of all sizes - including those who serve similar urban settings.

Before and during the first 100 days, Dr. Dixon recruited and mobilized an impressive team of education experts and school-leadership colleagues from across Ohio and with national credential. Valuable insights came from colleagues at the Educational Service Center of Central Ohio and leaders from some of Ohio's large urban school districts, including input from Eric Gordon, Chief Executive Officer of the Cleveland Metropolitan School District, and David James, Superintendent of Akron Public Schools.

Dr. Dixon also interacted with members of the Council of Great City Schools, a coalition of 74 of nation's largest urban public school systems; the Ohio 8 Alliance, a strategic coordination of the superintendents and teacher union presidents from Ohio's eight urban districts; and the Central Ohio Superintendents Association, comprised of all public school district superintendents in Delaware, Franklin, Union, Licking, Ross, and Madison counties.



REAFFIRMING OUR GOALS AND PRIORITIES

In the fall of 2018, the District's Interim Superintendent and leadership team finalized a Draft Five-Year Strategic Plan that reflected key academic, business, finance, accountability, outreach, legal, and government affairs operations. The plan, driven by data analysis and aligned to short- and long-term priorities of key departments, was designed to facilitate systemic planning and operational development.

An important component of the first 100 days, the Board of Education and its three direct reports - Superintendent, Treasurer, and Internal Auditor - devoted three days to a retreat-style conversation about the Board's expectations moving forward and whether the current goals and priorities (as outlined in the Draft Five Year Strategic Plan) were still aligned with those beliefs and expectancies.