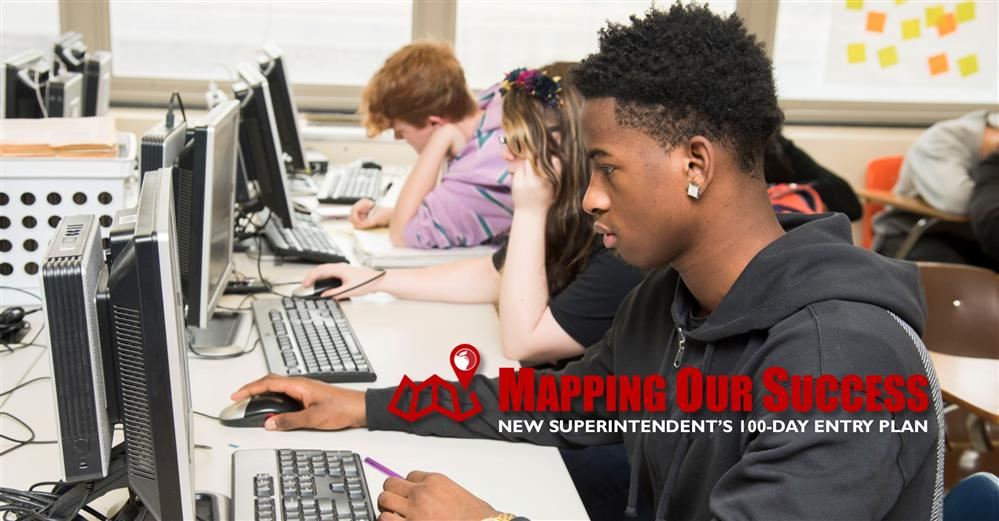 Mapping Our Success - 100 Day Entry Plan
Columbus City Schools welcomes Dr. Talisa Dixon, the 21st Superintendent/CEO of Ohio's largest school district. Starting on her first day on March 4, the District is launching the "Mapping our Success 100 Day Entry Plan" to spotlight her first 100 days in the District and emphasize her extensive outreach efforts to hear from our stakeholders - students, staff, families, partners, and community.

You're invited to join in the conversation and share your thoughts with Dr. Dixon on the future of Columbus City Schools. Below are just some of the activities taking place throughout her first 100 days. You can also email Dr. Dixon at sharewithdrdixon@columbus.k12.oh.us.
School Explorations
Work in the classroom is at the heart of our mission every day. Dr. Dixon is set to visit as many of our schools as possible to hear directly from students and staff. More than just a quick tour, these School Explorations will also include longer classroom observations, so Dr. Dixon can see our academics in action. That includes our Academic Surge effort and the Level Up initiative aimed at giving our students stronger skills in areas that state tests show a need for added support.

Her goal is to visit at least all of the District's Priority Schools (26 schools) to spotlight our focus on academic improvement and the State Report Card, the Career Centers (2) to spotlight job readiness at graduation, and the schools involved in our recent facilities discussions (7) including CAHS, Columbus North International, Dominion, and our immersion schools.
Community Exchanges
Dr. Dixon wants to hear from the community because the future of our District relies on all of us. We're setting up a series of Community Exchanges designed to give our families, neighborhood partners, and community stakeholders an opportunity to meet personally with Dr. Dixon, hear about some of our successful partnerships in action, and share valuable feedback about the future of our schools. These Community Exchanges will be hosted by many of the District's dedicated community partners and non-profit service providers.

Check back throughout the 100 days to learn about upcoming Community Exchanges. Most of these events will be in the evening hours and will prominently feature opportunities for public questions and comments.

UPCOMING COMMUNITY EXCHANGES

May 22 - Hosted by West Side Urban Ministry and Hoge Memorial Presbyterian Church (Hoge Memorial Presbyterian Church, 2930 W. Broad St., 5:30 - 7:00 p.m.)
Direct Student Chats
Feedback from our primary customer is always important. Dr. Dixon is looking forward to hearing from as many of our nearly 51,000 students as possible. Throughout these first 100 days, we will encourage and spotlight opportunities for Dr. Dixon to have direct conversations with many of our student groups, either as part of school visits, speaking engagements, and building-based events.
Partner Roundtables
Columbus City Schools is fortunate to have an extensive number of non-profit and public partners who aid in our efforts to support our students and their families. During these first 100 days, we will bring together key partners/vendors who work in similar areas to provide Dr. Dixon with insight and information on the services they provide. As part of the "round table discussions," we'll also try to identify overlaps and gaps in service so that we can best maximize these partnerships.
Sharing Your Feedback
There will be several additional opportunities for you to share your insights and thoughts with Dr. Dixon.

TEAM TALKS

Columbus City Schools has the largest number of caring, dedicated employees of any school district in the state. We'll will focus on setting up times with specific "teams" within the District and create opportunities for Dr. Dixon to visit worksites and hear from representative groups of different offices/divisions/bargaining units.

#MAPPINGOURSUCCESS

We plan to spotlight and track all of these activities on social media, using the hashtag #MappingOurSuccess or #SpiritofCCS, and through our Columbus City Schools Mobile App. Make sure to check back.