Return to Headlines
Safety and Security Officer Willie Campbell Serves as a Neighbor for Students and Families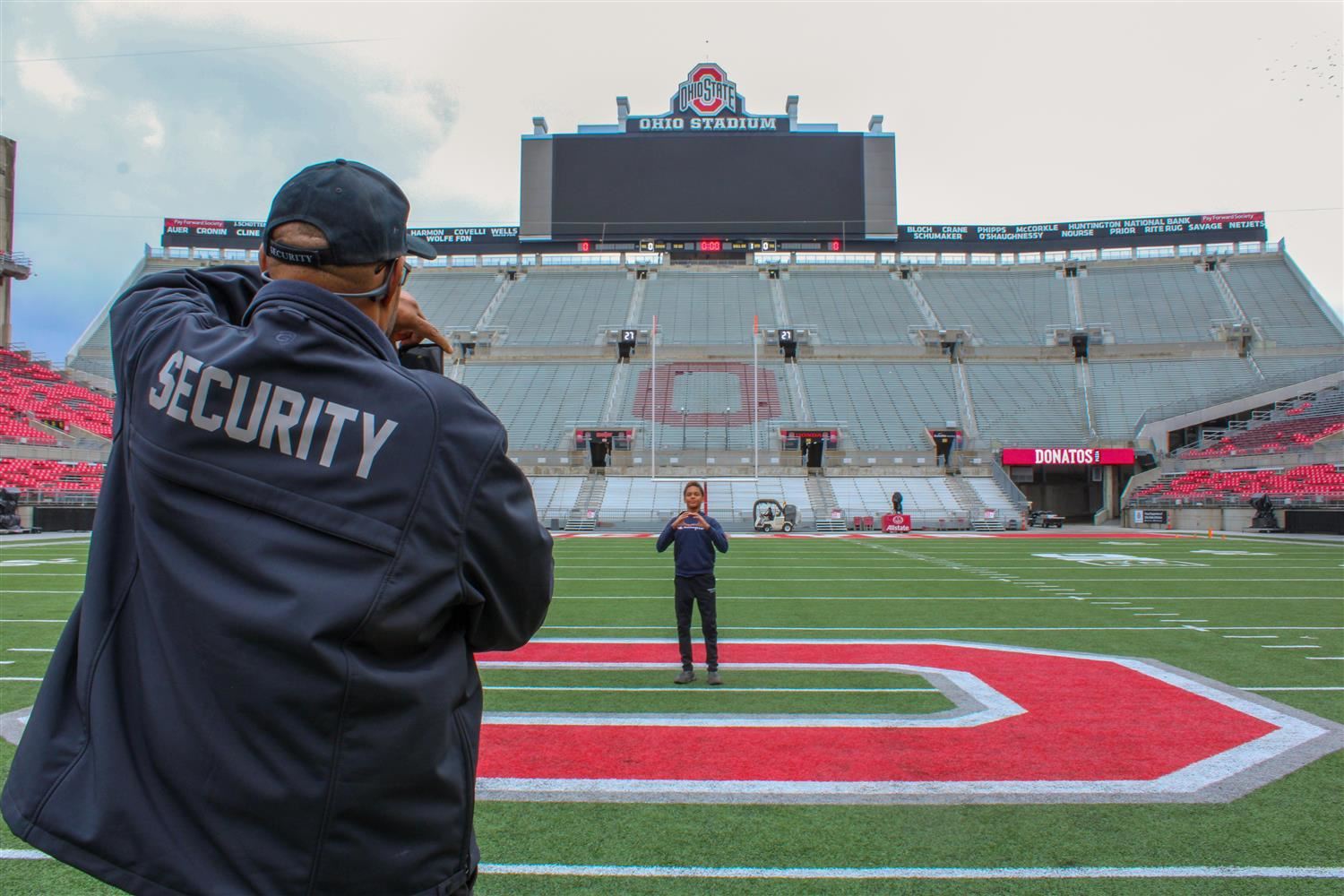 October 24,2023 - Willie Campbell will be the first to tell you he's not a role model, though his colleagues across the District are quick to disagree. Campbell, a safety and security officer at Wedgewood Middle School, has another title he prefers to describe himself.
"Most of the students here call me dad or uncle," Campbell said. "I put myself as part of the neighborhood, not a role model. I'm part of the neighborhood no matter where I go."
Campbell has a long history of working as a safety and security officer. He started 25 years ago and has been at Wedgewood since 2015. He's worked hard to develop a sense of trust between himself and the Wedgewood students. Campbell said that work starts by getting to know the kids and learning about their lives outside school.
"I always greet the kids when they come in the doors. It's something that they may not hear often," Campbell said. "In order to help the kids, you need to know where they come from. You never know what happened to these kids the night before."
Despite what students face outside of Wedgewood, Campbell ensures they feel comfortable at school. Principal William Doermann said Campbell develops strong relationships with students and makes them feel safe.
"Sometimes you'll see him playing small jokes on the students like tapping them on the shoulder - little things to help relax them," Doermann said. "Trust is everything to these kids, and they trust him."
Campbell refers to the students as his kids, and just like a parent with their child, he wants to ensure the students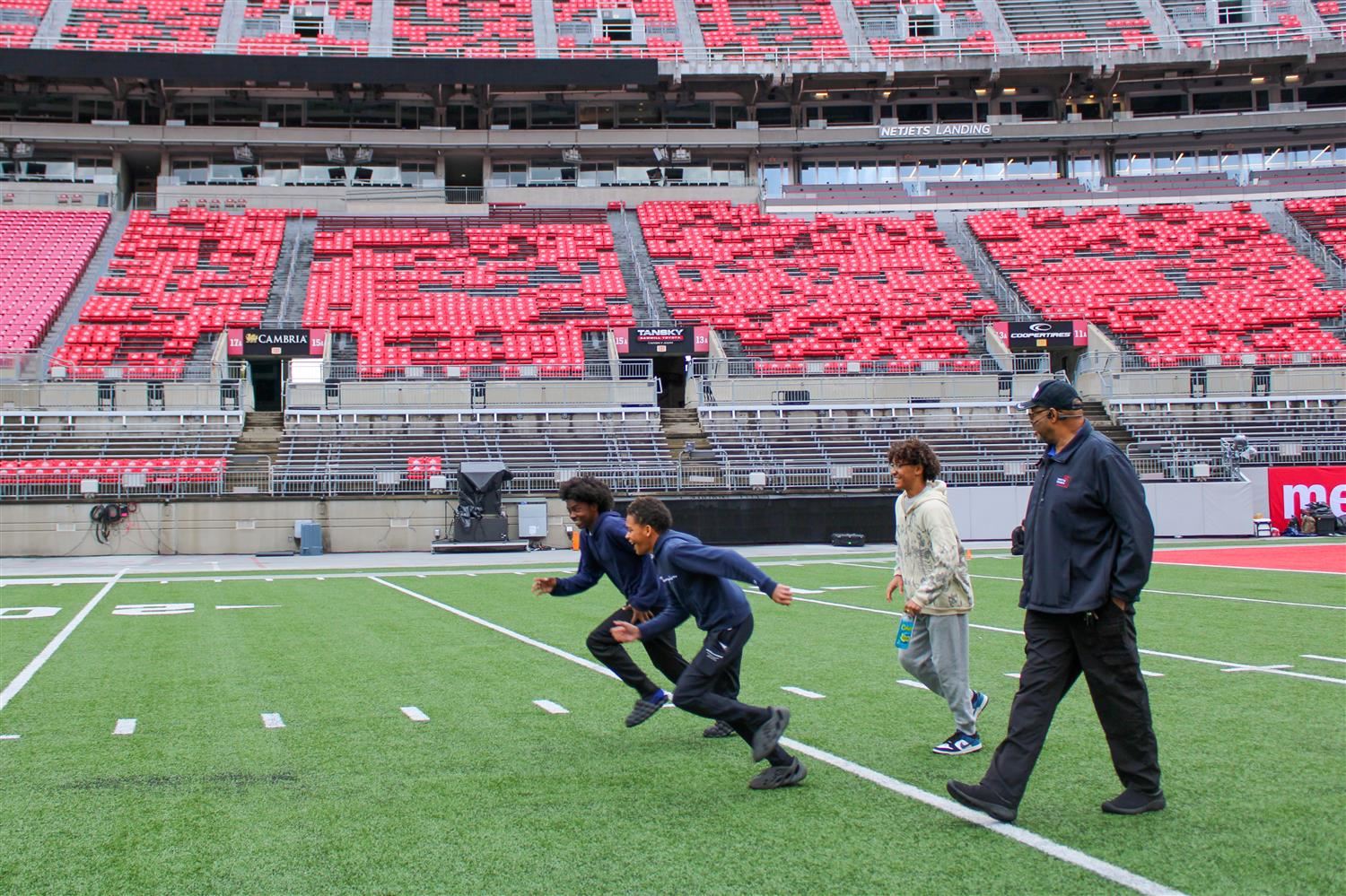 have access to learning and leadership opportunities.
As part of that commitment, Campbell regularly takes groups of students to visit The Ohio State University's football stadium. While at the stadium, also known as 'The Shoe,' students visited what many fans can only see from afar. They had the opportunity to walk on the field, putting their feet on the ground where some of the best football players in the country have played.
For Tyrell Williams, an eighth grade student at Wedgewood, the visit marked an exciting milestone – his first time touching turf.
"It didn't feel like grass," Williams laughed. "Being here, I don't know how to explain it. I feel honored."
Under Campbell's supervision, Williams and two other students sprinted towards the Buckeye endzone, imagining what it would be like to play on the field as part of the OSU football team.
At the end of the visit, Campbell captured a photo of the students standing on the legendary O in the center of the Ohio Stadium field. Students handed him their phones one by one, and he snapped pictures for them to show their friends and families.
"Mr. Campbell is a cool guy," Williams said. "He looks out for us. It's a good feeling to be around him."
It is moments like this that show Campbell's dedication to his students. According to Doermann, Campbell is not just a safety and security officer; he is an essential figure in the Wedgewood students' lives outside the classroom.
"After school, I'll often see him at sporting events even when he's not on-duty," Doermann said. "He's there working with the kids. He's always doing extra things, and the kids adore him."
The impact Campbell has on his students is not something that they forget. One morning, a mother dropped her student off at Wedgewood. Campbell's face lit up with recognition when he saw her; she was one of his former students earlier in his career when he worked at West High School.
The two of them reminisced, and Campbell was as he always strives to be seen: a neighbor. His impact continues to be appreciated and cherished throughout generations of Westside families.
"It takes a lot for people on the westside to trust you," Campbell said. "I've been here for a while, and I believe I am trusted. I always strive to be trusted and to fit in on this westside."
When Doermann began his principalship at Wedgewood, he was excited to learn Campbell would be in the building alongside him. He disagrees with Campbell's assessment that he's not a role model for students, and after working with him for years, he takes the descriptor a step further.
"He's a great role model not just for the kids, but also for other safety and security personnel," Doermann said. "He always has the student's interests best in mind and does an excellent job working with staff. He not only fits right into the culture and climate here at Wedgewood, but he helps create it."