Return to Headlines
Yorktown Students Design Buildings in STEM Related Project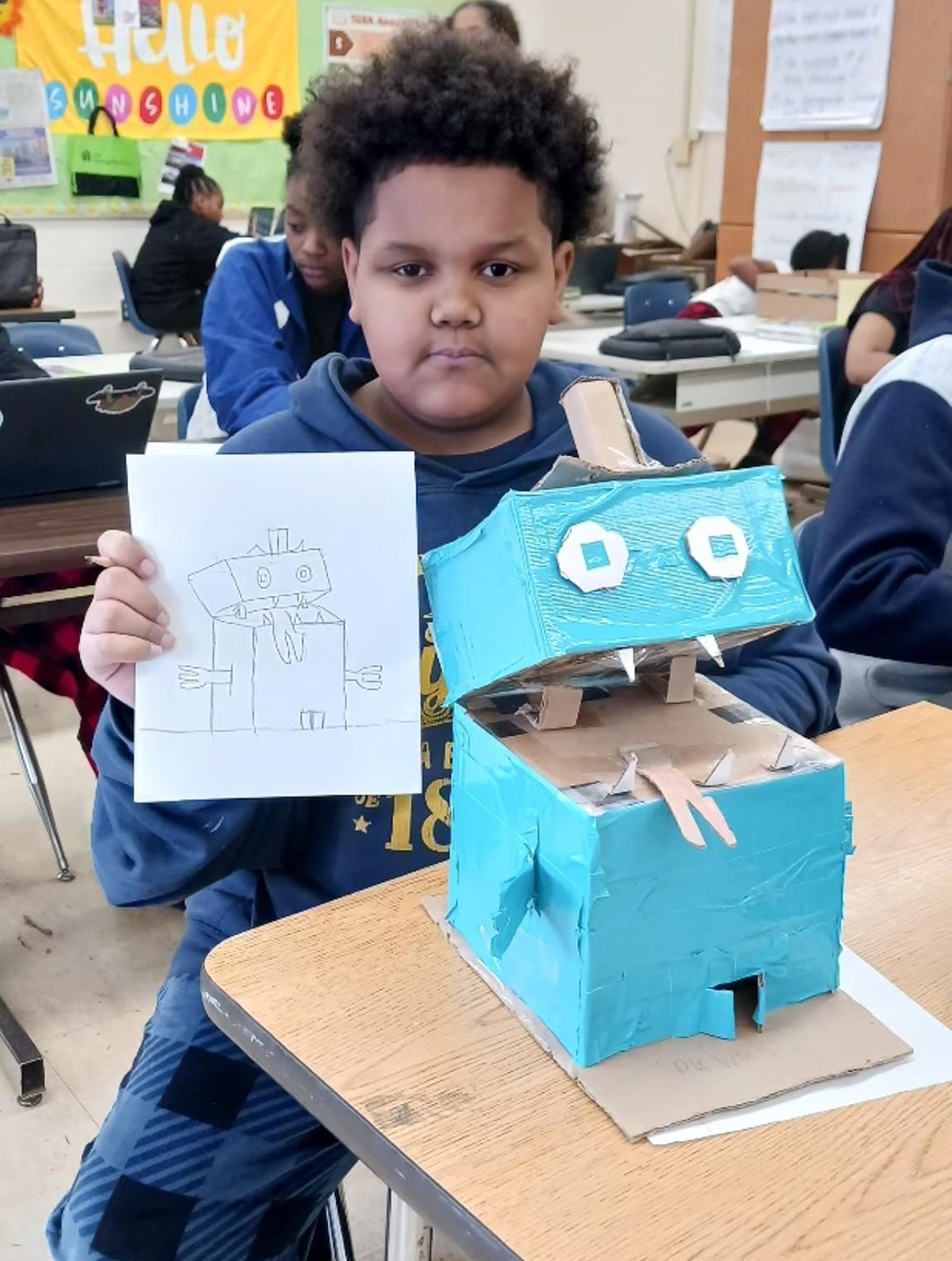 February 8, 2023 -- A teacher at Yorktown Middle School is pushing his students to think outside the box to design a building and better understand the career options available to them.
Darwyn Allen started working at Columbus City Schools with students at Yorktown this school year. As a new teacher focusing on Science, Technology, Engineering, and Mathematics (STEM), he wanted to understand what his students understood about STEM.
"The project came from a program in Florida. There's a program there called Black Architects in the Making, or BAM. Architecture is creativity, and engineering is solution and design," Allen said.
The project includes students creating their own building. Allen knew it would allow students to apply their STEM skills and think critically.
Students were asked to sketch any building they wanted to create and, through a six-step process, bring that building to life.
"In their science book, there's a six-step process a person has to know to solve a problem. Using that as a baseline, they have a building they designed and now they have to create it out of something," Allen said.
Students had to collect cardboard boxes, pizza boxes, and other items from their homes or community to create their buildings. Seventh grade student Alonna Long said she had to revise her building idea a few times before sticking with a structure she felt was strong enough.
"At first I was going to make an IBM computer building. But that's something I knew I wouldn't be able to put all that I can into it; because that's something that was before my time," Long said.
Long landed on constructing a television company building in the shape of a television. While she has many memories of watching TV, she explained that creating the model wasn't easy.
"It feels like I changed things 50 times. We did a paper model at first so you can see what you need to do for that, like what items you need and what adjustments and modifications you'll need to make," Long said.
Sebastian Coronado is in the same class as Long and said he was surprised at how long building his model took.
"I decided to make a hotel. The first one was made out of paper, and it took like two weeks to make that model. Because I was thinking about it at first, after thinking about it more and more, the first version I had wasn't the one for me," Coronado said.
Allen watched in the classroom as students made changes to their buildings but made an effort to avoid taking over their projects when they faced an obstacle.
"The hardest part for me was having the patience to sit back and watch them. So, instead I decided to model the behaviors for them that way I'm not doing anything for them. I started to create a building along with them. This way, I'm using my own creativity and I'm not implementing my creativity into them," Allen said.
Once the projects were finished, Allen invited Architecture Firm Moody and Nolan to the school to talk with students about how they turn those models into buildings used daily.
"We heard the architects say things like, 'Yes, I created this, and no this was not my original idea, but this is how it turned out because I am working for a client,' now in the student's case, the client is themselves," Allen said.
Yorktown Principal Roderick Watson stopped by to see the student's projects and hear their question-and-answer session with Moody and Nolan workers.
"Allen has gone way beyond what's been asked of him," Watson said. "It's all about exposure. Exposure allows students to see differently and when students have the opportunity to see differently, the trajectory of their lives can now change. They are more than equipt in regards to their talent and skills to become architects however, if they don't have the exposure, they have no idea to even go down that road."
Seventh grader Coronado has several years before he decides what his future holds. Still, he is already showing interest in the career following the project.
"I've thought about it, and I know it's an occupation which takes a lot and a long time to get into, but it's definitely something I do think about," Coronado said.
For Coronado's peer Alonna Long, architecture isn't something she's thought about before. She said the experience has helped her view her surroundings in a different way.
"I never knew about Moody and Nolan before. And I'll admit, I don't really like building because I have a problem with being impatient sometimes, but I like seeing this and how they've accomplished so much, it's inspiring," Long said.
Allen plans to keep the connection with Moody and Nolan with a possible field trip to their offices or a structure they've designed in Columbus later in the school year.
---