Return to Headlines
Columbus Global Academy and Columbus International High School Students Build Confidence, Friendships Through Harmony Project
September 26, 2022 -- Students from Columbus International High School and Columbus Global Academy filed into the Harmony Project's auditorium, hoping to build confidence, skills, and friendships through the new program.
They listened to Harmony Project Founder David Brown as he explained the next month's schedule. Students will learn the Lenny Kravitz song, "We Want Peace," and will come together to practice every other week. They are preparing for a performance in November, where they will build a giant peace symbol made of luminaria and sing alongside the Harmony Project's choir.
That's when the magic happened. About 50 students, evenly split between Columbus Global and Columbus International, brought the auditorium to life. They practiced the song for the first time, dancing and sometimes laughing as they sang the line, "We want peace, we want it, yes, we want peace, and we want it fast!"
The project is more than singing, however, and includes art and other projects throughout the rest of the school year. The Harmony Project is an arts and community service organization with the mission of building a more inclusive society. Stacey Wayt, director of volunteer engagement, programs, and special events for the Harmony Project, said the goal is to unite students through a common love of arts and music.
"It's about finding their similarities," Wayt said. "They can learn about each other and talk to each other and find their similarities instead of focusing on differences."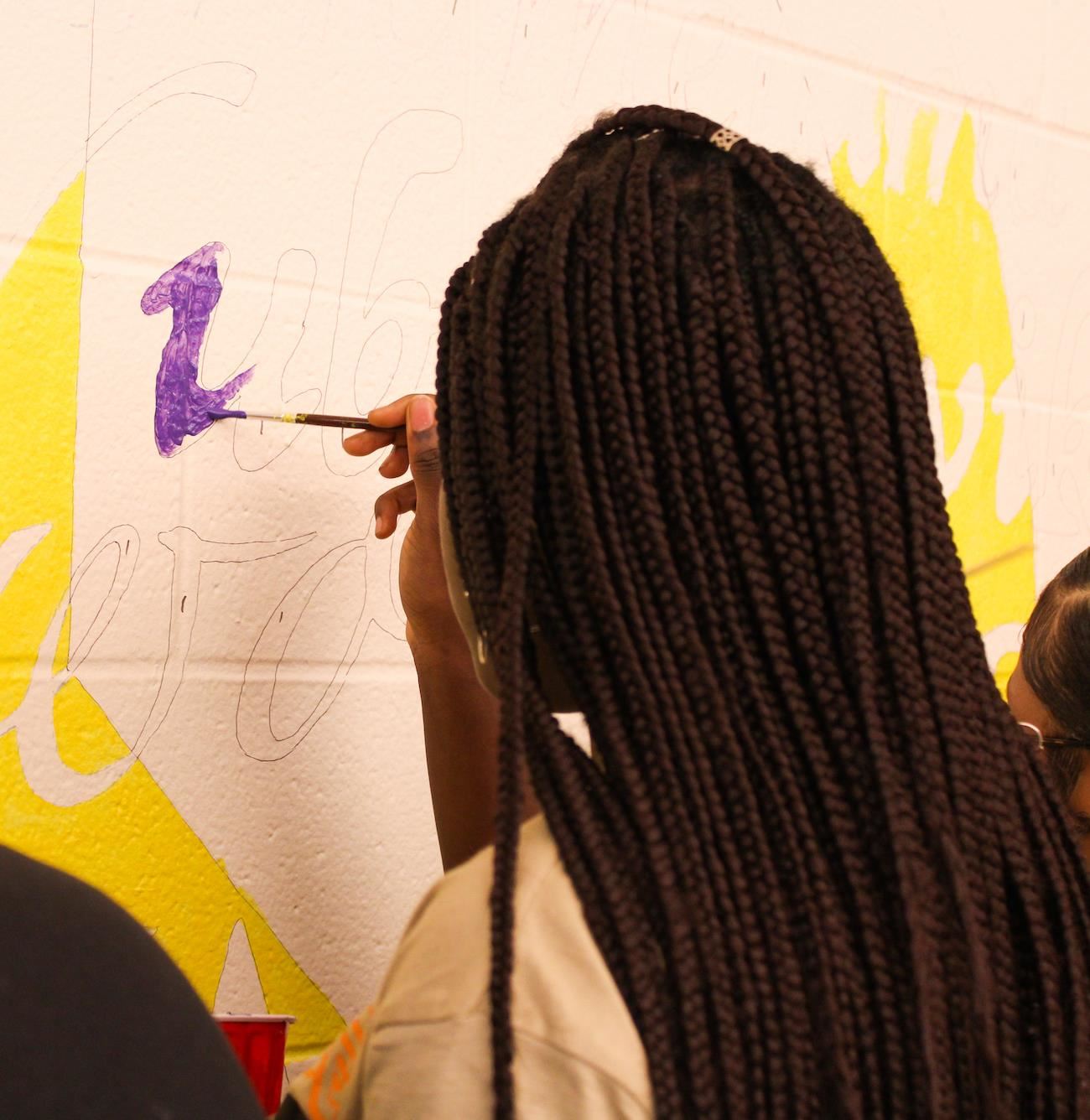 The schools kicked off the program on International Day of Peace, marking the first time both schools have participated in the Harmony Project. First, students worked on painting a mural in the school cafeteria as designed by the Harmony Project's artist in residence. The mural features a giant peace symbol and has the words for peace and harmony woven throughout, written in the 21 languages spoken and taught at both schools.
"This includes some indigenous languages as well," said Caryn Shapiro, ESL teacher at Columbus Global Academy. "One language from Guatemala, Ixil, is an oral language, for example. Kids did it phonetically how they would say the word. What is exciting is they are documenting their language right here in Columbus."
Shapiro has seen the benefits of the program before. Last year, Columbus Global students participated in a one-day event with the Harmony Project.
"In the two hours we were there, I saw magic happen," she recalled. "I saw language develop. I saw kids who hadn't spoken all year sing, dance, and totally transform. They were learning English in a non-academic setting. It was no pressure. It was just fun."
Columbus Global Academy students also participated in a video that went along with the Harmony Project's Lower.com performance before 5,000 people. Global students and KIPP Columbus performed the chorus of Coldplay's Up and Up.
"We were so impressed and blown away by their energy," Wayt said. "Now, we finally get to start this program, and we decided what better way to start it than on International Day of Peace."
Many students loved the experience so much that they returned this year and advocated for new students to participate. For example, Diego Raymundo, a student at Columbus International, said he wanted to participate this year because he had a great time last year.
"I wanted to be here to make new friends, to have fun, and to sing," Raymundo said. "That's why I wanted to be here. It's fun to participate."
Mirma Mitial, a Columbus Global student, is new to the program.
"The most important thing to me is art and singing because I want to improve my skills in those two areas," she said. "I like music. I don't have any expectations for this year, but the only thing I will say is I want to improve my skills in anything I can do."
Shapiro hopes students will build confidence and friendships throughout their time together.
"I hope they have confidence that they are wanted here and respected here," she said. "They can learn about each other and talk to each other and find their similarities instead of focusing on differences.
---