Return to Headlines
All People Arts Gallery Collaboration with CCS Seeks to Unite and Engage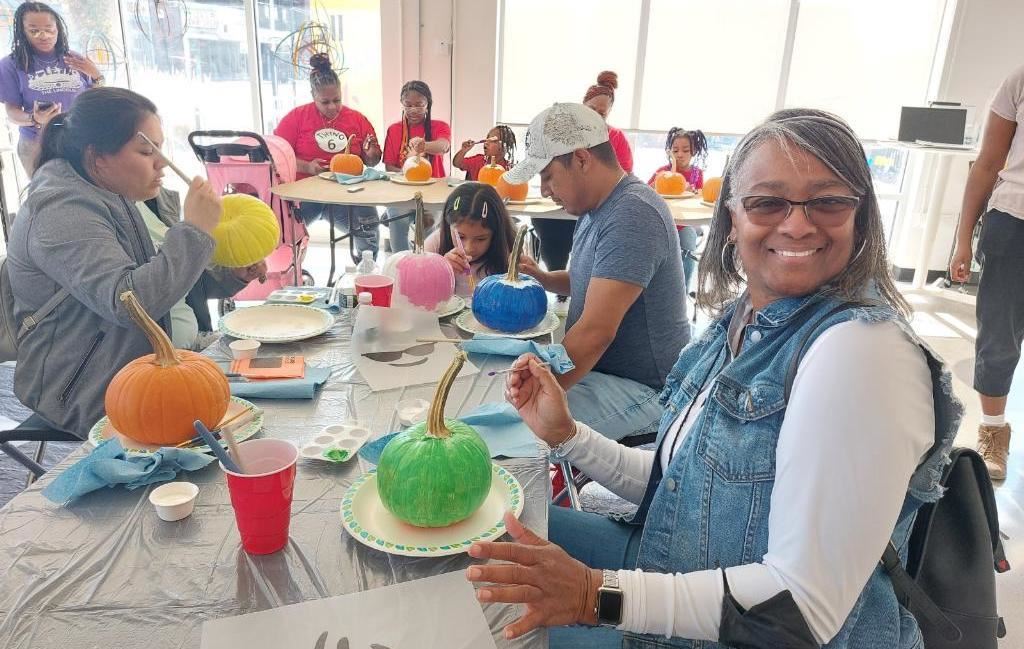 November 18, 2022 -- All People Arts (APA) transformational art projects bridge social and economic divides to make the arts accessible to all. In a world where the arts are integral to our lives, APA celebrates our differences and commonality through creative artistry.
Their mission is clear - "All People Arts (APA) seeks to engage and unite the people on the South Side of Columbus and beyond in expressing, creating, and experiencing art."
In partnership with Columbus City Schools (CCS), APA aims to increase school and community resources awareness.
"It has been a wonderful opportunity to offer Saturday art programming taught by local artists in our gallery space," said Felicity Gunn, APA Program Director. "We have been able to connect with our neighbors in the area and work with the CCS family ambassadors to deliver the best experience possible to our community!"
Region 3 Family Engagement Coordinator Marquita Curry believes the APA and CCS workshop pilot program has been a great partnership.
"It exposes our families to the rich amenities in their backyards; it's an essential pathway in its own regard. A pathway that is equitable and accessible for many of our families," said Curry.
APA Co-Chair and creative director at Shel10, LLC., Shelbi Toone, is one of the founding directors of APA, a position she has held since 2017. A Columbus-born artist and historian, Toone shares her love for art and history with area CCS students.
"Columbus students need endless access to the art community, and our partnership with CCS will help to encourage student and parent engagement while exposing them to art in their community," said Toone.
In collaboration with CCS, APA hosts themed Saturday art workshops led by local artists and CCS art teachers. These workshops are free and family-friendly.
The goal of APA's partnering with CCS is to help students gain access to art while experiencing the APA gallery space.
Each CCS building will have an identified Saturday for their school hosted by their Family Ambassador (FA) in conjunction with their building administrator or regional coordinator. Artist will lead an art activity from APA alongside art teachers from the district.
Those individuals leading the Saturday workshops are emerging professionals from the Columbus community who enjoy teaching the arts.
Currently, the Saturday workshops can accommodate about thirty students. Parents are also encouraged to attend with their children.
"It's important for students to have memories with their families, creating community together. We aim to create art experiences for parents and students that share the therapeutic beauty of making art. These workshops are for everyone to create together and enjoy," shares Toone.
Located at 1865 Parsons Avenue, APA art gallery shares quarterly exhibitions with the community. APA's programming goals are to provide opportunities to compensate artists while creating accessible, hands-on art experiences everyone can enjoy.
"Engaging in art is fundamental as you develop an understanding of self. Being creative can be taught. I believe art, as a subject, teaches reflection, expression, and confidence and breeds intelligence," said Toone.
Additionally, Toone shares that participating in creative art is essential for student growth.
"Art teaches you about yourself. As a community, we have a role in ensuring our youth have art access and know the importance of art as a holistic outlet in life," Toone added.
For more information and to register for one of APA and CCS Saturday workshops, visit allpeoplearts.org today!
---