Return to Headlines
Principals Participate in a Data Walk Looking at Strategies to Improve Students' Academic Performance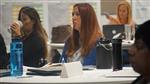 October 4, 2019 -- Principals, teachers, and administrators across the District came together for a Professional Development Data Dive which included a wide variety of data sets from attendance, discipline, and curriculum.
The Data Dive focused in on the District's MAP Growth Action Plan. Using MAP Growth data to pinpoint the instructional areas students are ready to tackle—whether they're on, above, or below grade level. Information distributed at the Data Walk included data collected from the 2018-2019 State District Report Card as well as individual building data and student group data.
Principals received detailed information about test scores for all content areas and grade levels, as well as presentations from our Testing and Curriculum Departments on how to prepare targeted strategies to make achievement gains. Columbus City Schools saw a letter-grade improvement on its overall State Report Card score, in addition to gains made across various components, which was released by the Ohio Department of Education in September. Now principals and teachers across the District are trying new methods to meet more students' needs.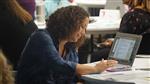 "A 'D' is not the final, we are making progress here even when looking at our MAP Reading," said Ronda Welch, Director of Testing for Columbus City School. "We as a District have been in the 50th-percentile for the last two years, we have been stagnant. We are trying to find an opportunity to look at our resources to better align."
The State Report Card measures six areas. Achievement and progress each account for 20-percent of the overall grade. The other components measured are gap closing, graduation rate, prepared for success and K-3 literacy contribute 15-percent each.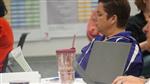 "For four years in a row now we have exceeded growth expectations by closing achievement gaps in every single student group," said Highland Elementary School Principal, Elizabeth McNally. "Last year we were able to achieve 100-percent promotion rate in third grade reading guarantee."
To continue improvement growth, the District wants to increase the score a third-grade student must achieve on standardized tests in order to be designated as "on track" to reading proficiency. Students that need assistance will be placed on a Reading Instruction and Monitoring Plan.
"We want all of our students to be able to read at a third grade level," Welch says. "We have a guidance from the Department of Education called Third Grade Reading Guarantee, where our students should be reading by third grade on the third grade reading level and some of our students are not there yet."
"We want to continue closing those achievement gaps. We are not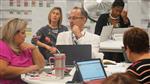 academically where we need to be yet, but for four years in reading and three years in math we are on a positive trajectory closing those achievement gaps, and helping students to show what the know," said McNally.
Principals will come together for a second Data Walk in February, where they will evaluate school achievements from the first half of the 2019-2020 school year.