Return to Headlines
Columbus City Schools Partners with Two Healthcare Giants to Provide More School-Based Healthcare Centers for Students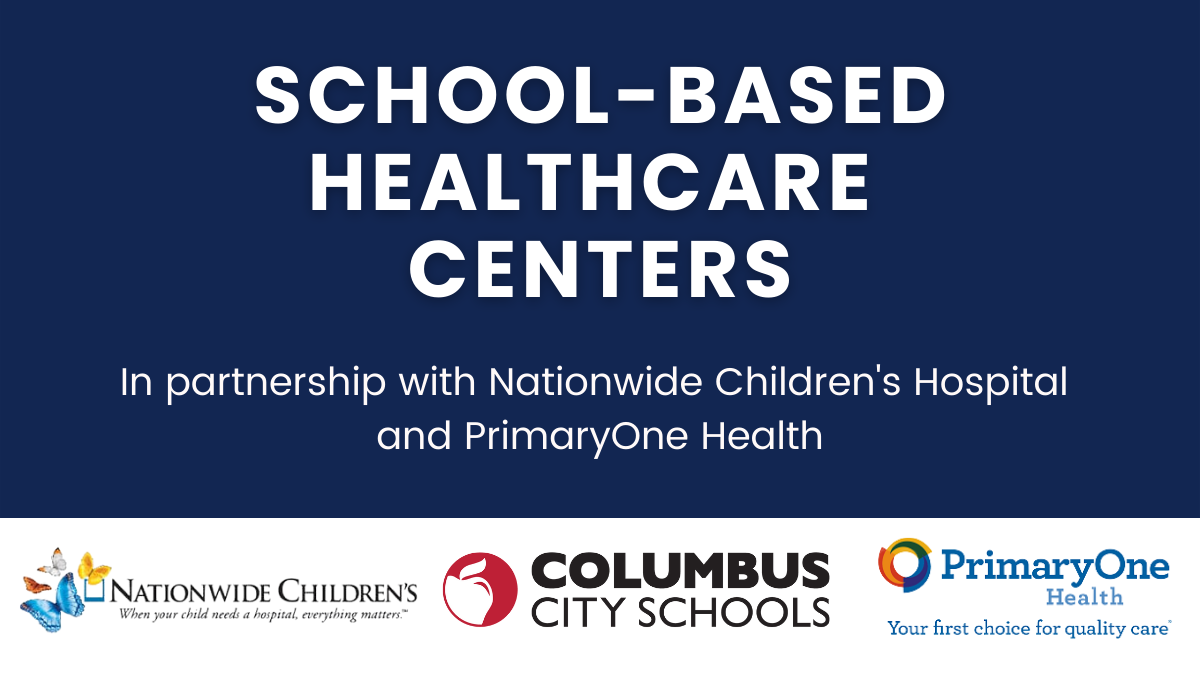 March 28, 2022 -- Columbus City Schools will soon be able to provide more students, staff, and community members with primary and preventative health care without ever leaving school.
Two grants awarded to our district partners, Nationwide Children's Hospital and PrimaryOne Health, will be used to build two new school-based health centers. The result is improved community access to health care, including vision, dental, and behavioral health services.
"School-based healthcare centers mean less time out of the classroom for many students, which directly aligns with our district's strategic priority of Whole-Child Focus that allows the students to reach their full potential," said Dr. Talisa Dixon, Superintendent/CEO Columbus City Schools.
The $1.3 million grant from PrimaryOne Health will build a school-based health center at Columbus North International High School, which includes Columbus Global Academy, at 4077 Karl Road to offer more expanded health care services.
Through funding from the Ohio Department of Health and the Ohio Department of Education, Nationwide Children's Hospital and CCS will partner to open a new school-based health center on the Fort Hayes campus.
"In addition to providing primary care to students at Fort Hayes, area schools, and the surrounding community, the school-based health center will expand its services to children with special healthcare needs by having an on-site NCH Complex Care clinic at the school-based center," said CCS Medical Consultant, Dr. Sara Bode, a primary care pediatrician and the medical director of Nationwide Children's Hospital's Care Connection School-Based Health and Mobile Clinics.
The new school-based healthcare center at Fort Hayes is expected to cost $1 million to construct and begin serving students and the community by the summer of 2023.
The PrimaryOne Health grant in partnership with CCS is designed to expand services and extend hours of care. This includes primary care, oral health, behavioral health, substance use disorder, comprehensive vision, vision, hearing, and health screenings to students, families, staff, and community members at Columbus Global Academy and North International High School.
"PrimaryOne Health has a history of providing access to quality medical care to individuals and families, including immigrant and refugee residents in need," said PrimaryOne Health Chief Executive Officer Charleta B. Tavares. "This school-based health center will eliminate barriers to quality health care like transportation and provide primary care including dental and vision services for the school children and communities' families," added Tavares.
Construction at the Columbus Global Academy/Columbus North International High School school-based health center is expected to begin this year and be completed by next spring.
Chief Student Services Officer, Dr. Machelle Kline said, "These community health centers will provide very important health services for the children, families, staff, and community in the Fort Hayes and Northland communities. We look forward to working with our school and health care providers to expand services in our communities."
The Ohio Department of Health states that school-based health initiatives ensure students are in school, healthy, and ready to learn. Additionally, these clinics are effective models for improving student access to health care and closing the gap for children in underserved communities.
Currently, CCS has 11 school-based clinics in partnership with Nationwide Children's Hospital. They are located at:

Buckeye Middle School

Columbus Preparatory School for Girls

East High School

Linden-McKinley STEM Academy

Livingston Elementary School

Marion-Franklin High School

Moler Elementary School

Northland High School

Ohio Avenue Elementary School

South High School

West High School
These clinics eliminate many barriers to obtaining care for district students, including transportation, parents missing time at work, and lack of a health care provider. In addition, school-based health centers have emerged as effective models in providing student access to health care and closing the gap experienced by racial, ethnic, and cultural communities experiencing health inequities.