Return to Headlines
Proud CCS Graduate Shares Valuable Life Lessons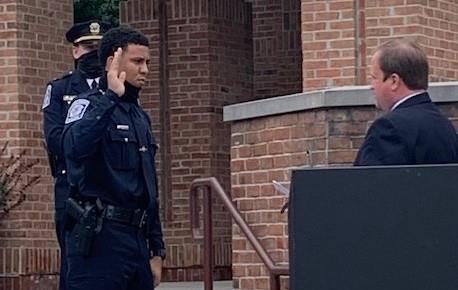 October 29, 2020 -- Eric Shaw credits his tour of the Columbus Downtown High School (CDHS) as the reason he wanted to become a police officer. "My sophomore year, I met Instructor/Commander John Moore when I was touring the career center and learning more about the Law Enforcement Program. I knew instantly I wanted to be a part of it," said the 2014 Independence High School graduate.
While attending classes at Independence, Officer Eric Shaw applied and was accepted to the two-year program, now called Public Safety at CDHS, since it includes both fire and police training. "This is a very structured and disciplined program," said Instructor/Commander Moore. We model military basic training and police academy curriculum, so our students are ready for the next step of service when they graduate."
Officer Shaw had to wait until he was 21 years old to complete the educational requirements and pass the Ohio Peace Officer Training Academy (OPOTA) test. "I actually failed the test the first time. I listened to folks who told me not to study certain sections because they weren't on the test," said Shaw.
Officer Shaw said that he learned an important lesson that Instructor/Commander Moore repeated in class many times. Don't take short cuts. Weigh the opinions of others very carefully when deciding what's best for you. The second time around, Shaw, who graduated with a 3.5 GPA, studied everything and passed the OPOTA test in the top 94-percentile of his class.
Officer Eric Shaw's first job was with the Hebron Police Department. Instructor/Commander John Moore recommended Shaw when Hebron PD called for a reference.
Hebron is a small village in Licking County near Buckeye Lake. "In 2018, I was the first African American male the Department ever hired. I stuck out like a sore thumb," said Shaw. For two years, Officer Shaw made it his mission to work with the community and not make his skin color the issue. "I was there to protect and serve, and that's what I did every day," said Shaw.
After two years, Shaw craved a larger, urban work environment that was more diverse. He reached out once again to his teacher and mentor. Together, Instructor/Commander Moore and Officer Shaw learned about the opening with the Reynoldsburg Police Department.
Fast forward to October 12, 2020, Eric Shaw takes the oath of office and begins his watch with Reynoldsburg police. Instructor/Commander John Moore was front and center at the ceremony on that fall day. "Eric Shaw is a special young man," said Instructor/Commander Moore. "I knew he was going to be a police officer. He has the drive and discipline. He took it to heart when I lectured him and his classmates about being leaders, not followers."
Shaw is not the only proud graduate Instructor/Commander Moore brags about. "I have two graduates who are Columbus Police officers and another recent grad who just completed basic training in the Army," said Moore.
Officer Shaw's second lesson for the 62 students currently enrolled in the Public Safety Program at Columbus Downtown High School. Grammar and spelling are just as important as protecting and serving. Police officers write a lot of reports. "You have to know how to write and spell correctly," said Shaw. "I've been in court and seen defense attorneys make fun of officers because of the errors on their police reports. I even saw a case thrown out because the police report was so full of mistakes."
For the next 16 weeks, Eric Shaw will have a senior officer in the patrol car with him at all times. It's part of his training. As he learns the ropes in Reynoldsburg, Officer Shaw will practice his third and final lesson. Actions speak louder than words.
"I believe becoming a police officer is one way I can change the injustices of the world," said Shaw. "While some people talk about what has to change, I feel doing the job is how I can make the biggest difference."