Return to Headlines
Marion-Franklin Graduate Makes History With Columbus Fire Department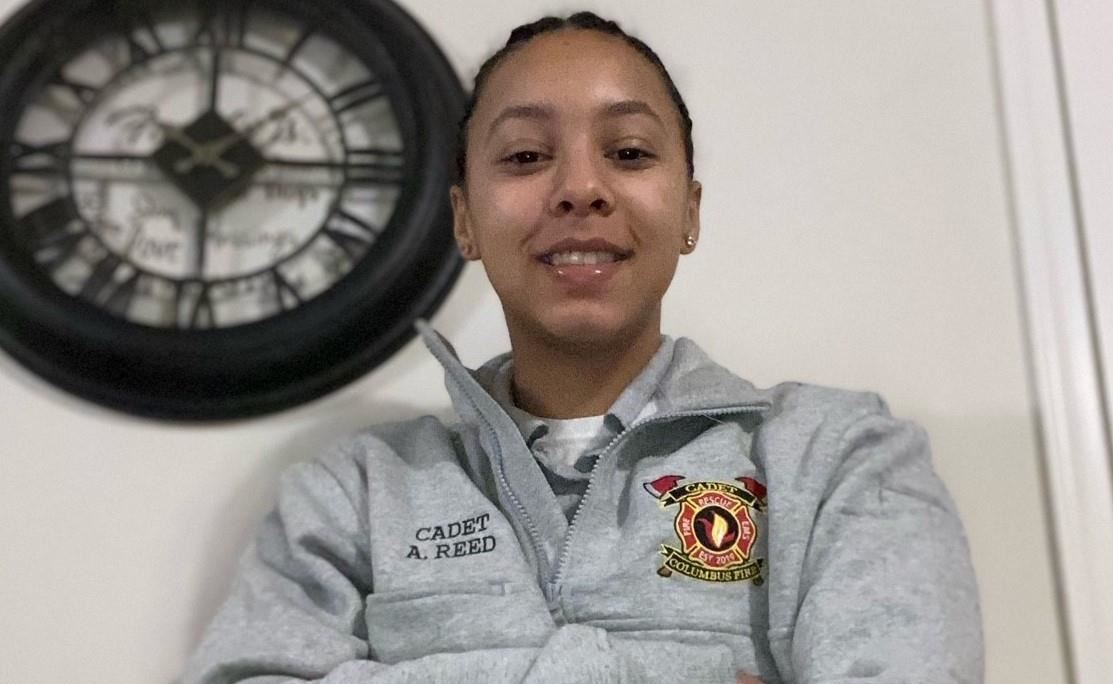 December 1, 2020 -- Aaliyah Reed, a 2020 Marion-Franklin High School graduate, is making history. She is the youngest African-American female to be accepted into the Columbus Division of Fire Cadet program. "It's an awesome feeling," shared the 18-year old.
"Amazing" is how her Columbus Downtown High School Public Safety Instructor Commander Thomas Caine IV describes it. "I'm so proud of her and how much she has accomplished in less than a year," said Caine, a retired Columbus firefighter.
After graduating from Columbus City Schools, Aaliyah applied to the Cadet program at the urging of Instructor Commander Caine. "Originally, I wanted to be a police officer," said Reed. "Late in my senior year and before we went to complete remote learning, the Public Safety Director for the City of Columbus, who was previously the Columbus Fire Chief, came to speak to my class, and something just clicked," said Reed.
Even though the CFD Cadet program was accepting applications, Reed was not optimistic. "I thought there is no way I'm going to make it because hundreds of people are applying," said Reed. "In August, while I was working at Kroger, I got a call that I had been accepted," said Reed. "I couldn't believe it."
At the age of 18, Aaliyah Reed was selected as one of 20 cadets to participate in the Columbus Fire training program. "255 applicants were competing with Aaliyah," said Lieutenant Elisha Holmes. "The program is extremely competitive."
The CFD Cadet program is a two-year commitment. Aaliyah will be the first to tell you; it is hard. "I really struggled in the beginning, especially with the physical training," said Reed. "Because we went to complete remote learning last spring due to the pandemic, I was not in shape or motivated to workout at home," said Reed. "At school, it was required, and my classmates were there, so it was no problem."
Instructor Commander Caine got a phone call from Lt. Holmes this fall that Aaliyah was struggling. "Commander Caine and I talked about it, and that's when I started running again in my neighborhood, lifting weights, doing push-ups and sit-ups every day, said Reed." Giving up was not an option. Two cadets had already dropped out, and I wasn't going to be the third," said Reed.
Her hard work and determination are not going unnoticed. Speaking with Lt. Holmes recently, he shared, "Cadet Reed puts in a remarkable amount of effort. Her success in the program is a direct result of her work ethic," said Holmes. After going through the cadet program, Reed will earn certifications as an Emergency Medical Technician (EMT), Firefighter 1 & 2, and Fire Safety Inspector.
Aaliyah spends five days a week at the Fire Training Academy. Three hours a day is dedicated to classroom instruction, and one hour is for physical training. "It's getting a little easier," said Reed. "My classmates now include me more and encourage me, and I try to encourage them."
So far, her time as a CFD cadet has taught this young woman two critical life lessons. "I have so much more discipline and respect for others," said Reed. "I wasn't the best student in high school, and my role models at the time were family members who had not graduated from high school. I am going to be the first to change that and make a difference in my community."
The Director of the Career Technical Education Program at Columbus Downtown High School (CDHS) could not be more proud. "Aaliyah's tenacity has set a high bar for future students in our Public Safety Program," said Cheryl Watson, CDHS Director. "Aaliyah's accomplishments should be a reminder for every student who has ever doubted themselves. Aaliyah's career path is the motivation for all our students to never give up."