Return to Headlines
Congresswoman Beatty Teaches CDHS the Three Pockets of Financial Literacy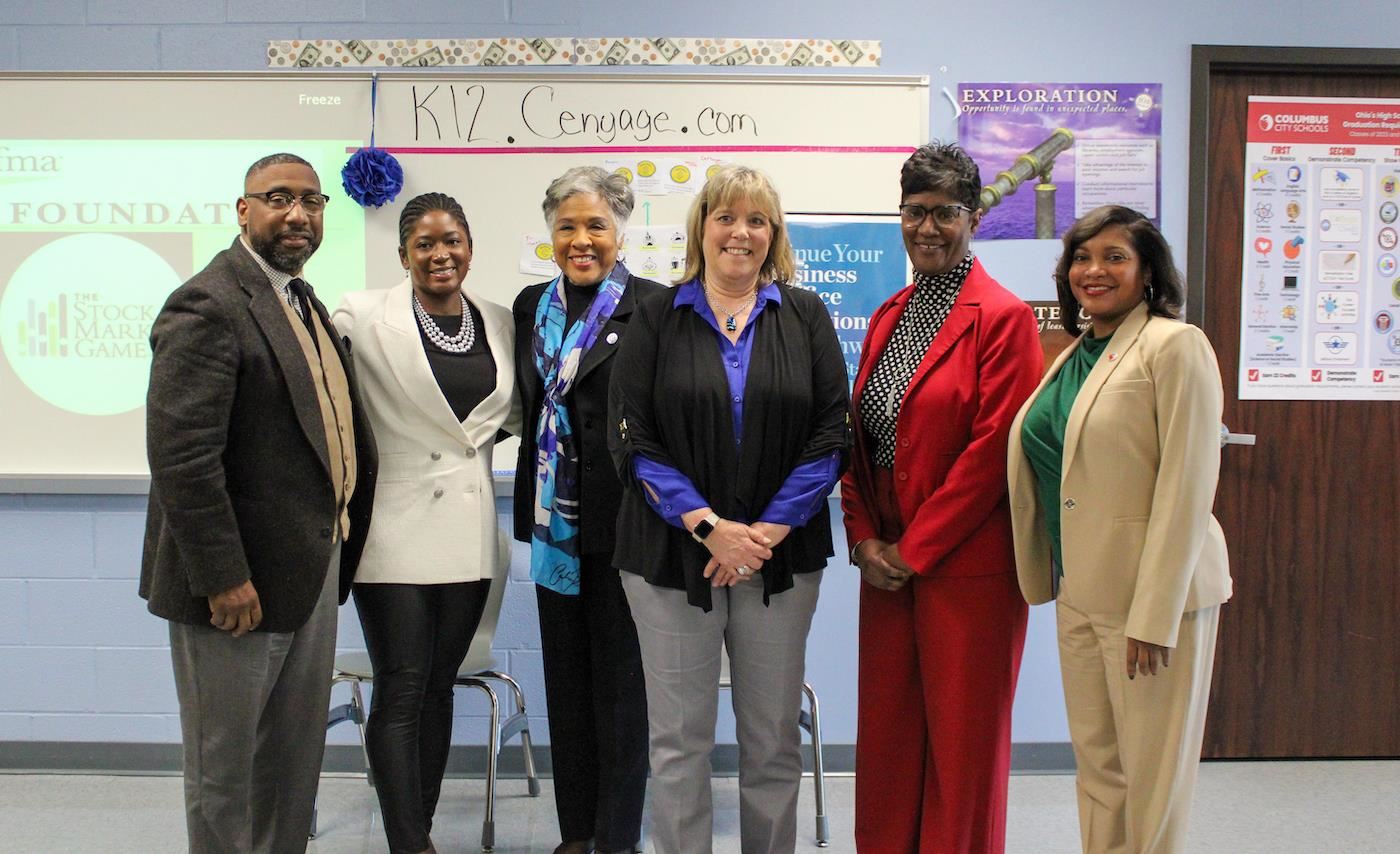 March 27, 2023 --"While I did not have the investing and planning programs that you have and are exposed to, I was lucky because I have a father who told me you get three pockets of money," said Congresswoman Joyce Beatty, U.S. representative for Ohio's third congressional district, to a classroom full of high school students.
Beatty stopped at Columbus Downtown High School (CHDS) to speak about financial education. The visit was part of a national finance competition, The Capitol Hill Challenge Stock Market Game Program, in which CDHS participated this spring. One of the highlights focuses on having a Member of Congress visit each school entered into the competition.
"Developing a positive relationship with money and developing good savings and spending habits at a young age can equal financial success for our students," said Business and Technology Instructor Terri Slaughter. "The Capital Hill Challenge's investing curriculum attracted me because of their robust and interactive Investment goals. The Stock Market Game was intriguing as it allows students to manage a hypothetical portfolio of stocks, bonds, and mutual funds as a team."
When Beatty visited Slaughter's Personal Finance class at CDHS, she shared a childhood story of how she learned financial literacy and the importance of what she calls the "three pockets."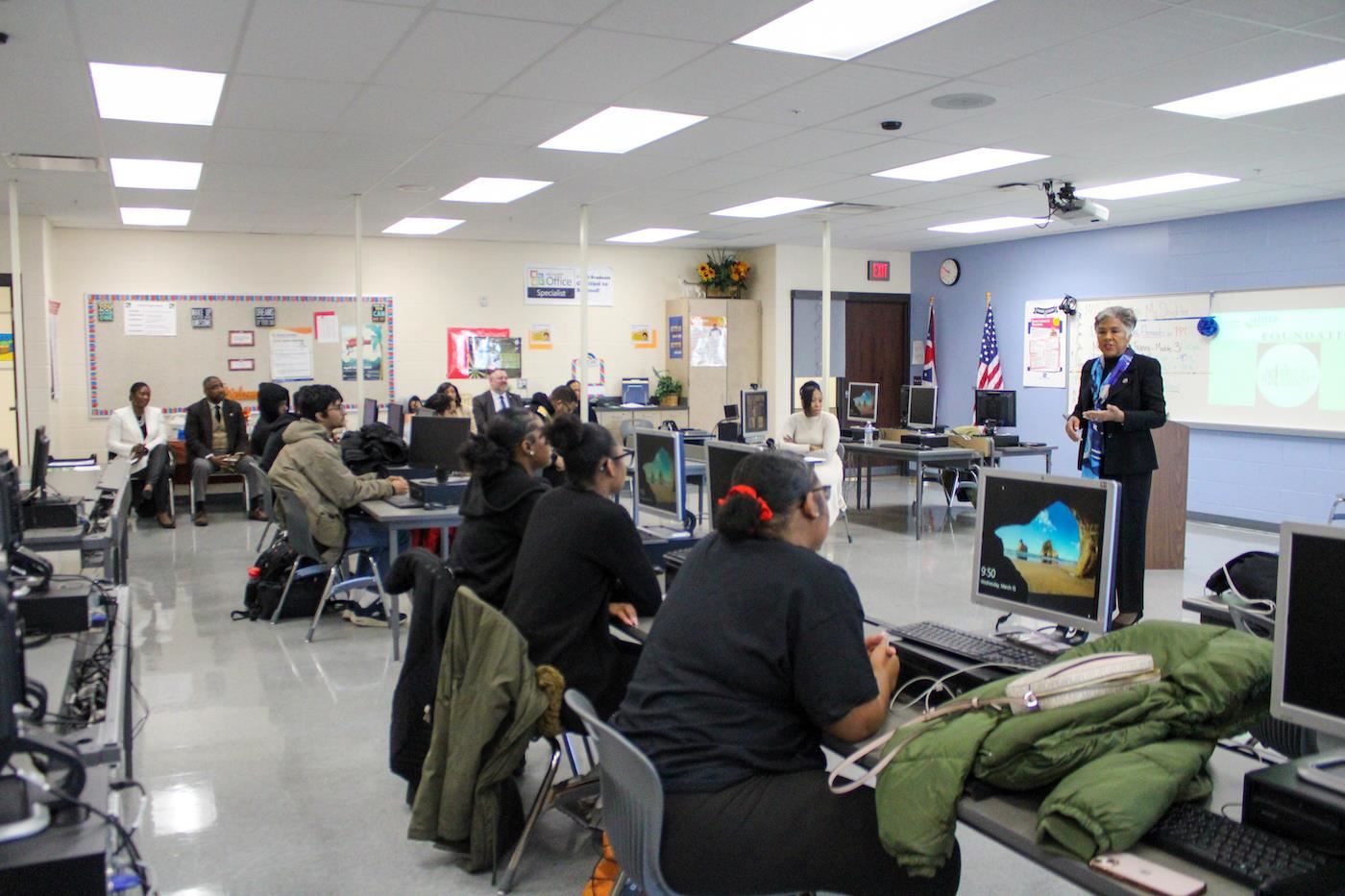 "My father said there's a money pocket, and the money in your pocket is your money to spend, but there's also the investment box, and the third box is the life-planning box," Beatty said. "I didn't know what that meant until I got my first job."
After earning six dollars from her first babysitting job, Beatty was so excited. When she got home, she immediately showed her father by placing the crisp, brand-new one-dollar bills one by one on the kitchen table. Young Beatty giggled and watched her father take two of the six dollars and put them in his pocket. At first, she thought her dad was joking, but he was about to teach her an important lesson about saving money.
"He said, 'two for investment' and put them in his pocket. At first, I just thought we were playing a game," Beatty said. "And then, he said two for you - money pocket. And then, he said life pocket. And I said, 'What does that mean?'"
The life-planning money was only for necessities that she may need, such as rent, bills, food, etc. Her father told her to spend the money in her pocket however she wanted. But, he firmly told her, "investment money you don't touch."
After years of paying into the investment box, and after Beatty became successful, her father told her to slow down and handed her an envelope. He said to her, "I saved those two crisp dollars for you starting from your first job at $6, and the check in the envelope is all the money over those years that you gave us to invest. If you multiply the interest, you've got a sizable amount of money, and it all started with $2."
Students attentively listened to Beatty's story and were able to apply her wisdom to their own lives and personal finance class at CDHS.
"I plan to use the three-pocket strategy in terms of savings and investing," said CDHS senior financial student Marquan Owensby. "I feel like it's a lifestyle that'll help me improve my savings and open my mind to investing."
In his finance class, Owensby is working through a budgeting unit that uses spreadsheets and online apps. Slaughter said the class will use collaborative and critical thinking skills, especially as a team, and is optimistic that it will positively influence their future financial behaviors.
Beatty handed each student in the classroom a 3rd Congressional District coin signed personally by her so the students would remember her visit and the story of the three pockets.
"My hope is that working with authentic budgeting and financial apps will improve [students'] spending habits and help them begin to create generational wealth for themselves and their future families," Slaughter said.
CDHS will soon compete in The Challenge, a special edition of The Stock Market Game offered each spring. This national 14-week financial education competition equips middle and high school students to become financially capable and civics-minded.
"I'm looking forward to using trends and teaching my team members how to use software to identify trends in a market," said CDHS senior financial student Mahi Abedin. "I feel like knowing how to invest will allow us to be better educated on building wealth and success for ourselves."
"What this program is trying to challenge you to do is to understand that if you manage well, plan well, and save well, you will get to a time when you invest well," Beatty said.
For more details and updates about the program, visit the Capitol Hill Challenge website at www.stockmarketgame.org/capitol-hill-challenge.html.
---