Return to Headlines
Former CDHS Culinary Student turned Chef and Instructional Assistant at Alma Mater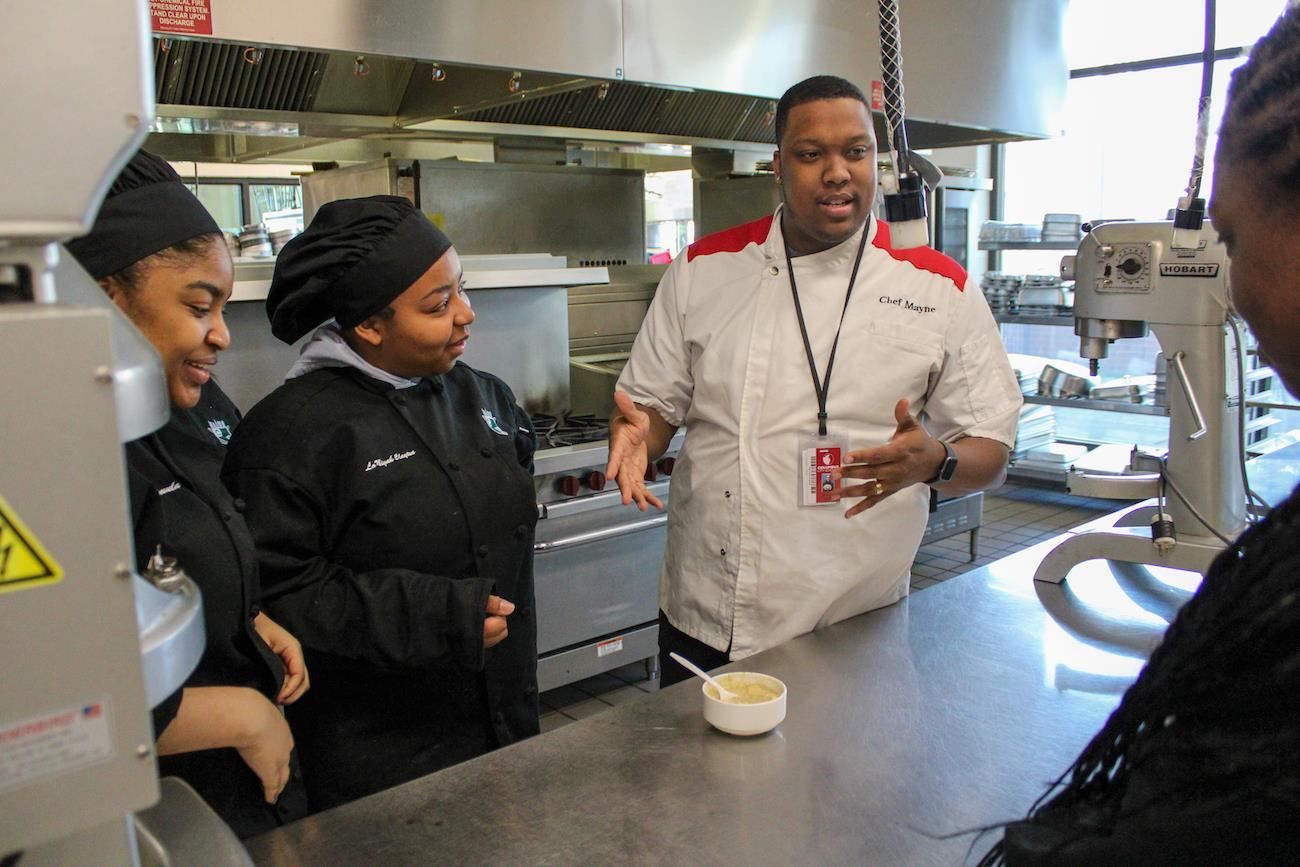 May 9, 2023 -- Jermayne Harris enjoyed Columbus Downtown High School (CDHS) so much as a student that he decided to return this year as a teacher!
Harris, an Instructional Assistant for the Culinary Program, attended culinary school as a junior when CDHS opened in 2009. Fast forward to March 2023, and Harris is back at his old school and passing on his knowledge of the food industry.
"There was a lot of chaos the first year because we were all dropped into this building from a bunch of different schools," Harris said. "It was a challenge originally, and it was hard being away from my home school, Northland, but once I got used to it, it was fun. I ended up loving my experience."
Now seeing the educational side of things, he hopes to inspire students just like his favorite teacher CDHS culinary educator - Ms. Cleary.
"My first year, we had Ms. Cleary, and she was amazing," Harris said. "I call her my Obi-Wan Kenobi. She's that teacher in your life that helps you get to the next level. She made class really fun for us, so I learned a lot."
After graduating from culinary school, he went to Wright State University. He later transferred to the University of Cincinnati to study sports administration. As a former football player, his hope was to be a sports agent.
"And then, life happened, and I had to leave school," Harris said. "I came home, started a catering business in 2016, and joined the CDHS Advisory Board. It kind of all came back full circle."
A year after getting his catering business, Mayne Course, off the ground, the unthinkable happened. At the young age of 23, Harris was diagnosed with congestive heart failure. A few years later, he underwent surgery to get a Left Ventricular Assist Device. A VAD or LVAD is a mechanical device that helps the heart do its job of pumping blood. The VAD is a great option, but only temporarily; Harris says he will eventually need a heart transplant.
"I'm waiting for that phone call," Harris said. "I've been waiting for three and a half years now. But, outside of that, I try to be a normal person and do a lot of work with Lifeline in Ohio, an organ procurement non-profit."
The most difficult part of receiving a transplant is every detail must be a good match. The donor needs to be someone with the same blood type, gender, and around the same height and weight.
"The big message that I try to give through Lifeline of Ohio is black people, we need the most organs on the list, but we're also the least signed up," Harris said. "The race doesn't matter to get a match, but it just makes [the organ] that much more compatible."
He's been spreading the word about organ donations. If you are located in the Columbus community, you've probably seen him on billboards, mailers, social media, and in the news.
Harris has been active in the Columbus community and connected to Columbus City Schools his entire life. He went to Linden Park Elementary, Monroe Middle School, studied culinary at Columbus Downtown High School, and graduated from Northland High School.
With more than a decade in the restaurant industry, his background in the culinary department is impressive. His first job was in fast food, and he worked his way up to a supervisor and manager at McKenzie River, and Assistant General Manager at Bob Evans. He cannot wait to share his knowledge, life skills, and expertise with the students – including the time he almost chopped his finger off because he wasn't using his knife correctly.
"It's so cool being back at Columbus Downtown," Harris said. "I found my old locker and stuff like that. Not much has changed with the school itself."
As an Instructional Assistant, he helps out around the kitchen. Harris assists with the rundown of what students are making that day and breaks down recipes for them.
"I am there to assist if they need help cutting something or if they need advice on seasoning – anything like that," Harris said. "I always tell them that it's ok to fail. Trial and error is a part of cooking. You're going to mess things up, but that's how you learn."
Columbus City Schools and Columbus Downtown High School are thrilled to have one of their own as an instructor and look forward to watching him grow in his new role as Instructional Assistant.
"I try to just live, you know. I try not to watch the pot boil too much or watch the clock tick by," Harris said. "Even with my heart issues, I really just want people to know I'm a regular guy with regular, everyday problems. I am enjoying my experience as a teacher right now. The kids are great and hilarious. I'm proud to be back at CDHS!"