Return to Headlines
Board Approves Modified Facilities Plan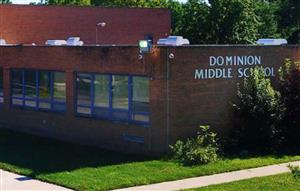 Advancing another recommendation made by the District's recent community-led Facilities Task Force, the Columbus Board of Education approved a modified facilities proposal that addresses overcrowding, building utilization, and academic opportunity at six Columbus schools.
Back in November, the Facilities Task Force recommended the relocation of Columbus North International (grades 9-12) and Dominion Middle School, along with an expansion of Dominion's academic program to include middle school language immersion curriculum.
Over the past three months, members of the Board and District staff have heard feedback from several students, families, staff, and community members and have taken a closer look at the recommendation
This modified recommendation covers a multi-phase/two-year approach, which includes:
Current sixth grade students at Ecole Kenwood French Immersion, Columbus Spanish Immersion Academy, and Hubbard Mastery will remain at the three schools for seventh grade during the 2019-2020 school year. This is a one-time one-year only expansion of the programs at these three schools.
Columbus North International (grades 7-12) will co-locate with Columbus Global Academy (grades 6-12) at the former Brookhaven High School site for the start of the 2019-2020 school year.
Dominion Middle School will relocate to the North High building on East Arcadia Avenue during the second half of the 2019-2020 school year.
The District will immediately initiate a year of planning with national experts and counsel from the Ohio Department of Education to create a middle and high school immersion program to form a new feeder pattern with Ecole Kenwood, Columbus Spanish Immersion, and Hubbard Mastery for launch in the 2020-2021 school year.
A new middle school immersion program will be opened, along with relocation of grades 6-8 at Columbus Global Academy, at the former Dominion site for the start of the 2020-2021. This will also include a natural phase down of the Columbus North International program to switch from serving grades 7-12 to only grades 9-12.
This modified approach still addresses concerns raised by the Facilities Task Force on building utilization (by eliminating severe overcrowding at Dominion) and grade-banding (by providing separate middle school and high school experiences for students).
The plan to move Dominion into the current North High building will also eliminate community rumors of splitting or removing elementary schools from the current Whetstone/Dominion feeder pattern.
At the same time, the plan to create a new middle school opens academic opportunities for the District's unique and highly-regarded language immersion programs, which currently end at sixth grade.
With the Board's approves of the multi-phase, modified recommendation, the District will begin planning for needed maintenance projects at the three buildings to be impacted.
Additional information will be added as details become available.