Return to Headlines
Columbus City Schools' Food Service Initiatives Helping Ensure Students Eat Healthy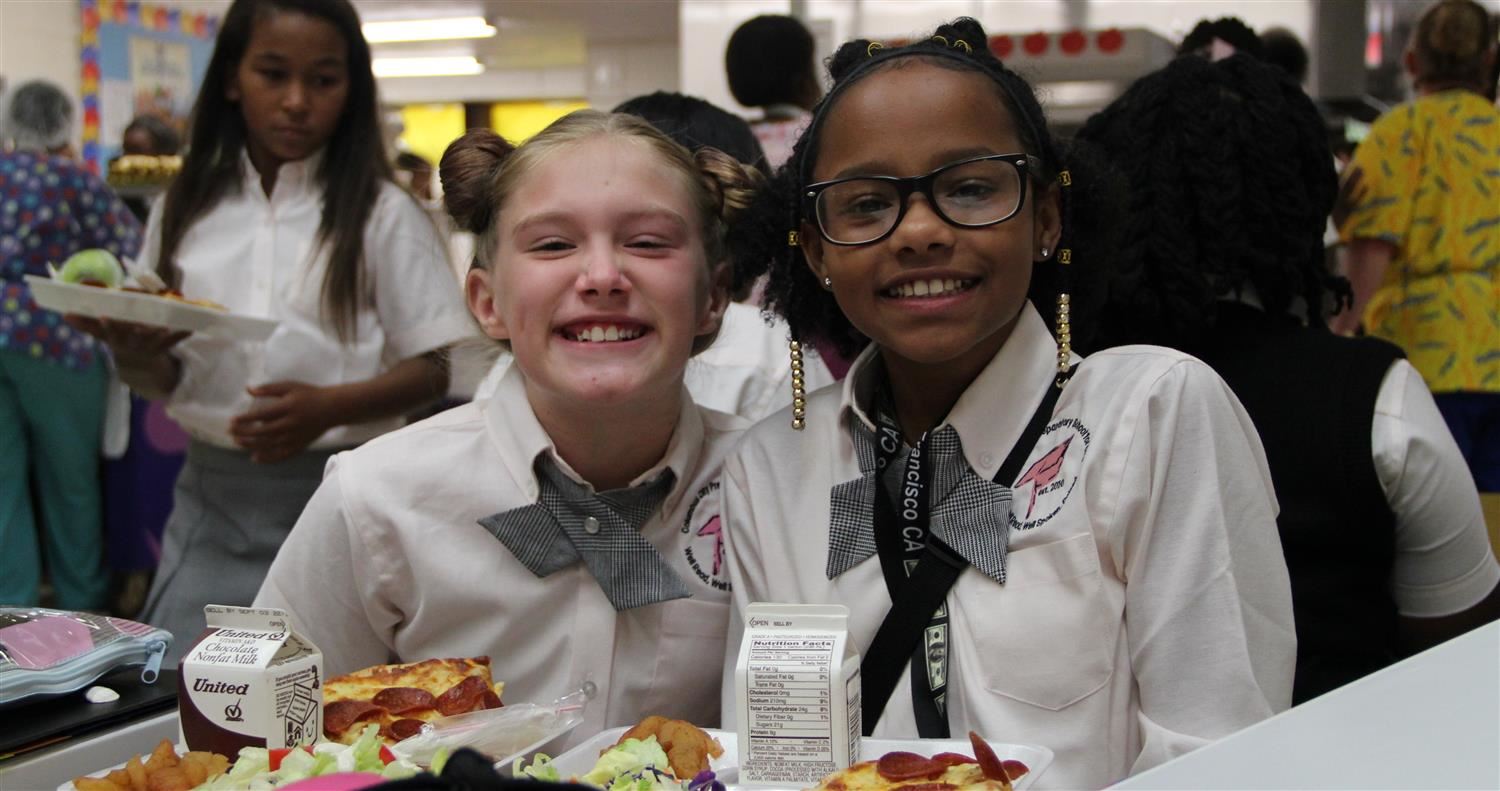 ---
National School Lunch Week may only go through Friday, but Columbus City Schools food service operation is a year-round program, fueled by 475 hard-working employees in the District's 111 school cafeterias. Serving over 10.5 million meals annually, and 60,000 daily, the number one goal is to provide nutritious, socially responsible meals to all students.

To help facilitate that target, CCS has a number of initiatives in place, such as:

Healthier US School Challenge/Smarter Lunchrooms

In partnership with the USDA/CCS District Wellness Committee, the District was recognized for excellence in USDA's school meal pattern requirements, student meal participation rates, smarter lunchroom techniques, school wellness, nutrition education, and physical activities/exercise. CCS schools received a silver or bronze-level award status.

Lean and Green Menu Campaign

Starting in August of 2018, CCS started Lean and Green Mondays, where all school lunches focus on plant-based menu items. By doing this, the District offered the same nutritional benefits of meals while improving the impact to students' long-term health and lessening the impact on the environment.

Farm to School/Ohio Days

Additionally, the Ohio Day menu campaign started in the District just over two years ago, providing students with one meal of nothing but Ohio-produced food each month. Local products are good for students, the community, and the environment. As an extension of this concept, all the apples and milk that CCS serves each year are Ohio products. This is made possible through partnerships with Columbus Public Health, OSU Extension, and Franklin County Public Health.

Cafeteria Composting

SWACO and the World Life Foundation partnered to develop student green teams in four CCS cafeterias: Devonshire, Maize, Ecole Kenwood French Immersion, and Columbus City Prep School for Girls.

Clean Label Menu Campaign

A consumer-driven movement to service natural foods that contain no artificial ingredients or synthetic chemicals, cleaner label items are offered on CCS menus.

School Gardens

The following groups have partnered to plant 47 school gardens over the past year: Franklin Park Conservatory, Local Matters, OSU Extension, Franklin County Soil and Water, Slow Foods Columbus, Scotts Miracle-Grow, American Heart Association, and SWACO. The District has also held professional development workshops for teachers as well as access to gardening lessons on CCS' Unified Arts webpage.

Camp Public Health

Through a partnership with Columbus Public Health and Columbus Recreation and Parks, Camp Public Health was conducted in July for secondary school student enrollees. One camper day was spent at the Food Services Production Center for a tour, lunch, and activities.
Production Center Experiential Learning Opportunity

Classrooms visited the Food Services Production Center for a tour, lunch, and activities.

Cafeteria and Classroom Taste Testing

The Office of Food Services tests new menu items with students around the District on an ongoing basis to provide the best menu options for our students. Additionally, students have the opportunity to receive a dietitian-led presentation on nutrition using MyPlate educational materials and tasting activities.