Return to Headlines
Board of Education Votes to Approve Agreement with Columbus School Employees Association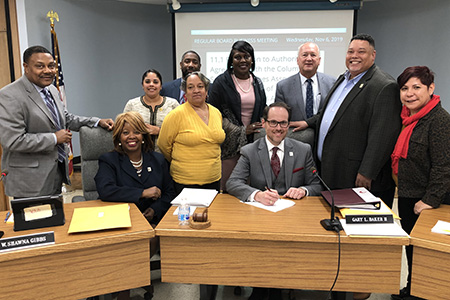 Nov. 7, 2019 — The Columbus Board of Education at its meeting on Wednesday evening voted unanimously to approve an agreement with the Columbus School Employees Association (CSEA) on a reopener to the current collective bargaining agreement, which runs Sept. 1, 2017, through Aug. 31, 2020.
"The members of CSEA are the unsung heroes who serve as the backbone of our daily operations," said Board of Education President Gary L. Baker, II. "Their work is critical to the success of our District, and I believe that this new agreement shows how much we appreciate the roles these members play in the education of our students."
As part of the agreement, all CSEA members will receive a 3% wage increase effective Aug. 24, 2019. Also, in recognition of the personal expenses CSEA members incur in relation to their work and support of the education of CCS students, each member will receive a one-time $300 lump sum payment within 60 days of both sides ratifying the agreement. These personal expenses many times include such items as tools, supplies, or work clothing and work boots that receive wear and tear due to the nature of certain jobs.
"As I have laid out the priorities for our District, I know that the members of CSEA are vitally important to the execution and success of our initiatives," said Superintendent Dr. Talisa Dixon. "This is a group of employees who are dedicated to our students, our staff, and our community. I am glad we were able to come to an agreement with CSEA, and I look forward to our continued collaboration."
The Board of Education and CSEA also agreed to continue to discuss the issue of secretarial classifications outside of the bargaining process.
The reopener clause was limited in scope to include the issues of wages and compensation, insurance and other benefits, sick leave, and personal leave.
CSEA is an affiliate member of the Ohio Association of Public School Employees (OAPSE) and includes more than 3,000 CCS employees among its local unions:
Local 101 Columbus City Schools Custodians
Local 143 Columbus City Schools Food Service
Local 150 Columbus City Schools Secretaries
Local 336 Columbus City Schools Bus Drivers
Local 488 Columbus City Schools Truck Drivers
Local 518 Columbus City Schools Instructional Aides
Local 529 Columbus City Schools Special Needs Instructors
Local 580 Columbus City Schools Head Custodians
Local 591 Columbus City Schools Electricians & Boiler
Local 721 Columbus City Schools Account Clerks
Local 730 Columbus City Schools Vehicle Maintenance
"These are the people who provide hot meals for breakfast and lunch, they are the secretaries who are smiling when they greet our families. They are the ones who make sure our buildings are clean and warm," said Dr. Dixon. "Our organization would not be what it is today if it wasn't for this group of employees. They are essential to this work, they are essential to this organization, and we want to continue to show our appreciation for them."
"I would like to thank President Lois Carson, along with all of the local presidents, for negotiating on behalf of their members," added President Baker. "On behalf of the Board of Education, I would like to thank all of them for their ongoing efforts, commitment, and dedication to the students of Columbus City Schools."