Return to Headlines
Columbus City Schools Holds 2019 Honors and Recognition Ceremony
Nov. 20, 2019 - On Tuesday, November 19, Columbus City Schools hosted its annual Honors and Recognition ceremony, highlighting student staff, and community achievers from all areas, including academics, athletics, and service to the community.
The evening started off with introductions as well as a musical performance from Fort Hayes student Isabella Gresham. Columbus City Schools recognizes and congratulates all honorees!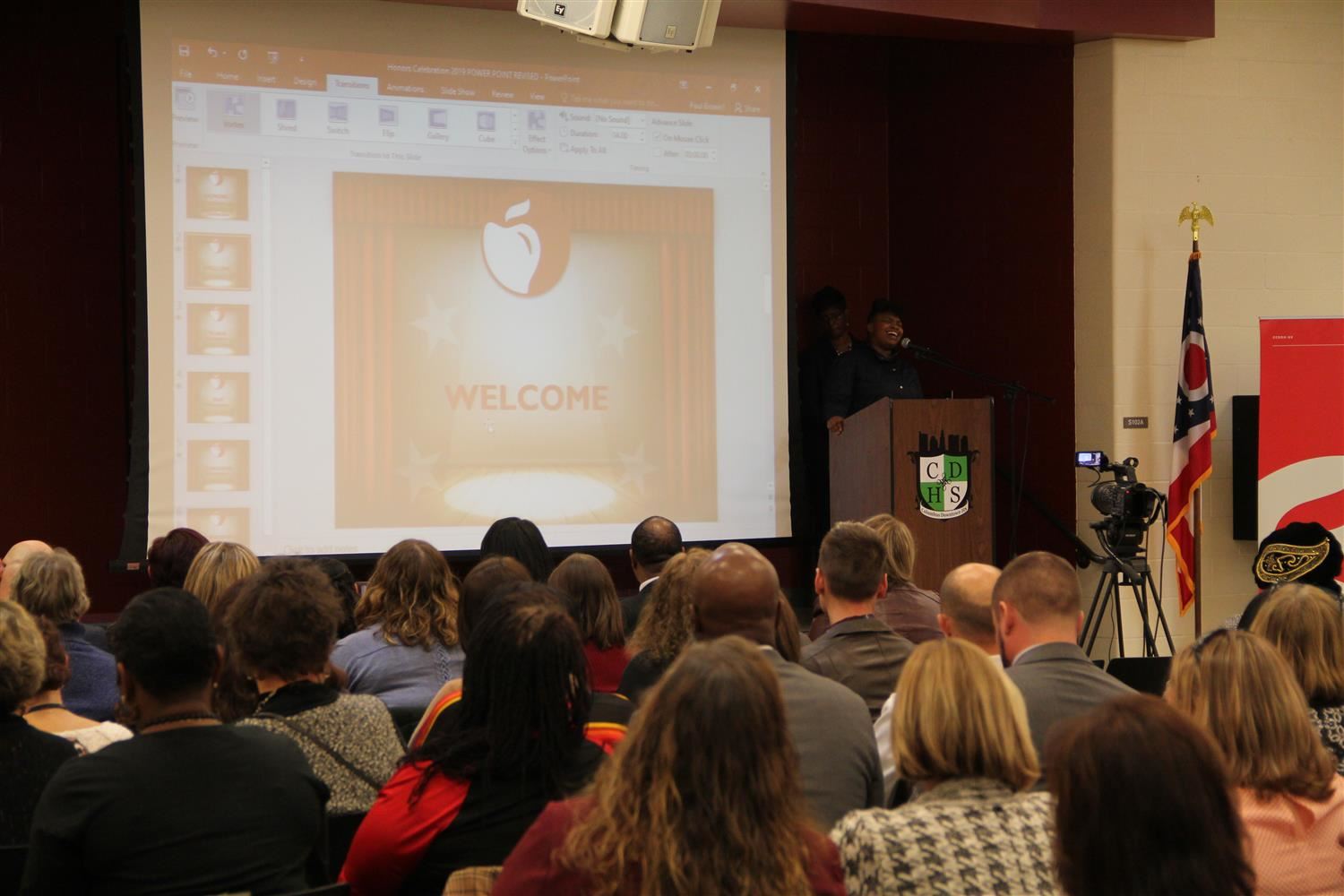 ---
The first set of award recipients were for academic excellence:
Parkmoor Middle School
Evie Shreve
Faith Harralson
Kamryn Jones
Alexandra Oliver
Psalms Henry
Columbus Africentric Early College
Destiny Thomas
Columbus Alternative High School
Sophia Kushner
Columbus Downtown High School
Jaiden Whaley
Beechcroft High School
Eric Williams
Abigail Kamara
Ryan Barnes
Linden-McKinley STEM Academy
Maya Jefferson
Malaysha Brunner
Tania Irvine
Joseph Warren-Evans
Logan Hudson
Walnut Ridge High School
Roman Joyal
Dado Bah
Jessica Sandoval
Kevin Mills
---
From there, the District honored its fall sports champions:
Starling K-8 Girls' Volleyball
Northland Girls' Cross Country
Whetstone Boys' Cross Country
Whetstone Golf
Whetstone Girls' Tennis
Whetstone Girls' Soccer
Mifflin Boys' Soccer
Columbus Africentric Early College Girls' Volleyball
Centennial Football
Marion-Franklin Football
Walnut Ridge Football
---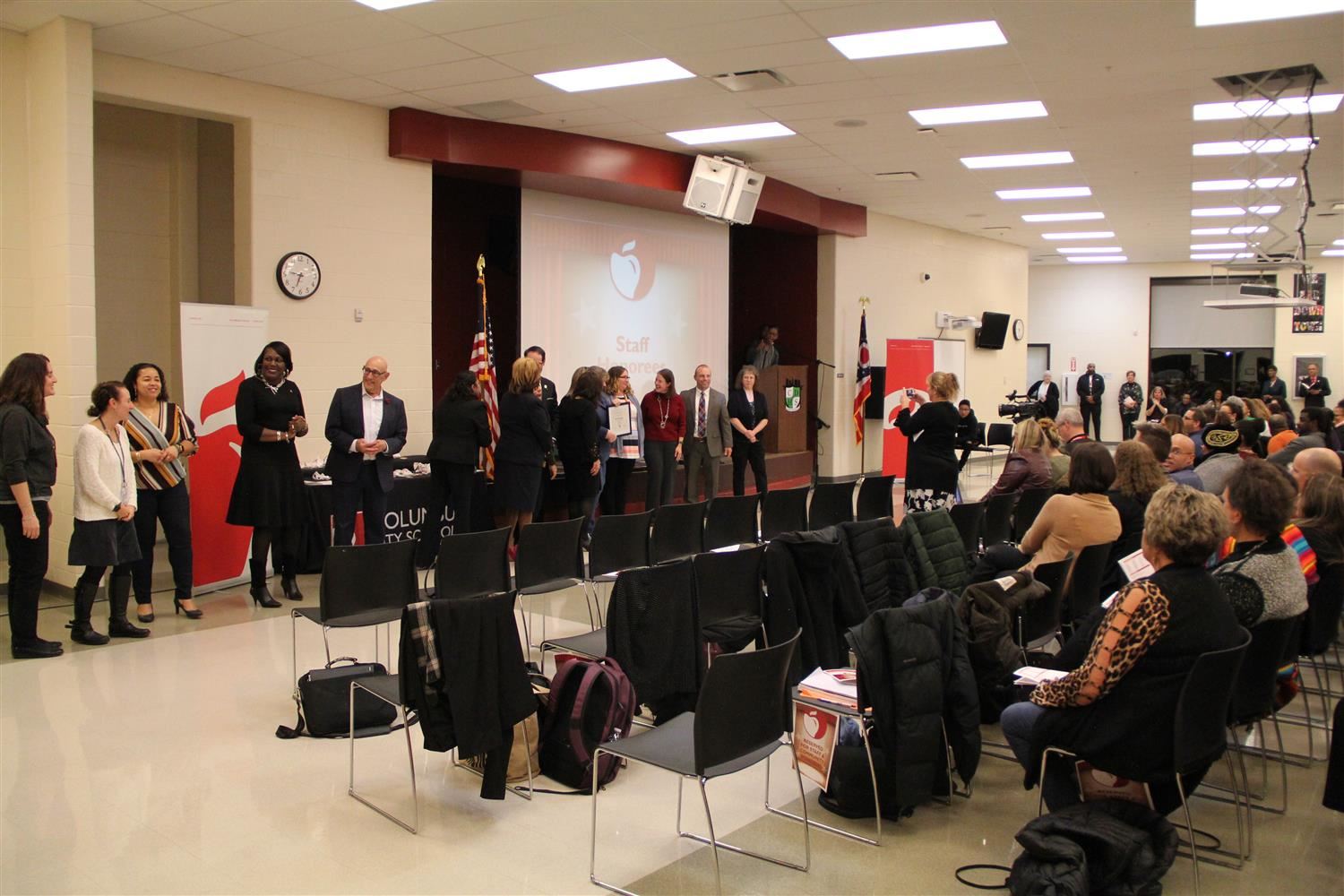 Staff members were also honored for their ongoing service to our youth, including:
Joshua Reynolds - Band Director, Whetstone HS
Paul Lasker - Teacher, Beechcroft HS
Joseph Brock Mullins - Assistant Principal, Whetstone HS
Beth Ash - Volunteer, Devonshire ES
The District's Positive Behavioral Intervention Support program implementation received praise this year as well, with two schools earning Gold level recognition and 16 earning Bronze level.
PBIS - Gold
Binns ES
Georgian Heights ES
PBIS - Bronze
Alpine ES
Avalon ES
Avondale ES
Easthaven ES
Forest Park MS
Indian Springs ES
Johnson Park MS
Lindbergh ES
Mifflin MS
Northtowne ES
Oakland Park ES
Parkmoor MS
Salem ES
Sherwood MS
Valleyview ES
West Mound ES
Finally, the following schools were recognized for success in their gap-closing target in the Ohio English Language Proficiency Assessment, measuring how much progress English learners were making:
Alpine ES
Winterset ES
Hubbard ES
East Linden ES
Mifflin MS
Woodward Park MS
Columbus Downtown HS
Columbus North International School
---
The final set of honorees were for community members who continually go above and beyond in supporting the District's educational efforts. =
Omega Psi Phi - Mu Iota Chapter
Faith Clinic Community Church
Eastgate Garden Association
PNC Bank
Ethiopian Tawahedo Social Services
Rock City Church
Michael Bongiorno
Board of Education Innovation and Reform Committee