Return to Headlines
Board Meeting Preview: January 5, 2021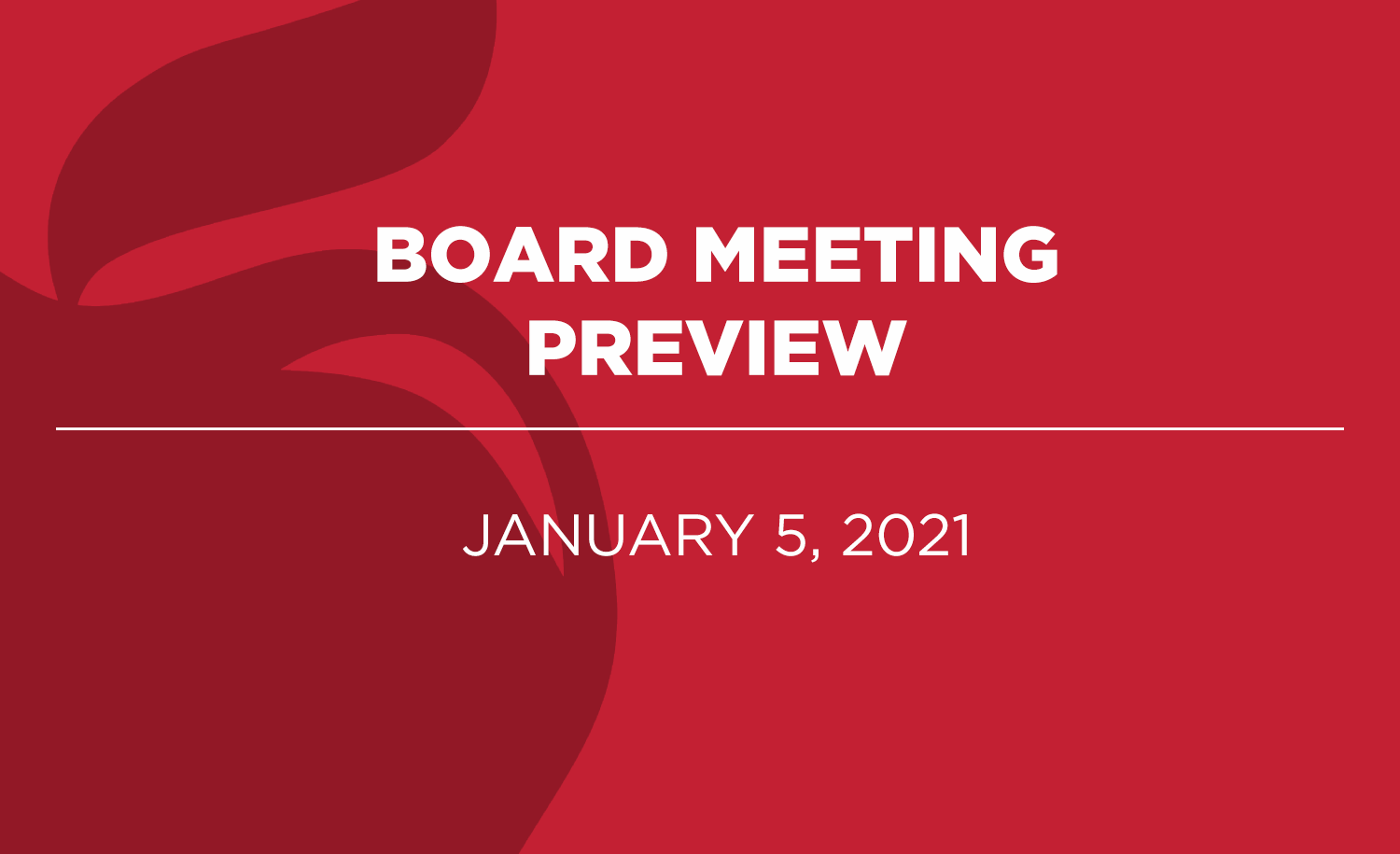 Columbus City Schools
Board of Education Meeting
Tuesday, January 5, 2021, at 5:00 p.m.
VIEWING THE BOARD MEETING
The Columbus Board of Education will hold its regular business meeting virtually on Tuesday, January 5. The Board will begin with its organizational meeting at 5:00 p.m. to elect the Board President and Vice-President, followed by the regular business meeting at 5:30 p.m. The BOE meeting will be streamed on Facebook Live and on the Columbus City Schools' YouTube Channel, which allows the public to attend virtually. For more information on meeting dates and times, click here to view the meeting agenda. To view past Board meetings, click the Columbus City Schools Board of Education YouTube Channel.
Supplemental Supports for ESL Students
The Director of English as a Second Language (ESL) for Columbus City Schools said that supplemental online supports are needed for high school students to master the District's Language Arts curriculum requirements. "Our research has shown that up to 250 incoming ESL freshmen have little to no formal education," said Michael Sine, the District's ESL Director. "Using an online educational program called iLit will give these ESL students and their teachers' extra support to help these students succeed."
Board Members will be asked to approve $93,000 of Coronavirus Aid, Relief and Economic Security (CARES) Act funding to approve the purchase of iLit, which is already aligned with the Ohio English Proficiency Standards, Ohio English Language Arts Standards as well as CCS curriculum standards. Action by the Board of Education could put iLit, which accelerates English language development through interactive content, visual aids, and vocabulary support, in the hands of ESL students later this month.
Policy Changes Could Impact Eligibility for Student-Athletes
Following the Ohio High School Athletic Association (OHSAA), Board Members will be asked to suspend individual sections of Policy 2431, which requires students to maintain a 2.0 Grade Point Average (GPA) and pass five courses to compete athletically. Last month, OHSA suspended several Scholarship Bylaws for the remainder of the 2020-2021 school year and the first grading period of the 2021-2022 school year. By suspending sections of Policy 2431, Board Members will follow the requirements established by OHSAA, which will determine eligibility for interscholastic athletic participation for the remainder of this school year and through the next school's first grading period year.
COVID-19 Personal Protection Equipment
Using Coronavirus Aid, Relief, and Economic Security (CARES) Act Funds, Board Members will be asked to approve $684,000 to purchase more than nine million powder-free vinyl gloves. Staff will use this personal protection equipment to clean surfaces throughout the District through the end of Fiscal Year 2021.
Donations
Board of Education Members will be asked to approve donations for the following schools:
Broadleigh Elementary School

– An $11,994.38 donation from Office Depot/Office Max for instructional supplies to improve student achievement and engagement.

Avondale Elementary School

– A $2,315 donation from Mt. Carmel College of Nursing to purchase incentives and rewards for students and families to recognize them for attendance and participation during remote learning.

Berwick PreK- 8 Alternative

– A $2,000 donation from Charles A. Turner II for the Girls Who Code Club to purchase three programmable robots.