Alternative Opening Archive
Return to Headlines
Board of Education Approves New Contract With CEA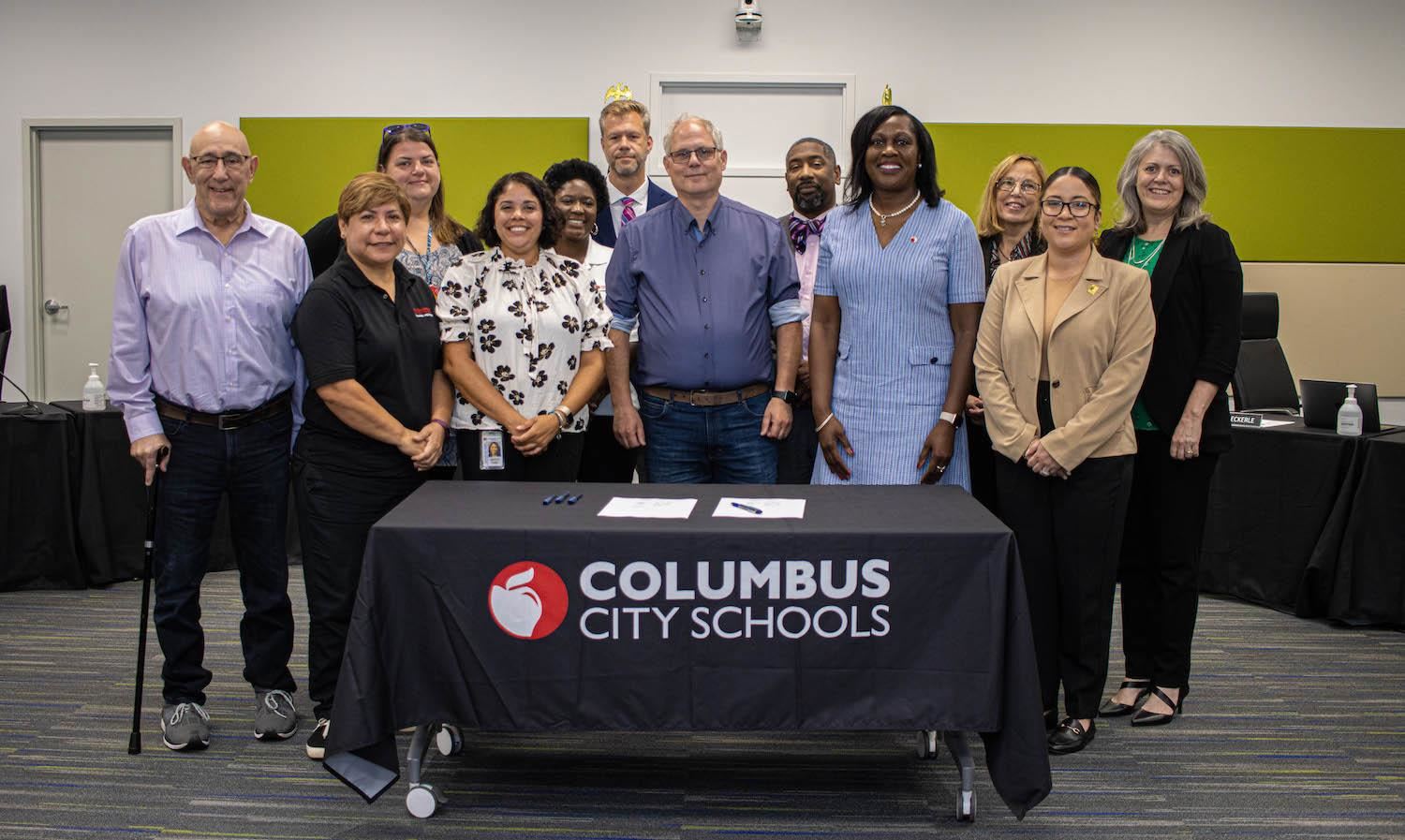 August 29, 2022 -- The Columbus City Schools Board of Education unanimously approved the new three-year contract with the Columbus Education Association (CEA) at a special meeting on Monday morning. The Board and CEA leaders officially signed the contract during the meeting.
---
---
Board members each shared what the new contract means to them and the future of Columbus City Schools.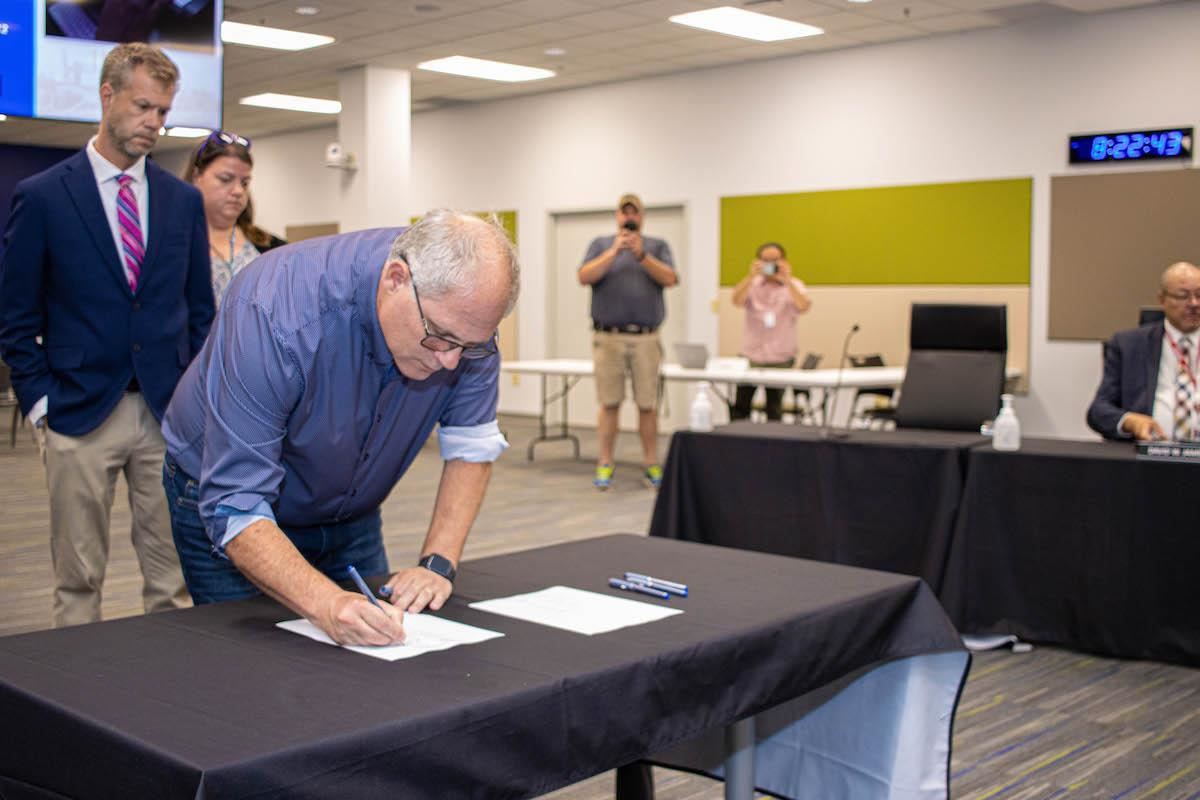 Eric S. Brown
I'm very pleased that we've reached an agreement that is clearly in the best interest of our students, our families, our employees, and the entire community. I think it's important that we focused on kids as our highest priority, and I think we achieved that in this agreement. I think that it's important that this Board not only stayed focused on that, but kept a focus on the entire community and our fiscal responsibilities. I want to thank CEA for helping us get to this point and to come up with solutions.
Christina Vera
I also echo Board Member Brown's sentiments. We respect our teachers, and we are really grateful for their work and their support. We are open and excited about what is to come in terms of how we continue to push our District forward collectively, together. We are going to do that work together. To our students, happy first day, right? It's going to be a great year, and we hope you have an amazing year. Thank you, CEA, and thank you to our community and our teachers, and together, we will be able to push this district forward.
Michael Cole
I clapped in some students this morning at our Boys' Prep School (Columbus City Preparatory School for Boys). It was a wonderful thing to not only see our students walking in—and many of them really ready to go and dressed for business— but to see our educators, our instructors, our teachers walking in with them and ready to work as well. This is what public education is supposed to be about. Solidarity is not just a term for a faction of people. It is a collective term that we all use together. Solidarity means solidarity for Columbus City Schools. I look forward to working on solidarity with our teachers and our other employees as we work to make this a place that each child is highly educated, prepared for leadership and service, and empowered for success as citizens of a global community.
Dr. Tina D. Pierce
I am excited to continue the momentum that CEA was able to build with our community, excited to work with community members, with parents, as well as additional elected officials to advance public education for the betterment of our District and for the entire State of Ohio. I think the fact that our Board has been so committed to putting students at the center, and CEA has partnered with us in this work, it is a tremendous opportunity for our community. I'm super excited for not only for what this year will bring, but what future years will bring for our students.
Carol Beckerle
I want to echo everything that everyone else said. I would like to highlight that many of the provisions in this contract are already examples of us collaborating together and solving problems through discussion and creative problem solving. I'd like to lift one up that I hold dearly: the offering special education teachers the option of either taking a day in order to get their IEPs done or opting to get reimbursed for hours spent outside the classroom, which is often in my experience the way IEPs normally get done. That's an example of us listening to each other, thinking through the problem, and trying to solve the problem creatively. I think there are quite a few examples of that in this contract, and I am encouraged by that. I'm also encouraged by CEA's agreement to work collaboratively with the Board to ensure that our schools are properly funded. I think that's a really significant statement, and I think that we need to go forward together and do this work together. I think there's no denying CEA's capacity to influence public opinion and to get their message out. We need to be harnessing that and working together to make sure our schools are funded, and that's really significant. I think that both of those things… are examples of adult behavior change that's going to improve the outcomes for our kids. That is what it's all about, I think that's where we are, and I'm excited to be moving forward.
Ramona R. Reyes, Board of Education Vice President
I, too, just want to thank the CEA for their partnership for this year. I'm excited for this year. I saw some of my neighborhood children go off to their first physical day of school today, so they're really excited. I talked to a couple Kindergartners and look forward to spending a lot of time with a lot of our students today. I'm thankful that we have our entire team, not only our CEA, our OAPSE, our principals, and our community. I just want to make sure that we continue this momentum. Our children are going to need you. We are still coming out of a pandemic. I am wishful and hopeful that our entire community will rally around our teachers and especially our kids. I look forward to a wonderful year.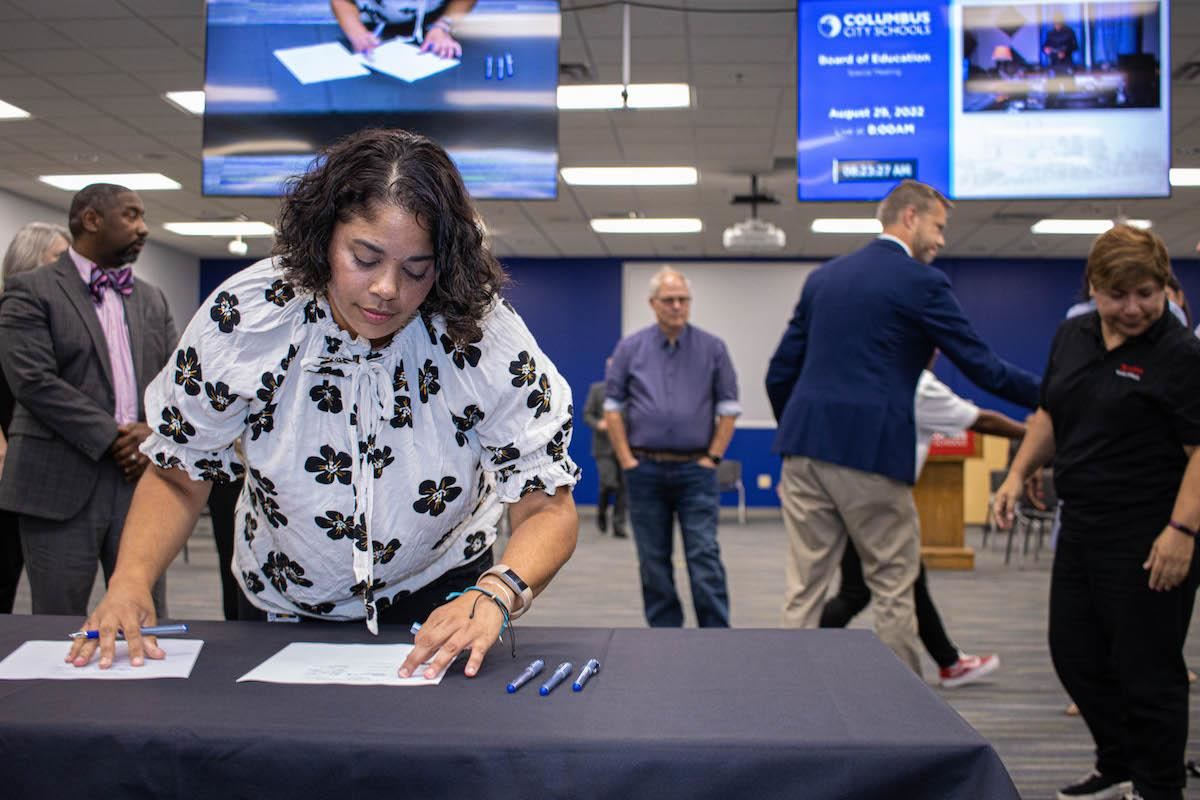 Jennifer Adair, Board of Education President
There is no "us" vs. "them." There is only a "we," and we are CCS. We are all here for our students to ensure they have exactly what it is they need. We have huge systemic issues to fight together. A lot of things need to happen in urban education to put it at the level that we know our children deserve. I do want to thank CEA, as I did last night at the press conference, for fighting. They were able to gain attention that, quite frankly, the board was not able to, even though we've been trying, and so we have to work collaboratively together.
We also know that the members of CEA are part of a profession that is also being undervalued and attacked, and we here at the table extremely value the work and contributions that all members make. Without you, our mission cannot be done so we will also continue to fight to ensure that at some point we get to be the top-paying District in all of our education professions, that we are the premier public school District here in Ohio, that we are the model of urban education across this country. I know that we can do that because as was demonstrated from the support of our teachers, from community to businesses and other elected [officials], that support is there and we just need to channel it in the right direction and make sure that we are really acting on behalf of our students.
I again want to thank CEA members for approving this contract. It's a great contract for you, for us, and most importantly, for our children.