Return to Headlines
CAHS Senior Wins Congressional Art Show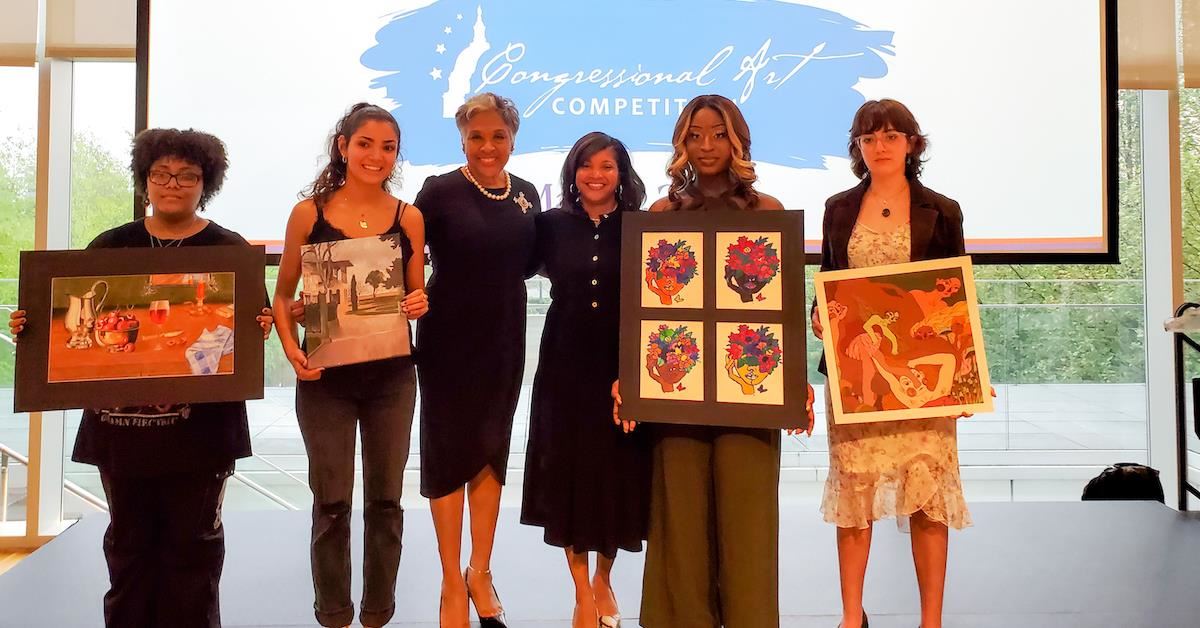 May 15, 2023 -- Dressed ready for the red carpet, senior Racheal Idowu glowed as she accepted a first-place award for her artwork from Congresswoman Joyce Beatty at the Congressional Art Reception.
"My artwork, titled The Color of Oneself, is a depiction of females and flowers," Idowu said. "Each of the paintings, like each of the colors, is based on a mood. Each mood is what I'm feeling and a representation of me. Incorporating the female aspect into it was also a huge thing for me."
If Columbus Alternative High School (CAHS) student Idowu could have painted her mood the evening of the reception, chances are it would have been the same color as the glittering gold champagne dress she wore later that night.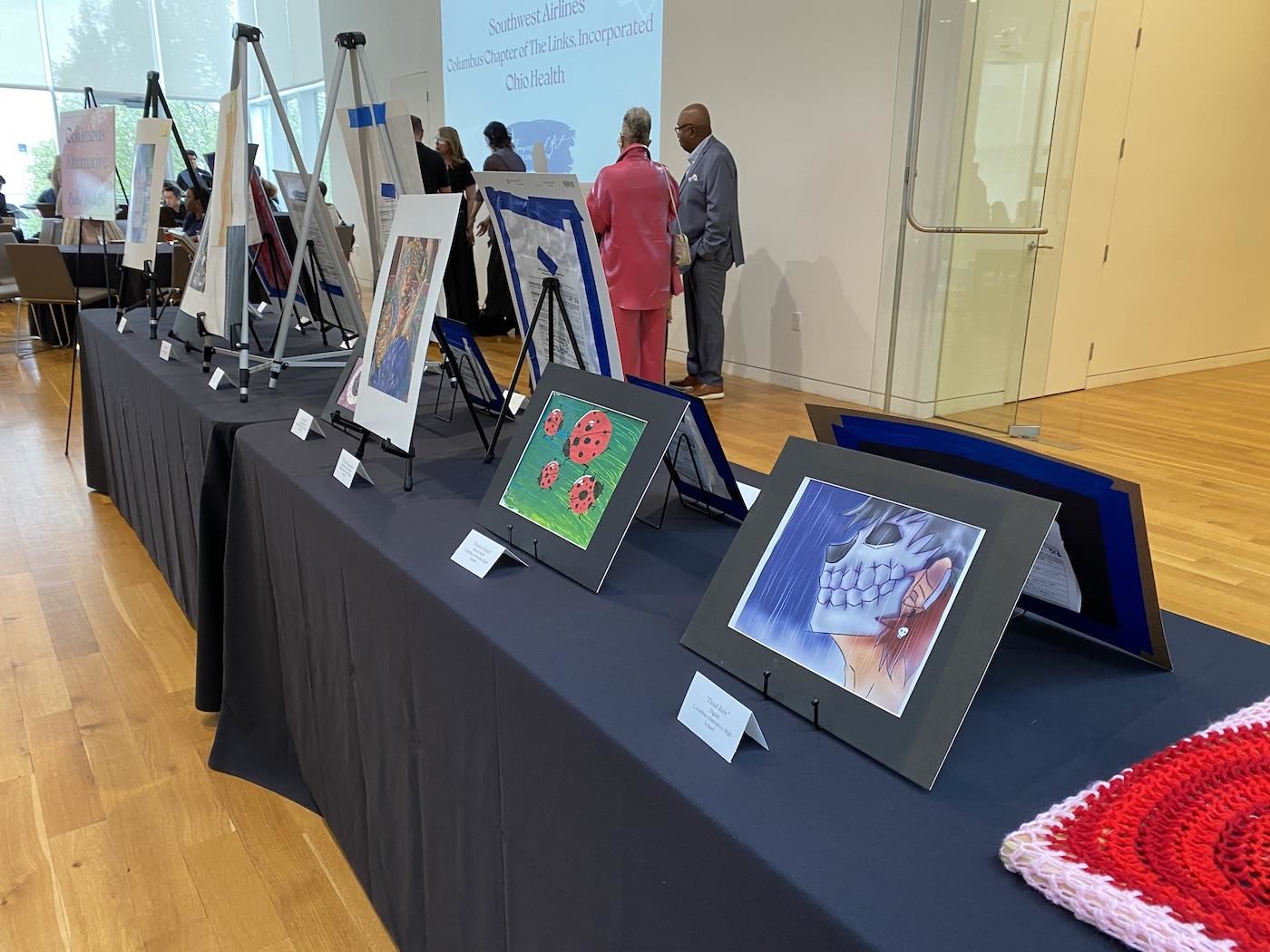 The dress was specifically selected for the senior prom she was whisked away to immediately to after winning this prestigious award – like Cinderella to the Ball.
"My medium was printmaking, so I did the sketch originally and traced it onto the printmaking board," Idowu said. "Then I colored, stamped it in, and colored each color by hand. It took a long time and was about a year in the making."
Idowu won $500, and her artwork will be displayed in the U.S. Capitol for one year. She also received an all-expenses paid invite to attend a reception in Washington D.C. with fellow Congressional Art Competition winners and to meet First Lady Jill Biden.
"For me, art is a way to put down all my thoughts and always represents who I am," Idowu said.
Idowu was shocked and excited to win. She credits her art teacher, Rachel Barkeloo, as her inspiration, as well as for allowing her to explore and nurture her talents.
"In class, we all have different needs," Idowu said. "[Barkeloo] is really great about making time for each student and giving them what they need. She's very accommodating and eager to assist every student. We're so grateful for her."
Barkeloo beamed with pride when she heard Idowu's name called as the first-place winner.
"Racheal's hard work and dedication have been a joy to see as it has grown and blossomed," Barkeloo said. "The smile on her face finding out she won the trip to D.C., where her work will be hung all year alongside other young artists representing their congressional district, was so rewarding. We are proud of the creativity Racheal has shared with all of us."
However, this wasn't the only student of Barkeloo's to win an award at the Congressional Art Reception. Another one of her students, CAHS junior, Addison Byler, won the People's Choice Award.
"Equally exciting, [Byler] won the People's Choice award with a public vote," Barkeloo said. "She is a rising star, and I am thrilled to see what her senior year brings for her next year. I am proud of all my 28 young artists who put their art out for others to enjoy and take the risk of allowing others to enjoy their passion for creative expression. This was a great way to bring our 2023 school year to a close."
Byler's piece was a digital art piece Roots started as a five-by-five mural during a summer camp with Arts Way.
"There was a prompt to do an art piece like a mini mural based on community," Byler said. "I created Roots, which has a bunch of girls and plants and roots and wildlife all intertwined and connected. And I recreated it digitally for the submission."
CAHS represented two of the four Columbus City Schools artists recognized at the reception.
Fort Hayes student, Alexandria Knox, placed second with her piece How I See Myself. This isn't the first big award Knox has won; she also won the Top 25 Award of Distinction for a piece in the 2023 Ohio Governor's Youth Art Exhibition and a Silver Key in the 2023 Scholastic Regional Art and Writing Awards.
Northland High School's Isabella Figueroa won $500 with the piece Reflections. The artwork was selected by The Columbus Chapter of The Links, Incorporated; it provided the scholarships for this event.
The evening rounded out with the Fort Hayes Arts and Academic High School Jazz and String Ensemble providing entertainment during the art viewing.
"Everyone, keep making art and finding outlets to be creative," Barkeloo said. "Art Matters. We are thankful for the support that Congresswoman Beatty brings to her district and our students in CCS, and especially for events like this where her love and appreciation of art and education are in full honor."
---