Return to Headlines
Superintendent's Weekly Message - January 22, 2021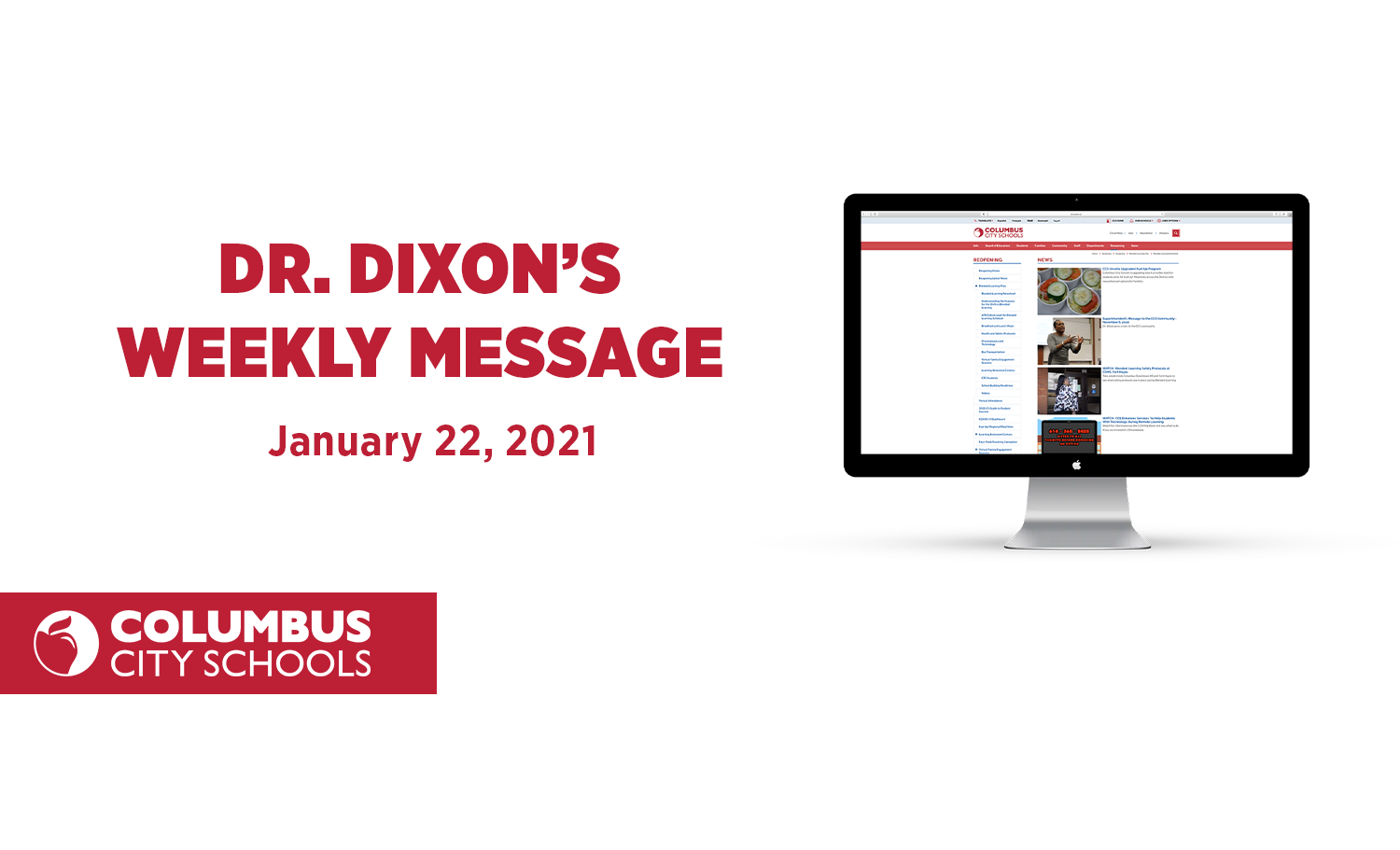 Dear CCS Families,
We are preparing for the safe return of many of our students on February 1. As that date approaches, I want to ensure everyone has the important information necessary to make this transition as successful as possible.
Please see the information included below. I also encourage you to visit our Blended Learning Hub on our website. There you will find a host of information on various topics, including more than 20 health and safety videos, a list of frequently asked questions about blended learning, student cohort groups, meals, transportation, and health and safety building and school bus protocols. This hub is the central resource for all of the latest information.
Families can also reach out to our Office of Customer Relations with questions by calling (614) 365-8888 or emailing customerrelations@columbus.k12.oh.us.
I look forward to the safe return of students, teachers, and staff to their classrooms in February!
Talisa Dixon
Superintendent/CEO, Columbus City Schools
Transition to Blended Learning
Our transition to blending learning will be phased in based on specific groups of students. Once a student group transitions to blended learning, they will remain in that learning model until further notice.
February 1 - These student groups will transition to a blended learning model starting February 1 and continue in the weeks thereafter:
All students in grades PreK through 3.

Students with identified complex needs in grades PreK through 12.

Students in Career and Technical Education programs at Columbus Downtown High School and the Fort Hayes Career Center.
February 8 - These student groups will transition to a blended learning model starting February 8 and continue in the weeks thereafter:
All students in grades 4 and 5.
Parent Portal for Student Cohort Information
Parents/guardians were allowed to choose their preferred blended learning weekly schedule for their students. If you did not select a preference, a schedule was assigned to your student. Your student's cohort assignment can be found in the Parent Portal.
Cohort A: Students will attend classes in-person on Monday and Tuesday and participate in remote learning on Wednesday, Thursday, and Friday.
Cohort B: Students will attend classes on Thursday and Friday and participate in remote learning on Monday, Tuesday, and Wednesday.
Please see the cohort calendars linked here for specific dates of in-person and remote learning. Note that calendars for both the traditional school year and the year-round model (Woodcrest Elementary) are available.
On Wednesdays, students will have a remote class meeting with their teacher and may have small group instruction/intervention opportunities.
On days when students are not scheduled to be at school, they will participate in asynchronous (self-paced) core content (ELA, Math, Science, Social Studies) and remote with Unified Arts classes in alignment with their remote instruction days.
Transportation Information
Individual bus stops, pick-up times, and drop-off times will be communicated to families prior to the start of blended learning. Families should expect to receive a letter in the mail in the coming days. Families can also login to their Parent Portal to view their student's pick-up and drop-off times.
CCS Digital Academy
Registration for the second semester, which begins on January 20, remains open until February 12, for families who want to enroll their students in the CCS Digital Academy, a completely remote and self-paced learning option for students in Kindergarten through 12th grade.
As CCS transitions to a blended learning model, all CCS Digital Academy students will remain in a completely remote learning environment. Visit your Parent Portal for information on how to register.
Virtual Family Engagement Sessions
As we prepare for the anticipated return of students and staff to the classroom in a blended learning model, Dr. Dixon will be joining our Virtual Family Engagement "Super Sessions" each Thursday evening to hear questions and concerns directly from our families.
At these sessions, we talk about specific topics related to how we are ready to safely open our school buildings to staff and students and show what blended learning will look like in Columbus City Schools.
You can watch previous sessions on-demand:
Fuel Up Meal Distribution Program
As students return to schools on February 1, 2021, there will be a change in the meal distribution process at the District's Fuel Up meal sites. Families are still encouraged to pick-up a five-day meal pack each week. During the two days that students are in the classroom, they will be served breakfast and lunch.
Beginning February 3, the Fuel Up locations, where families pick-up the five-day meal packs, will shift to 18 CCS high school locations across the District. Pick-up times will continue from 11:00 a.m. to 1:00 p.m. in the afternoon, and evening distribution pick-up hours will shift to 4:00 to 6:00 p.m.
All breakfast and lunch meals are free to students 18 years of age or younger at Fuel Up high school sites located throughout the District. For a map of all 18 meal site locations, visit https://bit.ly/FuelUpCCS.
Chromebooks
Students who are attending in a blended learning model are expected to bring their devices on the days they attend school in the building if the teacher requires it. Students are also expected to have their Chromebook fully charged before attending school each day.
Mask Exemption Form
Face coverings are required of all students, employees, and visitors due to the Public Health Order issued by the Ohio Department of Health on August 4, 2020, mandating that all K-12 children wear face masks in the classrooms across the state. This mandate follows The American Academy of Pediatrics guidance, recommending that all school-aged children wear face coverings in hospitals, schools, and across the community.
For those parents who believe that these exemptions apply to their children, you can view and or download the Mask Exemption Form by clicking HERE. As with all mask exemption requests, a doctor's recommendation/order will be required.