Teacher & Staff Appreciation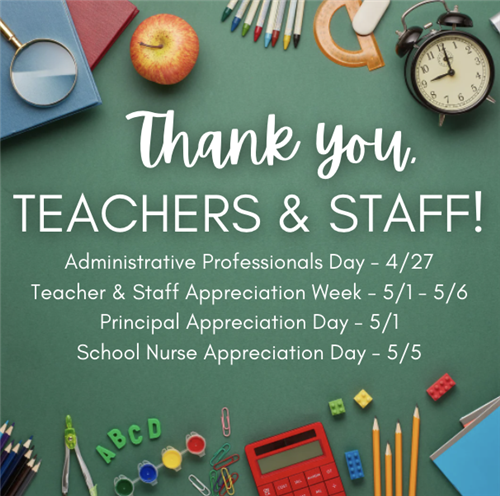 What a great opportunity to thank our teachers and staff for the AMAZING job they have done this school year!

Ideas for showing appreciation:

- Handwritten cards, drawings, notes, poems, and artwork from you and/or your student
- 'Thank you' video or song your family and/or student creates
- Bring in their favorite candy bar or candy (peanut free)
- Make a classroom donation (some teachers have online donation sites for classroom items)
- $5 gift card - could be to Starbucks, Dunkin Donuts, Amazon, Learning Resources, etc.
- Send an ecard, email, or Class Dojo message with a favorite memory or a word of encouragement
- Bring in flowers from your garden

If you would like to show some appreciation to a teacher or staff member, but don't have their email address, you may access it here in the pictorial faculty & staff directory.

You can also click on 'Information' above and select 'Staff Directory' for a list of staff and their email addresses.