BRIGGS HIGH SCHOOL COUNSELING TEAM RECEIVES STATEWIDE RECOGNITION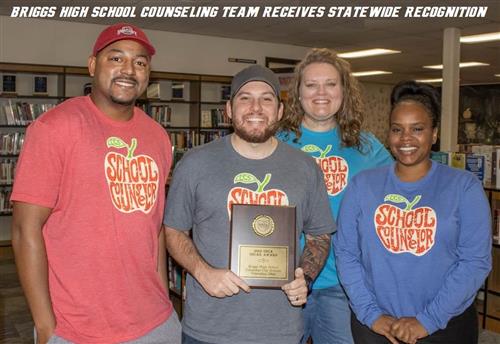 November 9, 2022 -- The Briggs High School counseling team started the 2021-2022 school year as a new team working together for the first time. Together, they became the winners of an Ohio School Counselor Accountability Report (OSCAR) award.
"Receiving this distinction as a first-year team is affirming and confidence building," said Dan Emberger, one of the Briggs counselors. "This was a demonstration of the efficacy of what we do."
The award recognizes counselors who submit an outstanding OSCAR. The OSCAR is a results-based document demonstrating a school counselor's effectiveness. Briggs was one of 11 schools in the state of Ohio to receive the distinction.
Counselors Dan Emberger, April Posey, Sara Williams, and Kendall Lawrence made up the award-winning group. They credit their success to collaboration and teamwork.
"The key to our success was working together," explained Posey. "We did so well because we communicate often. We meet together, plan together, and do everything else together."
Winning an OSCAR after their first year working as a team sets a high standard, but the Briggs team has no plans to stop there. They want to keep growing and continue to have a positive effect on the Briggs students and staff.
"Winning this award is really a huge deal. We were one of the few schools in Ohio to get it," said Lawrence. "It's evidence that we're doing good work and making an impact in the school."