Welcome CGA Family Ambassador!
Welcome CGA Family Ambassador!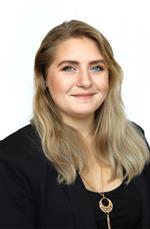 We're excited to welcome Audrey Evans to the Phoenix Community in the role of Family Ambassador!
Audrey is a Columbus native and a resident of the Forest Park area. She is a 2015 graduate of Columbus Alternative High School. Audrey graduated from Ottterbein University in 2019 with a BA in Studio Art and a minor in Film Studies. She is currently serving in her second year of AmeriCorps as part of the Ohio College Guide Program with I Know I Can. Last year, she assisted students and families at the high school level, whereas this year she is working with current college students. As a former "gifted kid" herself, Audrey understands the unique and nuanced approach to learning and the well-being of students and families. She looks forward to being your Family Ambassador!
In this role, Audrey will collaborate with CGA stakeholders at all levels to design and implement activities and events that promote scholar achievement. The first of these initiatives includes the creation of the Phoenix Sun Newsletter. You can read the first edition here. Please enjoy!