Unified Arts Specials Schedule
UNIFIED ARTS SPECIALS SCHEDULE
Since we have returned to Blending Learning, we have made some school adjustments to our Unified Arts Specials Schedule.
While Cohort A students are in school, Cohort B students (students at home) will be attending their Unified Arts online Wednesdays, Thursdys, and Fridays.
While Cohort B students are in the school, Cohort A students will be attending their Uified Arts online Mondays, Tuesdays, and Wednesdays.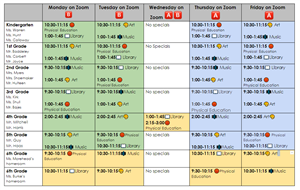 https://docs.google.com/document/d/1CSPcGZp87wHVG4q0nqqLEj7swRC0fZBxjIBdKyGsZTY/edit?usp=sharing