The Northland HS STEM Club is on Zoom!
The NHS STEM Club is on Zoom!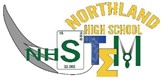 Join us every Tuesday from 2:45-4:45 for brainteasers, competitive events, and other fun activities. Please click here for a downloadable flyer and other important information!
Not sure about joining? Hear what your classmates have to say about STEM club:
Any questions? Please contact STEM Club's Senior Advisor, Dr. Sybil Brown here.