Return to Headlines
CCS to Expand HVAC Program with Industry Partner Air Force One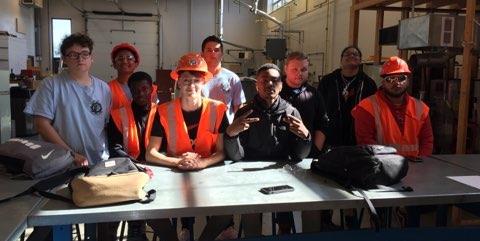 May 12, 2020 -- For the 2020-2021 school year, Columbus City Schools 11th-grade students will have the opportunity to enroll in the District's HVAC Program that has now expanded to include Commercial HVAC training as part of a partnership with Air Force One.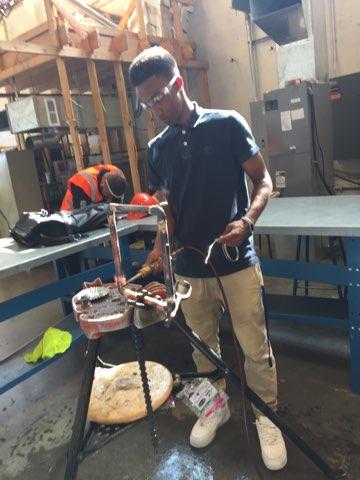 Currently, CCS offers students the ability to receive certifications in residential HVAC licensing through the CTE program offered at the Fort Hayes Career Center.
Columbus City Schools and industry partner Air Force One are developing the first multi-generational Commercial HVAC training program in the state of Ohio. With the support of Ohio Health, Nationwide Insurance, Worthington Industries, Workforce Development Board, Ohio Means Jobs, and United Way of Central Ohio, CCS will provide students with state-of-the-art training including a robust internship program.
"This will provide high school students job flexibility when they graduate because they can go to a residential company and work in homes or be hired with industry partners like Air Force One and work on big units," said Edward O'Reilly, CCS Director of Adult Education and Workforce Development.
As students explore a career field with an employment growth rate that's three times the national average, students are introduced to the following skills:
Solder, braze, and weld copper

Create and wire an HVAC project board

Install units for HVAC

Bend sheet metal

Work with Freon

Diagnose HVAC issues with a MultiMeter
In the first year of the two-year program, students will engage in a mix of hands-on learning and lecture in the HVAC lab. In year two, students will begin to install equipment and learn the principles of refrigerant to become EPA-certified.
In addition to the Commercial HVAC training program at the high school level, the District will now offer HVAC training and certification in its Adult Education Program.
"It creates a streamline between the secondary program and adult education," said Celeste Lewis, CCS Director of Career and Technical Education. "In the secondary area, students begin the fundamentals, the training, and the hands-on-learning. As students move through the program in Commercial HVAC, they will also be able to hopefully enter into the pathway of adult education and continue the strong program."
This Industry Credential Pathway will provide career opportunities for students and District residents to move into middle-class wage jobs that are recession-proof and provide vital services to area businesses. The median pay for HVAC professionals is $45,110.
It is the desire of our high school Career-Technical Education Department and our Adult Education Program to leverage this opportunity to provide a scalable model to develop other in-demand skills trade programs.
As an added benefit, current Columbus City Schools HVAC Technicians will have access to this training.