Return to Headlines
Today Show Host and Weatherman Al Roker, ABC News Correspondent Deborah Roberts to Deliver Virtual Commencement Keynote to CCS Class of 2020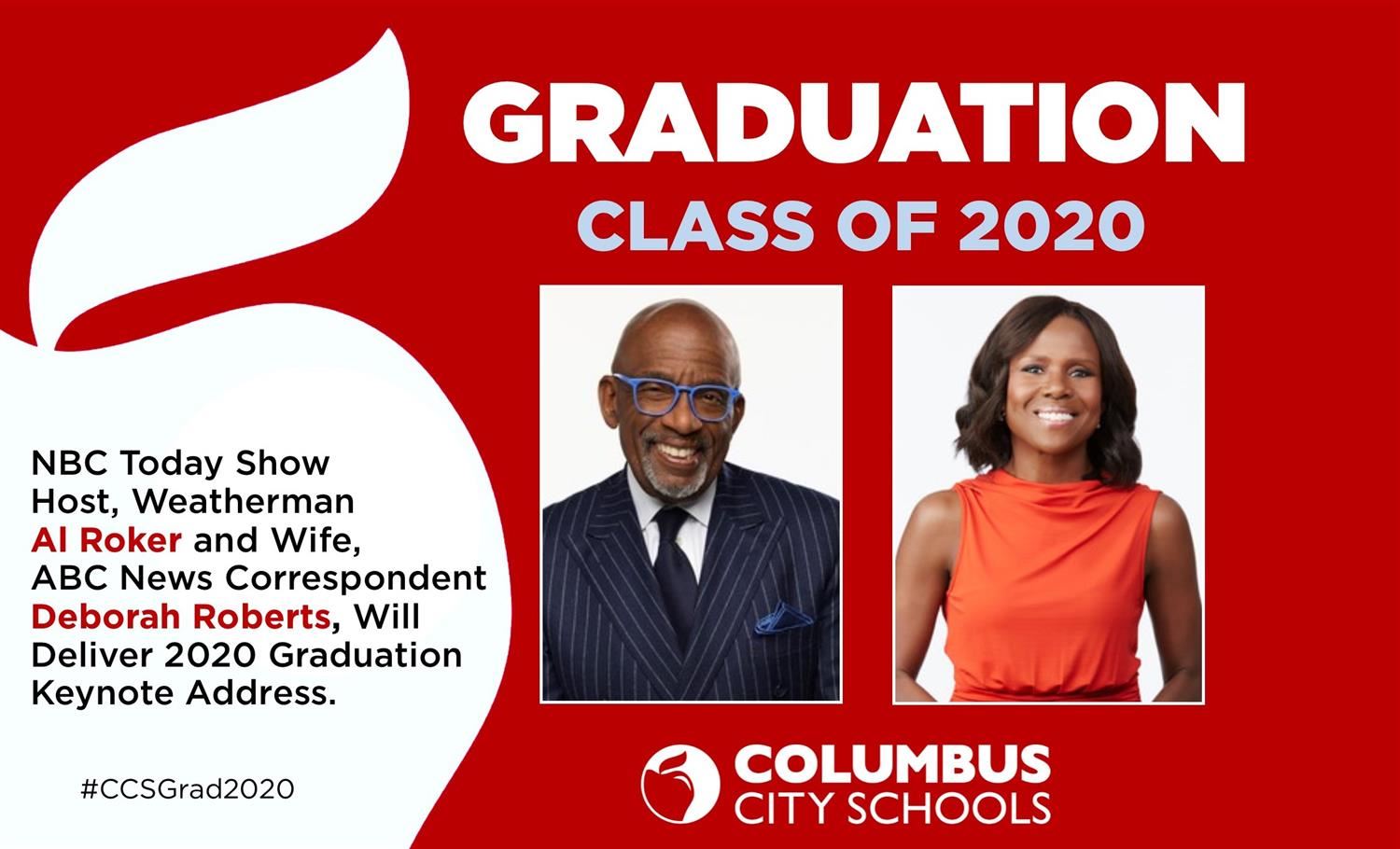 May 21, 2020 -- Columbus City Schools is proud to announce that NBC Today Show Host and Weatherman Al Roker, along with his wife ABC News Correspondent Deborah Roberts will deliver the keynote address for the District's Class of 2020 Virtual Graduation Ceremonies.
"These are extraordinary times, and of course, extraordinary solutions are required to keep our kids feeling valued and celebrated," said Deborah Roberts. "My husband, Al Roker, and I are delighted to contribute to their big day."
"We are happy to simply encourage and inspire as best we can from our living room couch," added Al Roker.
As a host and weatherman of NBC's Today Show, along with Savannah Guthrie and Hoda Kotb, Al Roker has the undivided attention of the nation (over 30 million viewers per week) every weekday morning as America prepares for school and work.
Spanning more than 40 years on TV and 13 Emmy awards, Al conducts interviews with celebrities and newsmakers around the world and does a wide variety of segments on every imaginable subject. Al also co-anchors the popular Third Hour of Today, presenting lifestyle segments that touch all Americans.
In addition to his on-air NBC duties, Al also hosts Off The Rails with Dylan Dreyer and Sheinelle Jones, Tuesdays on TODAY Radio on SiriusXM, and COLD CUTS with Al Roker on Today.com and YouTube as part of the Today Originals series.
Al is also an accomplished television producer. He is the owner and CEO of Al Roker Entertainment, Inc., creating a vast array of programs for cable, digital, social media, and home video. Notably, Al was the Executive Producer of the award-winning Coast Guard Alaska and Coast Guard Florida series for The Weather Channel, now airing nightly on Pluto TV.
As a bestselling author with 12 acclaimed books to his credit, Al's mystery novel, The Morning Show Murders (part of a 3-book mystery fiction trilogy), is now a TV staple airing on Hallmark Movies and Mysteries, starring Holly Robinson Peete and Rick Fox.
Al's latest (and 13th) book is slated for release on July 28, 2020. You Look So Much Better In Person - True Stories Of Absurdity and Success is a humorous collection of essays based on lessons for living a happy life and achieving success through the power of saying "yes!"
Al made his Broadway stage debut in Waitress the Musical to rave reviews in October 2018 at the Brooks Atkinson Theatre in New York City, playing the part of Old Joe, the owner of Joe's Diner. He reprised this role in November 2019.
Al lives in New York City with his wife, ABC Correspondent, Deborah Roberts, and has three kids.
Deborah Roberts is an award-winning ABC News Correspondent for 20/20, Nightline, Good Morning America, and ABC World News Tonight with David Muir.
A media veteran, Roberts is a highly respected journalist who has traveled the world in her reporting.
Roberts' long-form reports on 20/20 have consistently produced extraordinary narratives such as her profile of first lady Michelle Obama and Ivanka Trump.
Roberts has won multiple Emmy awards for her international and national coverage of world events, including her poignant reporting on an Ethiopian American woman's emotional journey back to her African village to discover her long lost mother.
During the week of June 22 through 27, each high school's virtual graduation ceremony will be streamed on the Columbus City Schools Facebook, page and YouTube channel, aired on the Columbus Educational Access Channel (make sure to check your local TV listings), and also simulcast on WCBE 90.5 FM. The full CCS graduation informational hub is available here.