Return to Headlines
Board Meeting Preview: November 17, 2020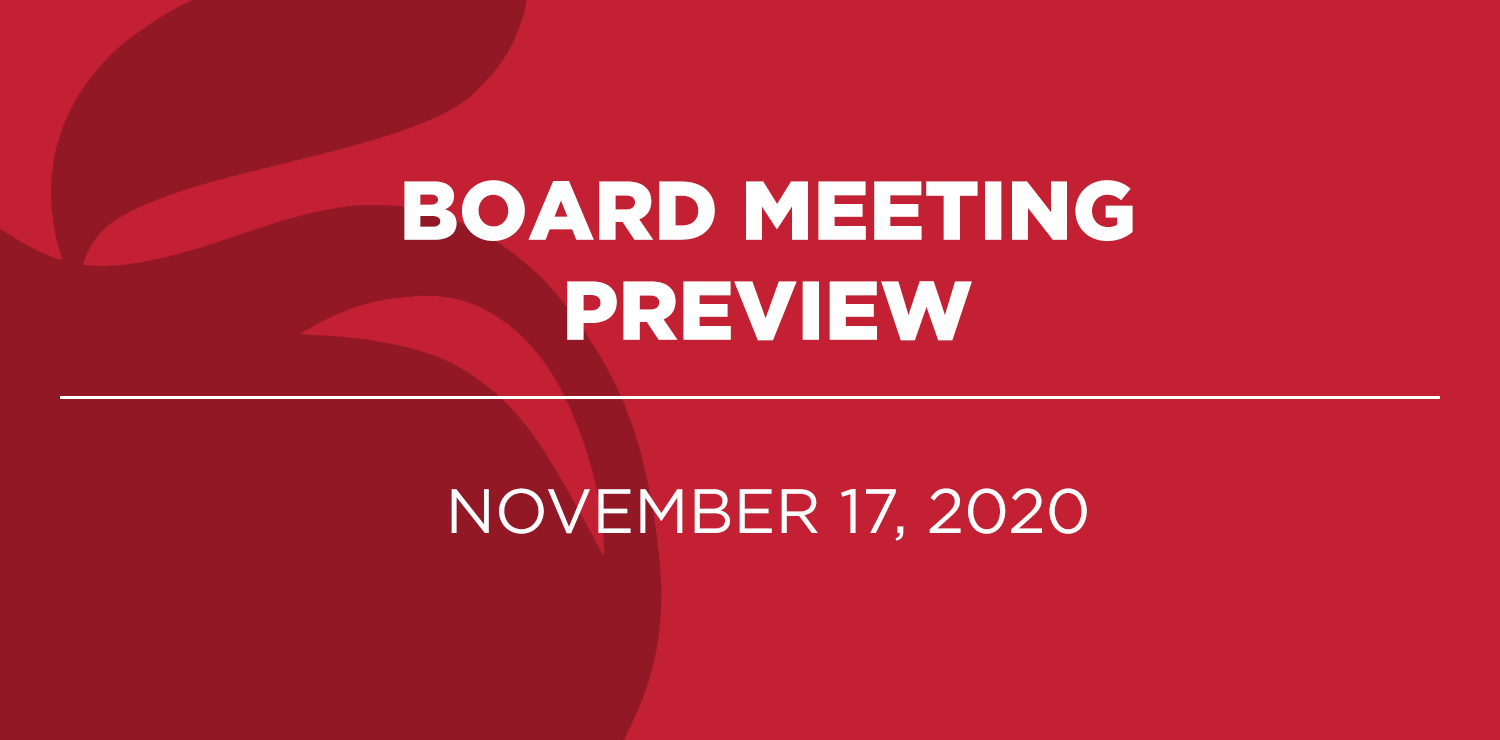 Columbus City Schools
Columbus Board of Education Meeting
Tuesday, November 17, at 5:30 pm
VIEWING THE BOARD MEETING
The Columbus Board of Education (BOE) will hold its regular business meeting virtually on Tuesday, November 17, at 5:30 p.m. The meeting will be streamed on Facebook Live and on the Columbus City Schools' YouTube Channel, which allows the public to attend virtually. For more information on meeting dates and times, click here to view the meeting agenda. To view past Board meetings, visit the Columbus City Schools Board of Education YouTube Channel.
Robots
The Office of Career Technical Education (CTE) will ask Board Members to approve the purchase of two robots for a cost of $127,000 for CCS high school students studying advanced manufacturing. These robots will allow students to earn industry-recognized credentials while in high school. With these credentials and advanced skills, students will be more qualified when they enter the workforce after graduation or be more prepared for a successful transition to college. These robots will also be the focal point for Columbus City Schools' new Advanced Manufacturing and Robotics CTE Summer Camp for 9th and 10th-graders.
New Chromebooks
Board members will be asked to approve $600,000 to purchase two thousand (2,000) new Chromebooks. While CCS has provided a Chromebook to every student who has requested one since remote learning began last spring, there is very little inventory left. These new Chromebooks will be used for future district-wide testing periods and to replace Chromebooks that need to be repaired or have been damaged or stolen.
Desk Dividers
Using money from the Coronavirus Aid, Relief and Economic Security (CARES) Act Fund, Columbus City Schools will ask Board Members to approve the purchase of 30-inch desk dividers for every high school. These plastic, portable 30-inch desk dividers will be used when maintaining six feet of distance in the high school classroom is not possible. The District wants to purchase the desk dividers now so that they are installed when teachers and staff return to school buildings after the first of the year.
New Lights
Board Members will be asked to approve $35,000 to replace lighting fixtures at Yorktown Middle School, 5600 E. Livingston Avenue, and Columbus City Preparatory School for Boys, 3450 Medway Avenue. Installation of the new light fixtures at both schools is expected to be complete by the first of the year.
Fire Alarm
Funded by the passage of Issue 57 in 2016, the District's "Operation: Fix It" initiative will replace the fire alarm system at Buckeye Middle School, 2950 S. Parsons Avenue. Board Members will be asked to approve the $89,000 investment to install a new fire alarm system by the end of April 2021.
Community Donations
Board members will be asked to approve two donations. Two community members want to donate an upright piano, valued at $3,400 for students at Indian Springs Elementary School to use as part of its music curriculum.
The second donation is from the Columbus Board of Realtors. The group wants to donate just over $2,700 to support student fees and supplies at the Fort Hayes Career Center.
UPCOMING EVENTS
November 25: All Schools Closed (Compensatory Day for Parent Conferences)
November 26-27: All Schools Closed (Thanksgiving Holiday)