Return to Headlines
Columbus City Schools Holding In-Person Graduation Ceremonies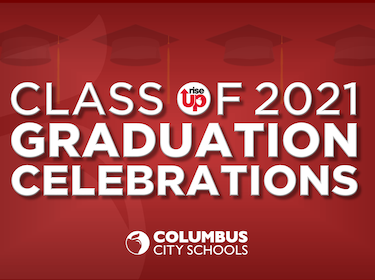 May 5, 2021 -- Columbus City Schools (CCS) has finalized graduation plans for the Class of 2021. This year's soon-to-be graduates will return to the Columbus Convention Center and their home schools for in-person graduation ceremonies with some restrictions in adherence to COVID-19 health and safety protocols.
This year's Class of 2021 will celebrate with in-person ceremonies taking place at the Columbus Convention Center and three high school sites, all with spaces large enough to safely hold ceremonies for its graduates and their families, June 2-5, 2021.
As we continue to navigate through this pandemic, our goal is to safely have as much of a traditional graduation ceremony as possible," said Superintendent/CEO Dr. Talisa Dixon. "This is an important time not only for our students and families but for our Columbus community, and we want to make it as special as possible while also adhering to the necessary health and safety guidelines."
The in-person graduation ceremonies are scheduled for Wednesday, June 2, through Saturday, June 5.
---
Watch archived 2021 graduation ceremonies!
---
Sixteen of the District's high schools will hold ceremonies at the downtown venue in the Short North, Battelle, and Union Station Ballrooms. East High School will host its ceremony in the school's auditorium; Columbus Africentric Early College will use its Fieldhouse for its event. Columbus Scioto will hold its ceremony at the District's Southland administrative building located at 3700 S. High Street.
All ceremonies will be live-streamed on the District's Facebook page and YouTube channel for those who can't watch in person.
COVID-19 health and safety protocols will be enforced; attendees must wear face coverings and practice social distancing at all times. Plans are subject to change dependent upon state and local health guidelines or directives.
"Finding a way to safely celebrate our graduates in-person has been a goal since COVID-19 first interrupted our graduation ceremonies in 2020," said Chief of Transformation and Leadership Dr. Angela Chapman. "One of the moments we have missed the most this past year is seeing the joy and sense of achievement in each graduate as they cross the stage. Now, after extensive planning and safety preparations, we are very excited to invite the students in the Class of 2021 to join an in-person commencement experience in June," she added.
The room size at the Convention Center and District sites will allow each student to have two (2) tickets. The ticket limitation is based on the size of the event space and the need to comply with the six-foot social distancing requirements.
---
MAY 27, 2021 UPDATE: Columbus City Schools is excited to announce that it will offer its Class of 2021 seniors two additional tickets for graduation.
Due to the State lifting its health orders effective June 2, Columbus City Schools will increase the ticket allotment for all graduation ceremonies to 4 tickets per student. This ticket increase applies to all venues: The Columbus Convention Center, the Africentric Fieldhouse, East High School, and the District's administrative site at 3700 S. High St.
All attendees will be required to wear masks per the City of Columbus ordinance, which remains in effect.
---
Unlike pre-pandemic ceremonies, guests will be required to remain in their seats while at each venue, and there will be less time to mingle. Convention Center guests will be required to enter the site through a designated entrance 15 minutes before the ceremony starts. Guests will receive specific entry logistics from their graduates' school administration. Once the ceremony is over, families will have 10-15 minutes to revel in the pomp and circumstance, get any pictures with their graduates, and exit the space to allow staff time to clean and disinfect the venue and prepare for the next ceremony.
Graduations occurring at a CCS venue will follow a similar plan. Guests will be permitted to enter the site 15 minutes before the ceremony is scheduled to begin and will need to select a seat and remain seated throughout the ceremony. Each school's administration will provide detailed information for their guests.
Students have been learning remotely for most of the year, transitioning to a Cohort A and B hybrid learning model in February and March. These in-person ceremonies will be the first time, since their junior year, that seniors will get to see their entire class and celebrate this monumental achievement and milestone in their academic career.
Summer graduation will be held Saturday, August 14, with the location and details to be determined.