Return to Headlines
CNIS Senior Named Semifinalist for Jack Kent Cooke College Foundation Scholarship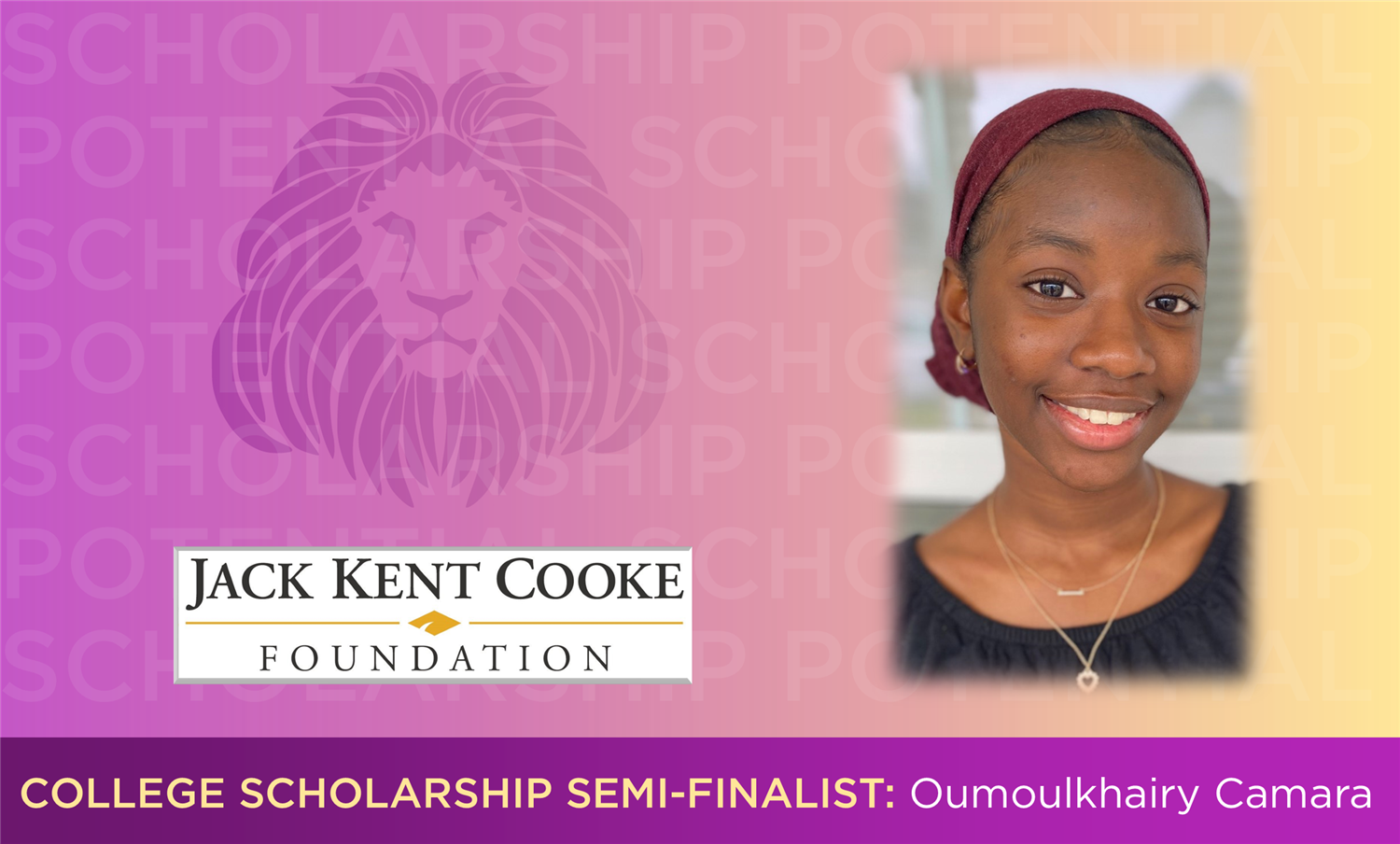 March 9, 2021 -- Oumoulkhairy Camara, a senior at Columbus North International School (CNIS), is defying the odds at the age of 16. As a member of the Class of 2021, she has already completed more than a half dozen college courses, several Advanced Placement courses at CNIS, and received two free college tuition scholarships, one a full ride.
"I'm just following my older sister," said Camara. "That's how we were raised. In my culture, by the time you are 16, young women need to know how to cook. My mom said to me, don't worry about the kitchen, just study."
And that is precisely what Oumoulkhairy, or Oumy for short, has done since the eighth grade when she started school at CNIS. "The first time Oumy walked into my office, she asked me how she could take college courses," said Jathiya Abdullah-Simmons, Oumy's counselor. "She was just a 14-year-old sophomore. She was shy but so aware, so proactive, and asking me all kinds of questions. Oumy is so driven."
Oumy's academic success has not gone unnoticed. "As an 11th grader, Oumy took all College Credit Plus (CCP) courses and AP courses and got straight As," said Tanya McClanahan, CCP Administrator for Columbus City Schools. "We have several high school juniors in the District that take 12 hours of college credit courses but not while taking three AP courses at the same time. That is quite an academic load, and from her grades, it doesn't seem to have bothered her at all."
Along with the two scholarship offers Oumy has received, she recently learned that she is a semi-finalist for the Jack Kent Cooke College Foundation Scholarship. The prestigious Cooke College Scholarship provides exceptionally talented students who have financial needs with up to $40,000 annually for four years of college to enable them to attend a top-performing college or university. "These semifinalists embody determination and resilience as they navigate finishing high school during one of the most difficult and unprecedented times in American history," said Executive Director Seppy Basili.
Oumy was selected as a semi-finalist for the Cooke College Scholarship out of a pool of 5,800 applications. "I was surprised they picked me," Oumy said. "I completed the scholarship application in two days, emailed it, and didn't think any more about it." Last year, a senior from Centennial High School, Joy Ayinde, was also a semi-finalist for the Cooke College Scholarship.
In her personal essay to the scholarship committee, Oumy writes about returning to her parent's homeland in Nouakchott, a city in Mauritania in Africa. She shares a childhood experience that involved getting stitches in an African hospital emergency room where her aunt was a nurse. In the essay, Oumy relates the scar left on her arm from that childhood injury to a piece of broken Japanese pottery. She describes the pottery's mending to her healing and finding her identity as a young African American woman.
While Oumy, her older sister, and her younger brother were all born in Columbus, her parents sent her back to Africa when she was five to live with her grandparents for a few years. "My parents wanted me to have that foundation and be exposed to the African culture," said Oumy. While living in Africa, it was that hospital visit that changed everything for Oumy. "I saw a very disadvantaged health care system in Africa," said Oumy. "That's when I decided I wanted to go into medicine to help people."
As if Oumy's studies were not challenging enough, she also volunteers in her community. "I'm an Islamic mentor to little kids in the community," said Oumy. "I help the small children memorize verses of the Koran and teach them about the Islamic culture. I also work for a community organization that does service projects every month. Recently, we assembled care packages for kids at the Ronald McDonald House."
Oumy, fluent in four languages; French, English, Wolof, and Fulani, has applied to several colleges and universities. While she has already been accepted at Ohio State University, Denison University, and Ohio University, she is still waiting to hear back from the University of Southern California, University of Pennsylvania, and Stanford University. "I want to become a doctor and return one day to Africa to practice medicine."
Oumy will be 16 when she graduates from Columbus North International School. "I love my high school," she said. "It's like home, and I have close friends. Before the pandemic, I could walk down the hall between classes and hear different languages. I loved that. It made me feel like that's where I belong."
Every year, around 60 students are chosen for the Cooke College scholarship. Oumy will hear in April if she received the scholarship.