Return to Headlines
Elevate Women On The Rise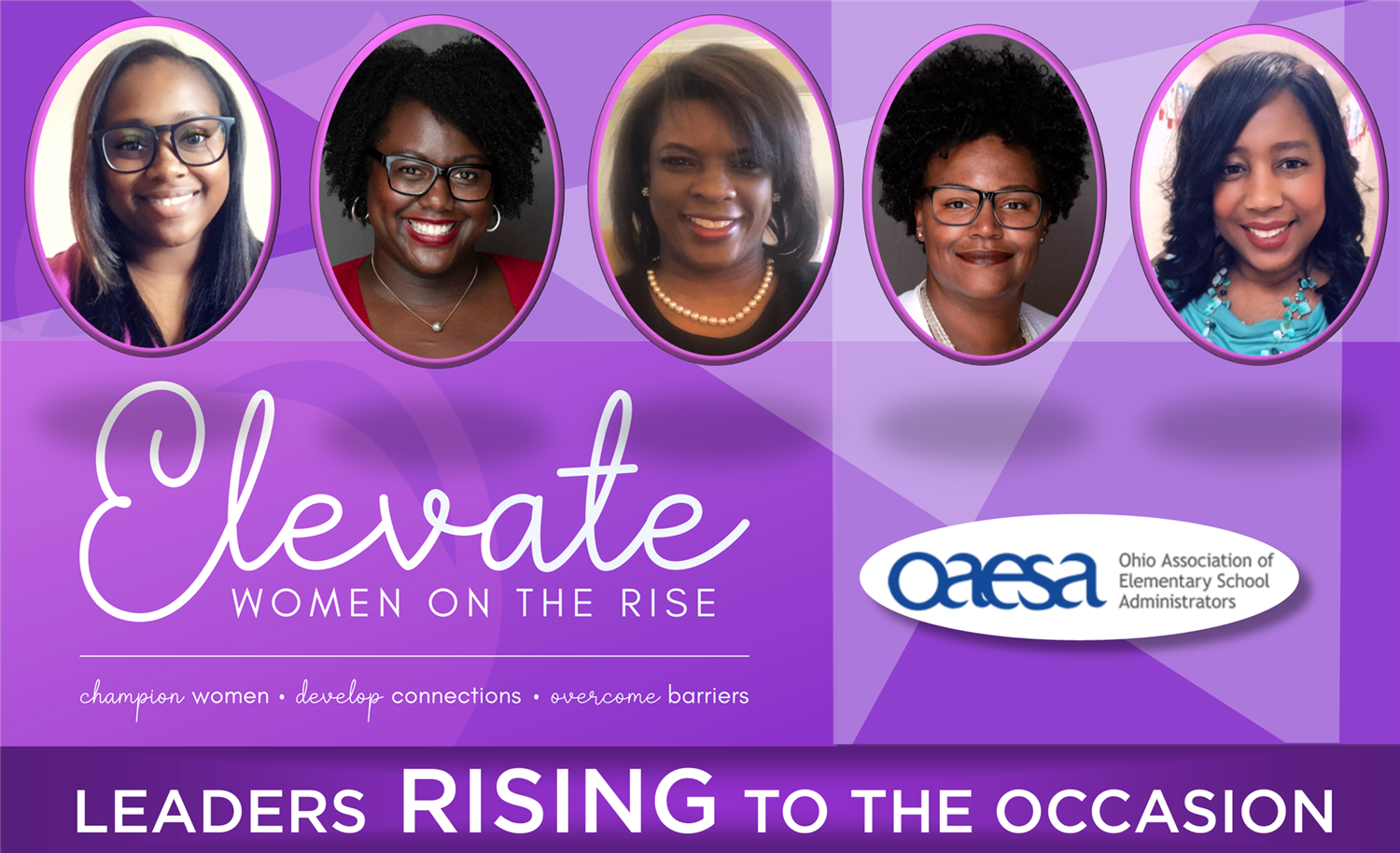 March 12, 2021 -- At the recent Ohio Association of Elementary School Administrators (OAESA) virtual conference, "Elevate Women on the Rise," Principals Ebone Johnson and Brianne Pannell shared how technology can build connections as long as you are open-minded and not fearful.
"I wasn't that digitally savvy when the pandemic hit last March," said Ebone Johnson, Principal at West Mound Elementary School. "I also wasn't afraid to show my vulnerability and admit I had a lot to learn when it came to digital platforms. Sharing my vulnerability helped me get my staff on board. I also leaned on colleagues, and together, we explored the electronic technologies that would help us all be better at our jobs."
One of those colleagues Ebone Johnson leaned on was Brianne Pannell, the principal at Woodcrest Elementary. Their professional relationship and friendship began 11 years ago at Columbus City Schools.
"I was a leadership intern at Woodcrest Elementary School at the time, and Brianne was a teacher," said Johnson. "We've been colleagues and good friends since. We support each other." Both women said supporting one another instead of competing makes all the difference.
Pannell and Johnson teamed up together and presented at this year's OAESA conference because they believe information sharing is powerful and makes people better, especially women educators.
"These digital learning technologies make learning more engaging," said Brianne Pannell, Principal at Woodcrest Elementary School. "Not only does technology allow our students to be more interactive, but sharing this knowledge with our colleagues in Central Ohio and beyond provides professional growth opportunities."
Pannell and Johnson's virtual conference break-out session was called Discovering Beauty through Blue Light Glasses: Finding Clarity through Digital Connections.
"We can never go back to the way it was before this pandemic," said Pannell. "The way we teach has changed because of this discovered technology. It has also allowed us to build stronger professional learning communities within CCS and beyond. I have colleagues as far away as Arizona. Through our digital connections, we help each other learn, grow and develop."
Building something better is what CCS Principal Cheryl Jones and her team accomplished during their break-out session at the same OAESA conference. Principal Jones, Special Education Intervention Specialist Letisha Brown, and Teacher Tayana Patterson shared best practices from East Linden Elementary on how to build a strong culture and improve academic achievement in all student groups.
"I believe in a two-prong approach," said Principal Cheryl Jones. "Show students that they are supported through words and actions and show that same support to teachers and staff. Our students will be successful if our staff have ongoing professional development opportunities. The result is a culture of inclusion."
Letisha Brown is an Intermediate Special Education Teacher at East Linden Elementary School.
"I feel it is important to expose the diversity in our building," said Ms. Brown. "We have come a long way with our two special education units and continue to seek our professional development opportunities that encourage collaboration and co-teaching."
Principal Jones, Teacher Brown, and Instructional Coach Tayana Patterson called their break-out session at the conference, Building a Culture of Champions.
"We've taken many steps to become champions through our professional development," said Patterson. "Along with developing champions, it's important to develop a culture of champions."
Together, these five women educational leaders share knowledge and support colleagues to create success in the classroom and beyond for generations to come.