Return to Headlines
Day One of Summer Learning and Fun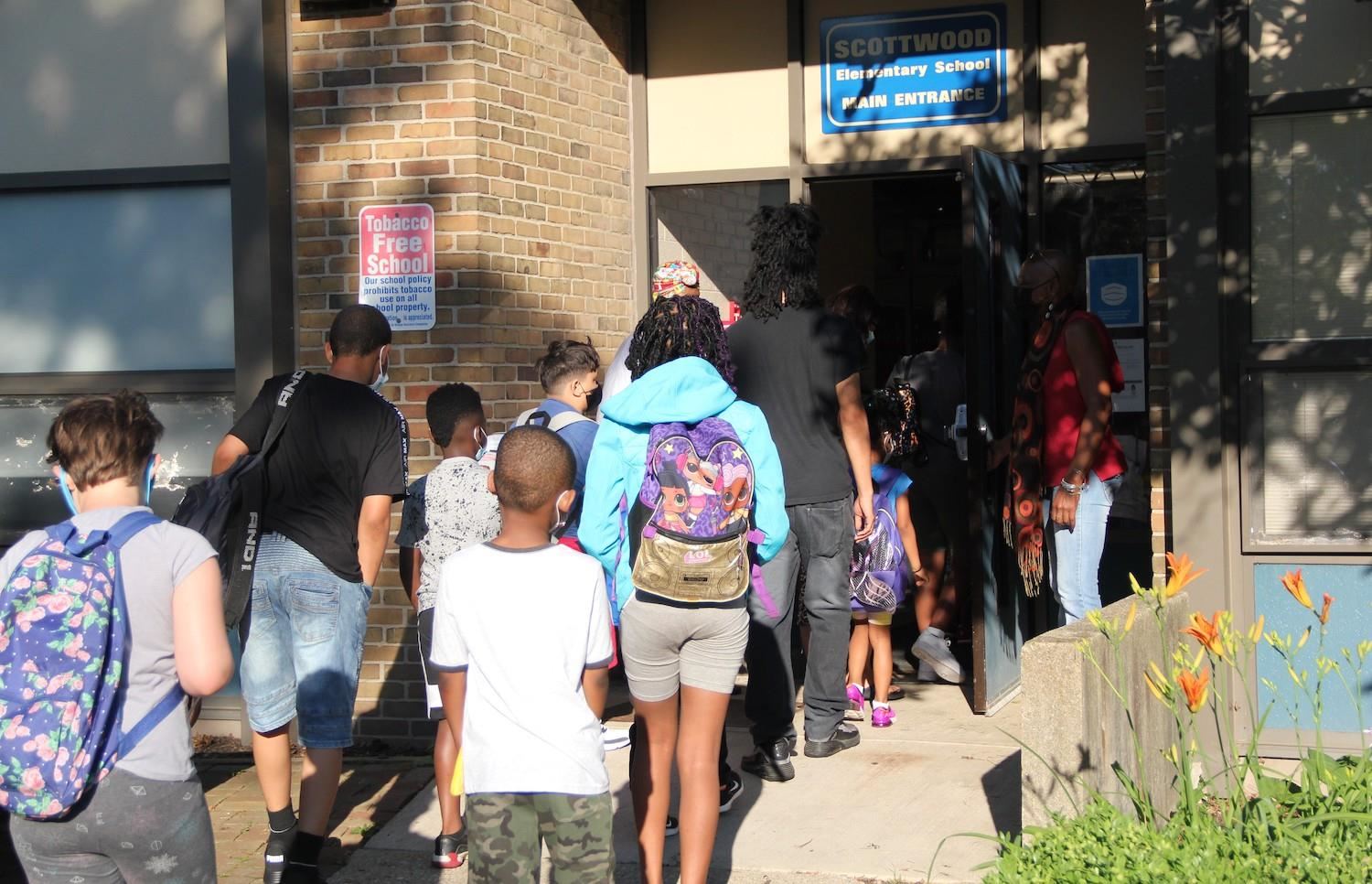 June 14, 2021 -- At 8 o'clock sharp, instructional aide Antoinette Savage was in position at the door right by the parking lot at Scottwood Elementary School, ready to welcome students and their families for the first day of the 2021 Columbus City Schools Summer Experience.
"Come on in, you are going to have fun today," said Savage. "You need a mask," she reminded another student. "No problem. Mom can come in with you, but you're going to be fine. I'm here," said Savage, who was trying to reassure a nervous first-grader hanging on to mom's t-shirt.
Summer programming for elementary school students at twelve CCS elementary school sites starts a little earlier than the traditional academic year, about an hour earlier.
"It's a little hectic, but that's expected," said Sephan Frazier, Scottwood Summer Experience principal. "It's the first day, and some of these students enrolled for summer learning have never been to Scottwood before," said Frazier.
During the school year, Frazier is the assistant principal at Scottwood, but this summer, he stepped up to take the top spot for six weeks.
"I wanted to extend the school year, to be honest, and get the experience since students were learning remotely for a little more than half the school year," said Frazier. "I wanted to spend more time with the students."
His wish will be granted since the summer programming for all elementary and middle school students is in-person four days a week, Monday through Thursday, from 8 a.m. to 1 p.m. for six weeks.
In Mildred Tate's first grade class, the first order of business today was breakfast which is provided free every day along with lunch. Every chair in Tate's classroom was filled. Tate will focus on academics and social-emotional learning through problem-solving, project-based learning, and team-building activities until July 23, the last day of the CCS Summer Experience.
Jamie Robertson, the mother of five-year-old fraternal twins, signed her children up for the summer Pre-K program, so they are ready for kindergarten in the fall.
"I want to get them into a normal routine and not sitting around the house all summer watching TV," said Robertson. "I heard good things about some of the fun activities and thought it would be good for them."
Robertson admits that she was a little nervous, and so were the twins, but after she made sure Braxton and Bellamie made it to their classroom, her anxiety lessened.
Even though Principal Frazier was juggling student rosters in one hand and a crate full of milk cartons in the other, he too was taking it all in stride and offered up some sound advice.
"Be patient, be kind, go with the flow and enjoy what's here at Scottwood," said Frazier.