Return to Headlines
Board Meeting Preview: June 15, 2021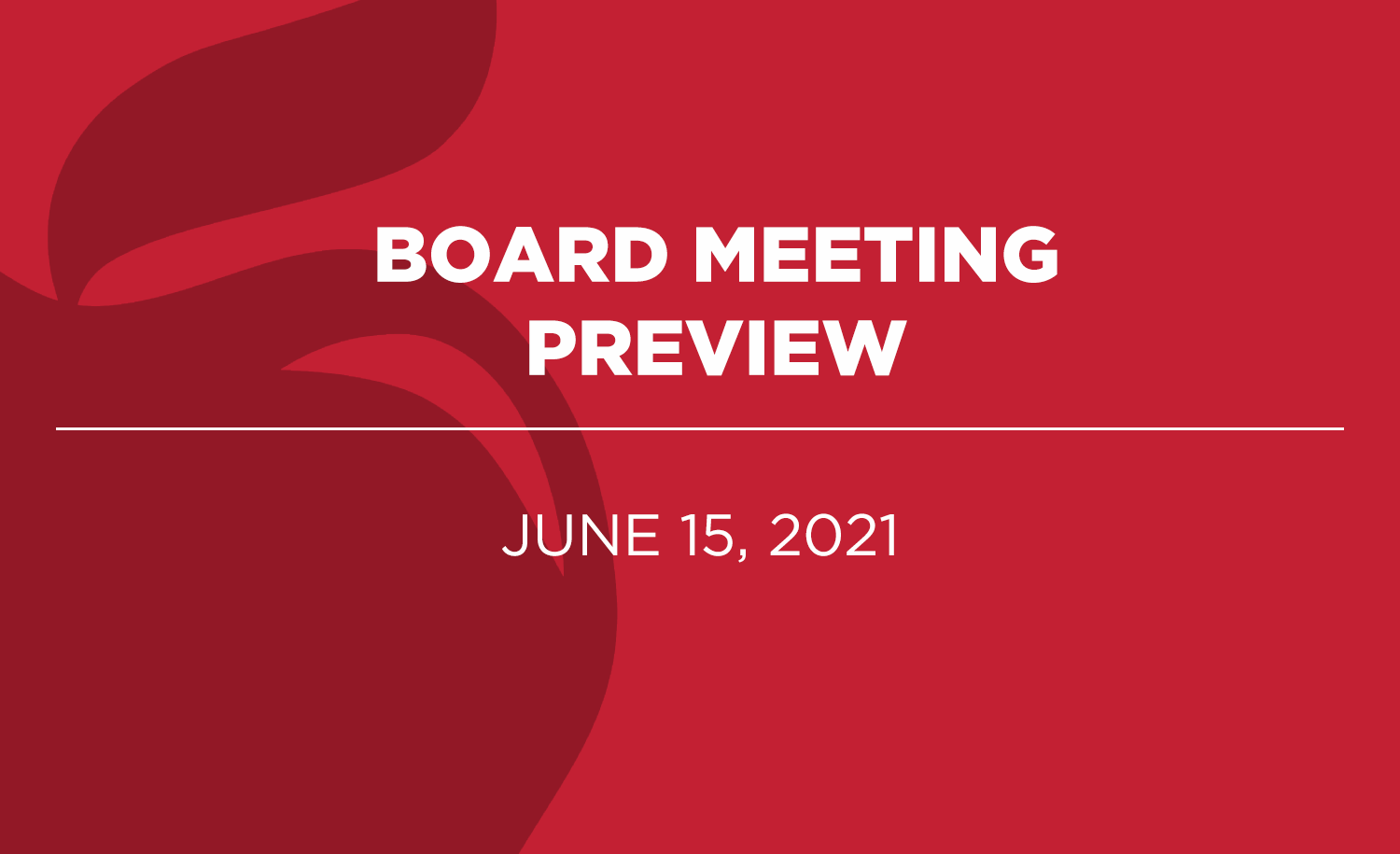 Columbus City Schools
Board of Education Meeting (Hybrid Virtual Meeting)
Tuesday, June 15, 2021, at 5:30 pm
The Columbus Board of Education will convene its regular business meeting in a hybrid manner on Tuesday, June 15 at 5:30 p.m. Four members of the Board will meet in person, with three members joining remotely. The meeting will be streamed via Facebook Live and on the Columbus City Schools' YouTube Channel, which allows the public to attend virtually.
The Board of Education will also incorporate public participation in a hybrid manner from the District's south Administrative site located at 3700 S. High St. Individuals who wish to provide public comment will have the option of doing so in-person or remotely during the meeting. To sign up, public participants must leave a voicemail with Customer Relations at (614) 365-8888 or email customerrelations@columbus.k12.oh.us by 12:00 p.m. on Tuesday, June 15, let the staffer know which format they are choosing. Speakers will need to provide their name, topic, and phone number. Click here to view the meeting agenda.
BlendED Learning for 2021-2022 School Year
Using the Emergency and Secondary School Emergency Relief (ESSER II) Fund, Board Members will be asked to approve $892,000 for online curriculum for students in grades 6-12 with APEX Learning for the 2021-2022 school year. This purchase will provide the resources and materials to high school, and middle school students enrolled in the Columbus City Schools BlendEd program (a state-approved virtual model) for the 2021-2022 school year.
Founded in 1997, Apex Learning is the leading provider of digital curriculum used in BlendEd and virtual learning programs. Apex Learning strives to address diverse student needs, promote on-time graduation, and prepare students for college and careers. Apex Learning offers a robust digital curriculum designed to meet the specific needs of students, from building foundational skills to creating opportunities for advanced coursework.
The Office of Teaching and Learning is also requesting Board Members use ESSER II Funds to purchase a digital curriculum from Edgenuity, Inc. for $445,000 for Math and English Language Arts for 1,000 students in grades K-5 for the 2021-2022 school year. Edgenuity offers a curriculum for elementary school students who complete all their learning online. Students will have access to courses in Reading and Mathematics. The content includes online instruction as well as offline workbooks for the core content areas.
Science Curriculum Resources
The Office of Teaching and Learning requests Board of Education authorization to enter into a purchase agreement with Houghton Mifflin Harcourt Publishing Company for $1.2 million for science curriculum and resources for all middle school students. The science curriculum will foster student engagement through phenomena-based lessons, promote active learning with investigation-driven activities, build excitement for engineering and STEM, build problem-solving skills with performance-based assessments, engage students with motivating digital resources, and create enduring understanding with integrated Three-Dimensional Learning. In addition to the print and digital resources, Houghton Mifflin Harcourt Publishing Company will also provide ongoing, flexible, and actionable Teacher Professional Development.
Literacy Tools for Every Elementary School Teacher
Using Coronavirus Aid, Relief and Economic Security (CARES) Act Funds, Board Members will be asked to approve a $2 million service agreement with Voyager Sopris Learning, Inc., to provide professional development, subscription, and training programs, and materials related to learning and implementing LANGUAGE ESSENTIALS FOR TEACHERS OF READING AND SPELLING (LETRS) at the elementary school level. LETRS addresses four critical outcomes for effective literacy instruction: understanding the science of reading, converting research to practice, enhancing teacher effectiveness, and transforming instruction. By understanding the "why" behind science and evidence-based research, educators can effectively know how to aid students in learning how to read.
Social Studies Curriculum
The Office of Teaching and Learning requests authorization to enter into a purchase agreement valued at $2.8 million for five years with Teachers Curriculum Institute (TCI) for the purchase of comprehensive print and digital curriculum resources for Grades 6-12 Social Studies (Geography Alive!, History Alive!, Government Alive!, and Econ Alive!). TCI will develop customized digital versions of its resources to align with the District's scope and sequence and curriculum offerings. This purchase will provide standards-aligned, rigorous, culturally diverse, and multimedia-rich learning resources and materials for 23,000 students and 500 teachers in Grades 6-12.
Donations
Board Members will be asked to accept a donation of 30,000 flat packs of Lysol wipes from Kids In Need Foundation, an organization that provides free materials to school districts, teachers and students. The gift is valued at $143,712.57. The Kids In Need Foundation annually serves an estimated five million students and 205,000 teachers and provides more than $70 million in products at no cost to schools or teachers.
The Board will also be asked to accept a $9,000 donation of supplies and equipment from SupplyHouse.com for instructional purposes for students in the HVAC Program at the Fort Hayes Career Center.
UPCOMING EVENTS
June 21: Facilities Master Plan Regional Community Conversations (Region 3 – 5:30 p.m.; Region 4 – 7:30 p.m.)
July 23: Facilities Master Plan Regional Community Conversations (Region 5 – 5:30 p.m.; Region 6 – 7:30 p.m.)
July 24: Neighborhood School Development Partnership Committee (8 a.m.)
Audit & Accountability Committee (3:30 p.m.)
Facilities Master Plan Regional Community Conversations (Region 1 – 5:30 p.m.; Region 2 – 7:30 p.m.)
June 29: Final Fiscal Year Board of Education Meeting (5:30 p.m.)