Return to Headlines
T-Shirts Help Middle School Students Become Critical Thinkers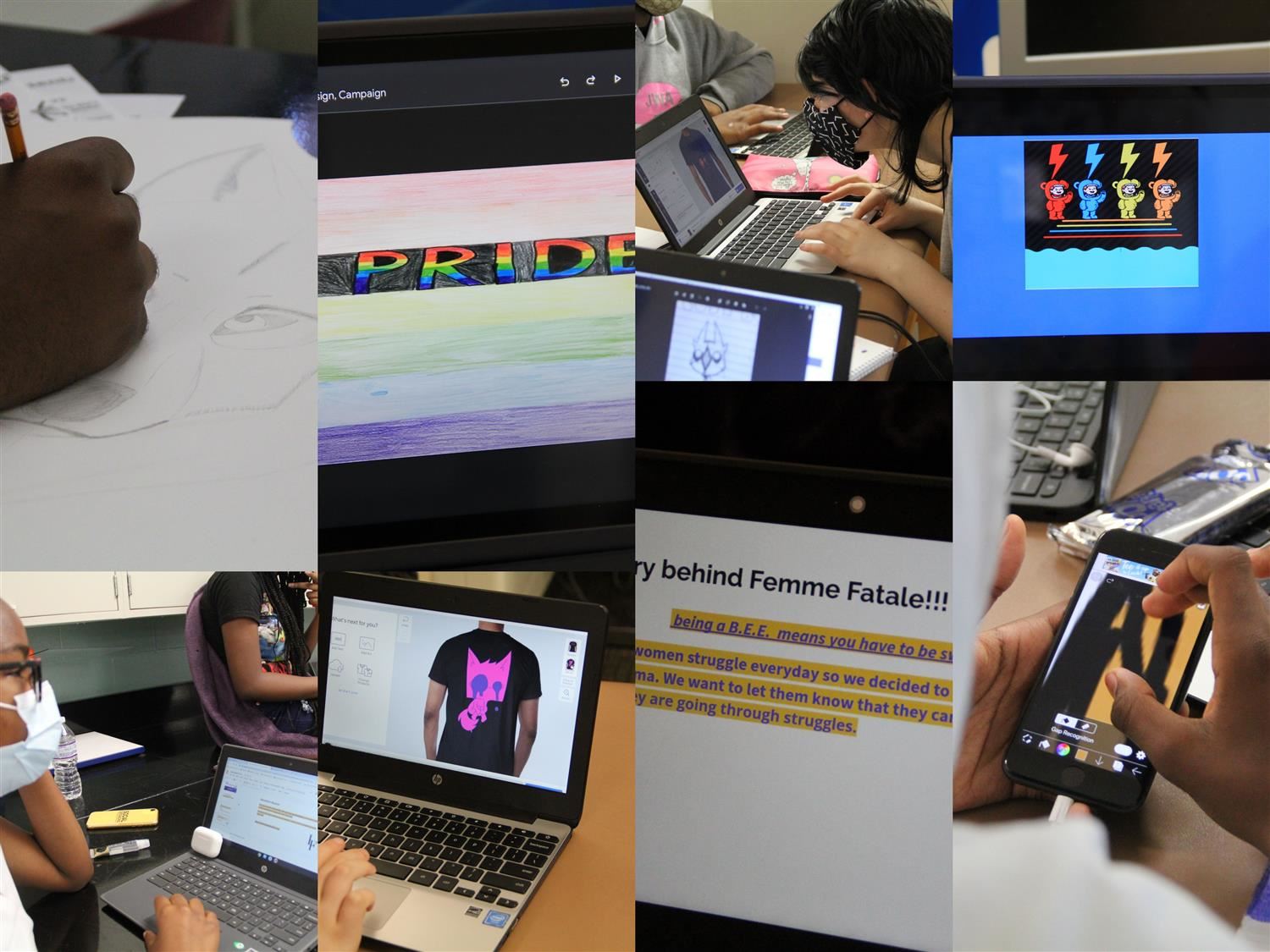 July 1, 2021 -- Room 202 on the second floor of the Health Building at the Fort Hayes Education Center does not look like a typical school classroom. Students are working in small groups, except for one, Davante Jackson, the teacher who's creating his own artistic design freehand. Hip hop music plays while Jackson and his middle school students use computers, sketch pads, and markers.
Welcome to Fashion STEM, a unique program offered four days a week for six weeks this summer to Columbus City Schools students in grades 6 through 8. The mission of this project-based learning is to create and pitch a t-shirt campaign for the Columbus apparel brand, Homage. Students do everything from design to customer research, taking turns in different roles in the fashion industry.
"I'm working right alongside my students," said Jackson, a recent college graduate of Central State University who was hired to teach math at Linden-McKinley STEM Academy in 2020. "Fashion STEM uses math and shapes, so I'm right at home this summer. I'm designing a t-shirt with my students to set an example." Jackson decided to teach this summer because he wanted more face-to-face learning time with students since he only had a few short months during the past year.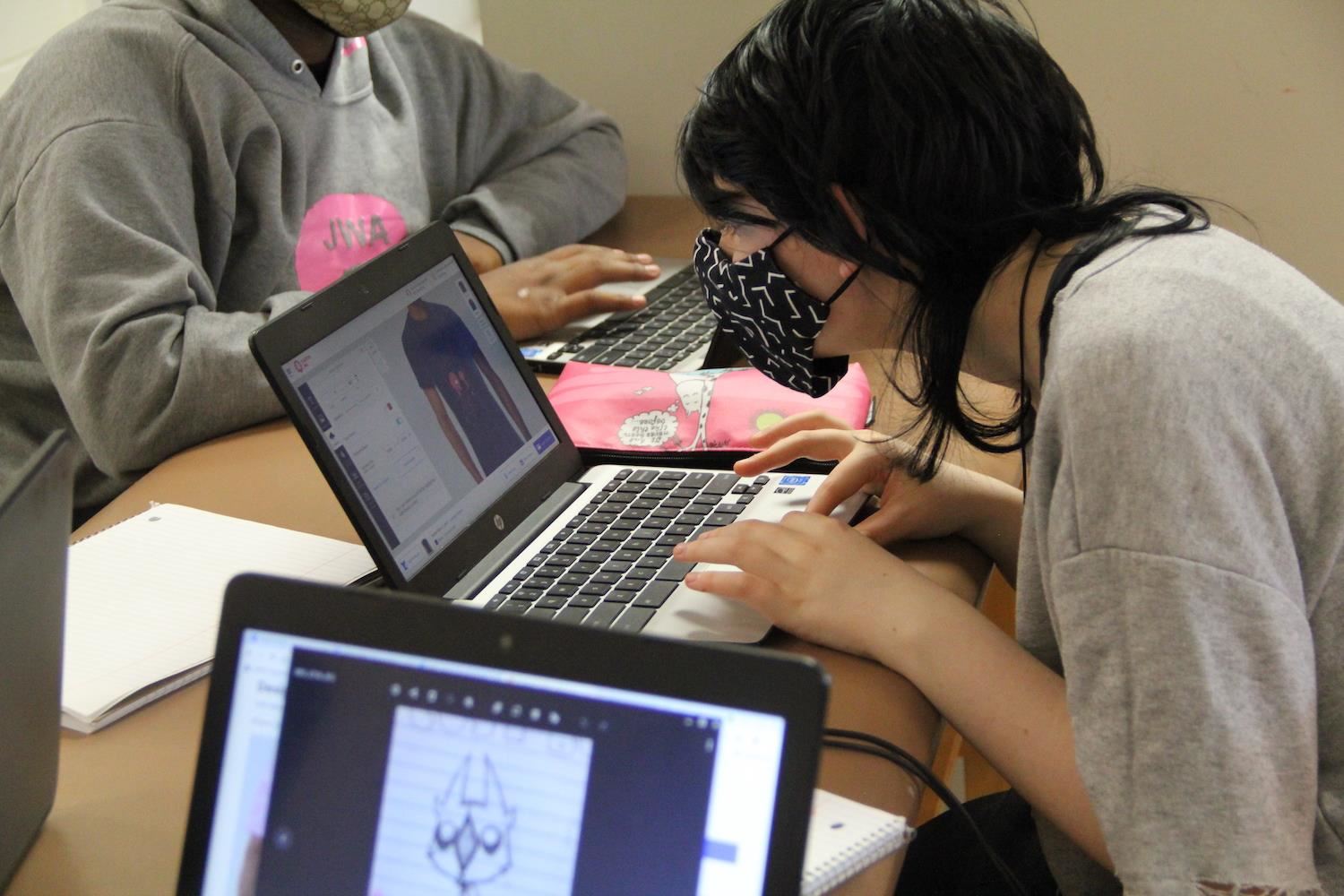 In the back of the classroom, a group of Jackson's students has already created their own fashion label: Femme Fatale. Mikelah Pleasant, Javareya Edwards, and Kalei James have designed a t-shirt to help black women struggling with trauma and domestic violence. Their t-shirt displays the message Bad B.E.E.S which stands for Black Excellent Educated Sistas.
"The mission of our t-shirt is to stand up for black female empowerment," said Mikelah Pleasant. "We want our merchandise to help women who need help standing up for themselves." Part of this team's pitch includes a dollar donation from every t-shirt sold to an organization that supports black girls and women.
"I have a group of students who discovered another computer platform to use to design their t-shirt," said teacher Laurise Johnson, who is also teaching Fashion STEM in another classroom right down the hall from Davante Jackson. "If the computer program the students discovered works better, it's cool. I'm proud of them for thinking outside the box."
Project-based learning and creating as you go are not typical for a middle school classroom, except for this summer at CCS. Fashion STEM is one of several unique programming options, and like his fellow teachers, Jake Mostyn is up for the challenge. A first-year teacher with the District just like Davante Jackson, he signed up for the Summer Experience but for different reasons.
"I didn't want to work at UPS another hot summer delivering packages," said Mostyn.
So the young Columbus native and recent college grad traded in his brown uniform for project-based learning. Two groups of students in Mostyn's class are working on several pitches for multiple T-shirt designs.
"Our theme is kids smile then and now," one student shared. The design is four primary-colored teddy bear-looking characters that mirror the popular children's show Teletubbies, often described as happy aliens with colorful antennas and giggly spaciness. The student group wanted their t-shirt to make people feel comfortable and silly.
In another part of Mostyn's classroom, the team huddles together, laptops open. Kiara Williams, the outspoken one of her group, is going with a more timely message for their t-shirt concept.
"We created a Pride t-shirt because it's Pride month in June, and there is so much hate," said Williams. "We want our t-shirt to celebrate the differences in people."
Whatever the t-shirt message, these students are learning about math and science, just not with a textbook.
"Designing a t-shirt is like chemistry," said Mostyn. "You add something to the process that may or may not work. If it doesn't, you try something else until you find the right solution, just like science."
"Graphic design is math, angles, and measurements; that's the lesson these students are learning while designing their t-shirts," said Jackson.
Before the end of the Summer Experience on July 23, the student groups will have the opportunity to pitch face-to-face their t-shirt design and concept to representatives from Homage.