Return to Headlines
Summer Experience Robotics Champs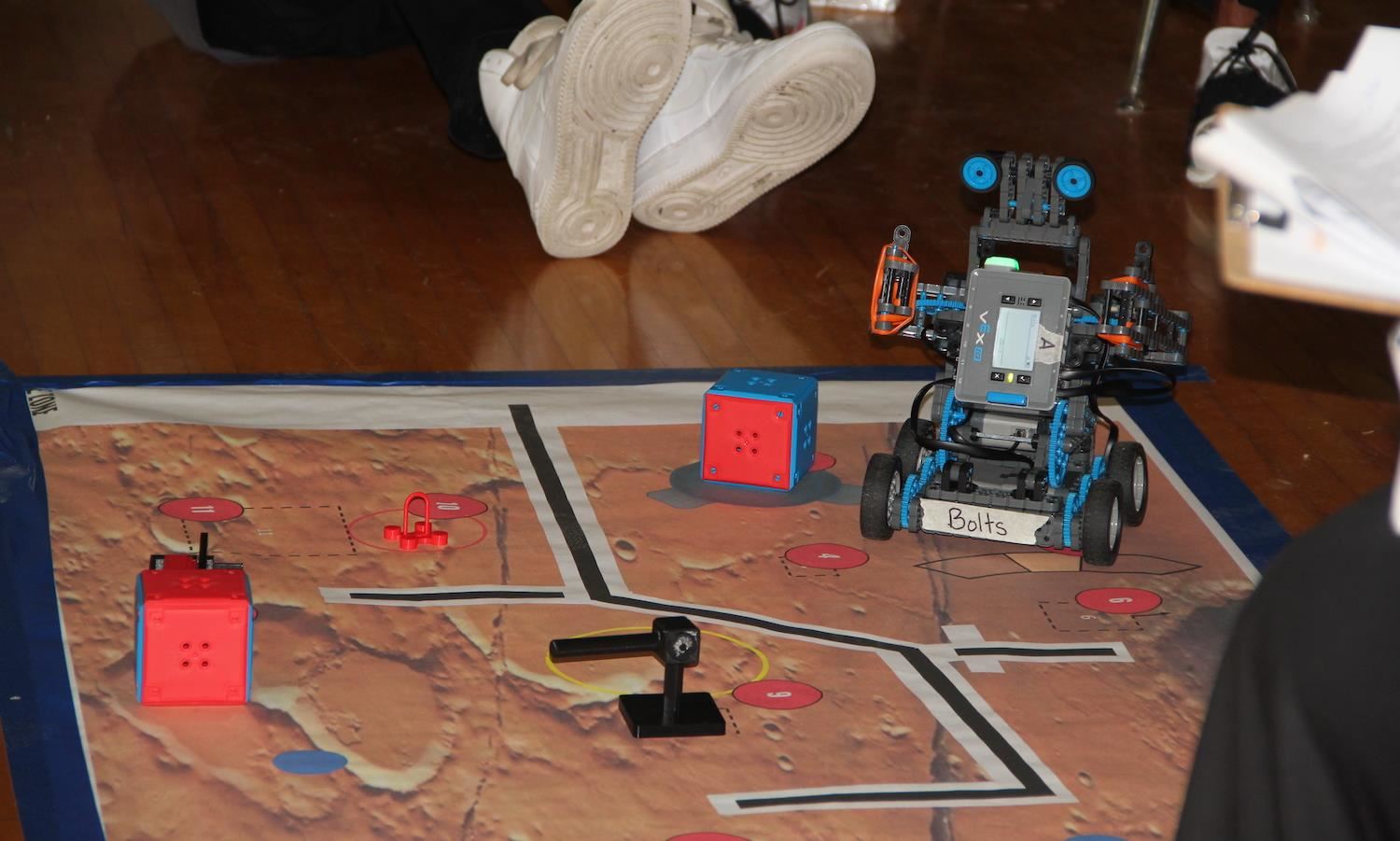 July 22, 2021 -- Seventh graders Carlos Daiz and Carlos Cruz have more in common than the same first name. The pair are the 2021 Columbus City Schools Summer Experience Medina Middle School Robotics Champions, beating out dozens of other Medina Middle School teams to capture the title.
"I've never won an award for anything," said Daiz. "My mom signed me up for this robotics class this summer because she thought I would like it."
Mom was right. This summer, the six-week robotics class was offered at two CCS school sites: Dominion and Medina Middle Schools. Robotics was not the only unique, hands-on design challenge offered to CCS middle school students. There was Aviation, Cybersecurity, Fashion STEM, Medical, and Urban Agriculture.
"Robotics was a whole different ball game compared to the summers we've had before at Columbus City Schools," said Kelly Simmons, the eighth-grade math and science teacher, STEM Advisor, and Robotics Coach at Medina Middle School. "Robotics pushed the students to the limit. Many students were not enthusiastic initially, but they stuck with it, and I couldn't be more proud."
Since the summer experience started on June 14, students, working in teams, have built a robot from a box of hundreds of individual parts that measures exactly 24 inches high by 24 inches wide. Students also had to program the robot to function two different ways: one with a student using a controller and autonomously with the student using their Chromebook to program the robot before completing the competition.
There was a final, timed competition called the Mission to Mars to wrap up the summer robotics course. Ten student teams and their robots had to complete the obstacle course, which was a three-foot by three-foot paper map taped to the auditorium floor. In two minutes, the team had to drive the robot around each of the three blue dots on the map. Using a controller and the robot's arm, the students had to pick up two moon rocks, press down a drill lever, launch a drone, and return their robot safely to earth, which is marked on the map.
Not only did Daiz and Cruz complete all those tasks, but they did it in less time than the other nine teams and by a lot more than just a few seconds.
"It only took us one minute and twenty seconds, to be exact," beamed Cruz. "We had 40 seconds to spare. The key was to go really fast in the beginning, so you had more time to pick up the rocks and launch the drone, which is a little more complicated."
Kelly Simmons presented both young men with a trophy at centerstage while their peers from other Medina Middle School classrooms gave them a round of applause. Humbled by the honors, the pair shared the most important lessons learned from this CCS Summer Experience.
"Pay attention, work hard, and practice, practice, practice," said Carlos Cruz.