Return to Headlines
Board Meeting Preview: October 19, 2021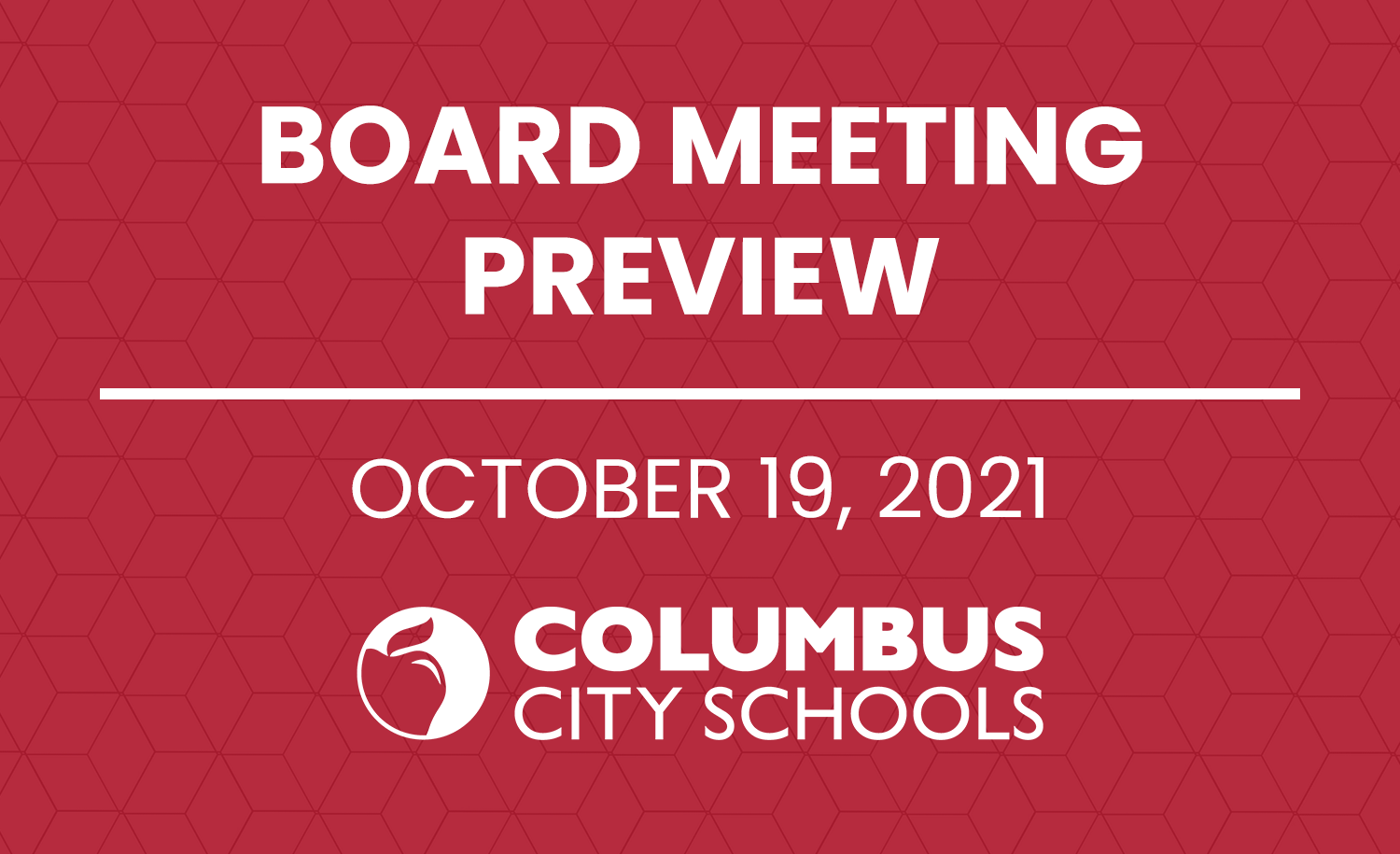 Columbus City Schools
Board of Education Meeting
Tuesday, October 19, 2021, at 5:30 p.m.
The Columbus Board of Education will meet in person at 5:30 p.m. on Tuesday, October 19, 2021, at the south administrative building located at 3700 S. High Street, Room 825. Masks are required inside all District buildings.
Any public participant wishing to make comments have the option of addressing the Board in person or by telephone. To sign up, public participants must call to leave a voicemail with Customer Relations at 614-365-8888 or email customerelations@columbus.k12.oh.us by 5:00 p.m. on Tuesday October 19. Speakers will need to provide their name, topic, and phone number. Click here to view the meeting agenda.
Meeting attendees will need to enter the north-facing door toward the west end of the building. All attendees/participants will be required to wear face masks during the meeting regardless of vaccination status (unless medical or developmental conditions prohibit use).
The meeting will be streamed via Facebook Live and on the Columbus City Schools' YouTube Channel, which allows the public to attend virtually.
City Grant to Provide HVAC Improvements at Two Schools
Board Members will be asked to approve a City of Columbus Community Block Grant for $4.1 Million for HVAC improvements at Westmoor Middle School and North Linden Elementary School. The City is obligated to expend funds to prepare for, prevent, and respond to the coronavirus pandemic. The coronavirus pandemic has increased the need for well-circulated air to help prevent the spread of the virus and disease. Built in 1958, Westmoor Middle School has 25 classrooms and has averaged more than 500 students for the last five years. North Linden Elementary School was originally constructed in 1949 with additions in 1953 and 1957 and averages about 430 students in grades K-5. All HVAC improvements at both schools are expected to be completed by the start of the 2022-2023 school year.
Ohio State Partnership to Benefit Gifted and Talented CCS Teachers
The Gifted and Talented Division hired 12 teachers in May 2021 who are effective and talented licensed teachers committed to teaching high-ability and gifted students in Columbus City Schools. This grant for $78,000 using Elementary and Secondary Emergency Relief Funds will support their further professional training with this partnership with The Ohio State University's College of Education and Human Ecology.
The five graduate-level courses will be taught by Dr. Donna Y. Ford, a Distinguished Professor who is an internationally recognized leader in identifying and serving underrepresented student populations in gifted education. This unique opportunity to study with Dr. Ford's research is concentrated in gifted education and culturally, multicultural, urban education.
At its conclusion, teachers will be eligible to apply for the Gifted and Talented endorsement. This endorsement is required by the Ohio Department of Education for any teacher in a Gifted Specialized role. In addition to our District's goal to support the lifelong learning of our students and educators, the professional knowledge of the Gifted and Talented staff will be enhanced, especially in the continuing focus on student-centered learning.
Important Dates
October 20: Facilities Master Plan (FMP) Phase 5, Region 2, Independence High School (6:00 p.m.)
October 21: Facilities Master Plan (FMP) Phase 5, Region 1, West High School (6:00 p.m.)
October 23: Facilities Master Plan (FMP) Phase 5, All Regions, Columbus Metropolitan Main Library Branch (10:00 a.m.)
October 25: Facilities Master Plan (FMP) Phase 5, Region 4, Centennial High School (6:00 p.m.)
October 27: Facilities Master Plan (FMP) Phase 5, All Regions, Columbus Metropolitan Main Library Branch (10:00 a.m.); Facilities Master Plan (FMP) Phase 5, Region 6, Linden-McKinley STEM Academy (6:00 p.m.)
October 28: Neighborhood School Development Partnership Committee (8:00 a.m.), Audit & Accountability Committee (3:30 p.m.)