Return to Headlines
Music Helping Students Lead to the Way to an HBCU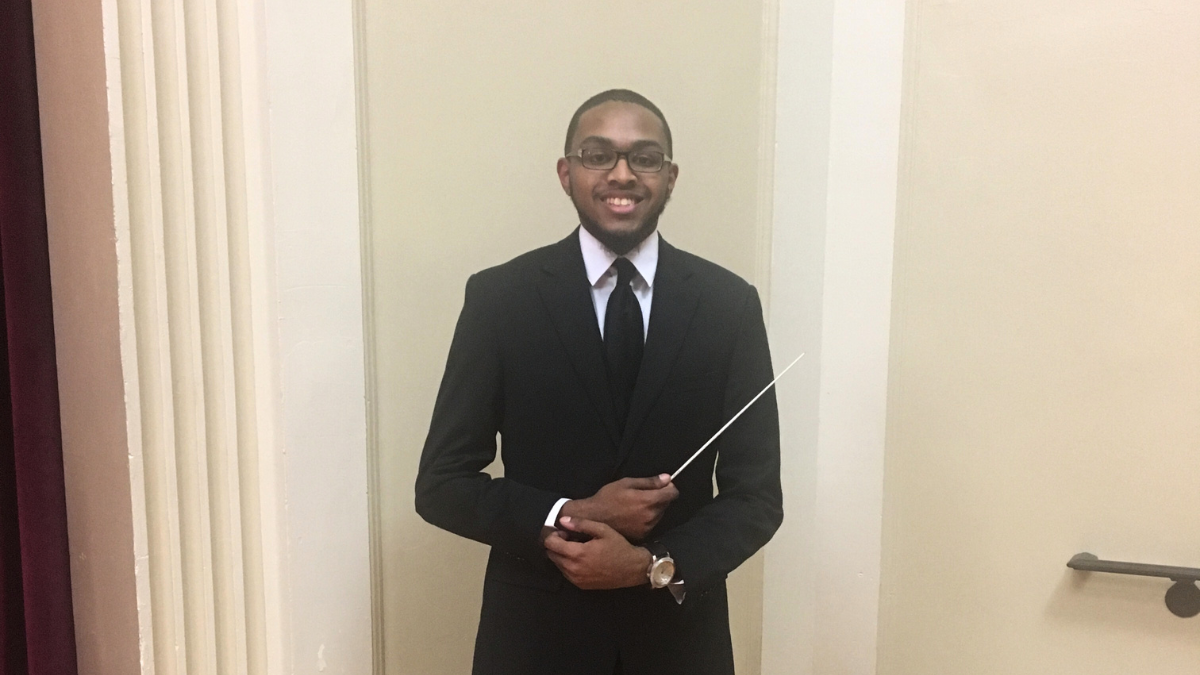 May 16, 2022 -- At the age of 16, Curtis Viney Junior is graduating early from Linden-McKinley STEM Academy (LMSA) and headed to college thanks in part to a scholarship for his musical talents. Viney is not only a good student academically, but he loves to play the tuba, and Kentucky State University wants Curtis Viney to be part of the band there.
"It feels like a family at Kentucky State, similar to how I feel here at Linden-McKinley," said Viney, who is the first in his family to go to college. "That's why I want to go there this fall. The scholarship is going to make college possible."
Viney is not the only LMSA Class of 2022 graduate recruited by the only Historically Black College and University in Kentucky. Three of his classmates will also be joining him this fall. Those seniors are Mugisha Donatien, Melahni Ibokette, and Cierra Fields. Together the four earned $90,000 in band scholarships and not just from Kentucky State University. The students were recruited and received scholarships from Central State University, Norfolk State University, and Lincoln University, all HBCUs.
"Kentucky State really made the best offer," said trombone player Mugisha Donatien, who fell in love with music at an early age. "My dad was a choir director and took me to choir practice with him all the time. It was fun for me when I was young, but now that I'm older, it's a little more serious. I'm so grateful for the scholarship because it means I can continue my music career in college."
These students shared that their relationship with the band director at Kentucky State University began during their freshman year of high school. That relationship-building over four years despite the pandemic made all the difference for Melahni Ibokette, who plays the euphonium, a medium-sized brass wind instrument.
"I feel like I have a connection with Kentucky State," said Ibokette. "I want to study psychology so I can pursue a music therapy career."
For trumpet player Cierra Fields, being a part of the band at LMSA was a turning point in her life. That's why pursuing band in college seems like a natural next step.
"The band in high school was an escape for me, from my home and the violence in the community," said Fields. "Band provided me with focus and helped me mature."
"It makes me very proud that these students have found their niche in high school, and the band here has had such a big influence on them," said LMSA Principal Duane Bland. "I am also very proud of Band Director Stephen Ingram for showing these students how music can help them promote their talents at a post-secondary level."
LMSA Band Director Stephen Ingram can relate to these four students as this path is how he got to college.
"I went to college on a band scholarship," said Ingram. "To see my students keep their passion alive is truly a blessing."
Honoring the rich legacy and deep ties Columbus City Schools has with our nation's Historically Black Colleges and Universities (HBCU), the District recently launched an exciting new initiative to provide our high school students with more information, exposure, and connectivity to HBCUs like Central State University. The "CCS HBCU GOALS" program -- which stands for Gateways for Opportunities, Access, Leadership, and Service -- generates and spotlights various activities across the district that provide students with a greater understanding of HBCUs, opportunities to hear from and connect with HBCU students and staff, and the community supports to apply for and attend an HBCU.
Congratulations, Curtis Viney Jr, Mugisha Donatien, Melahni Ibokette, and Cierra Fields, proud musicians and CCS Class of 2022 graduates!