Return to Headlines
Board Meeting Preview: May 17, 2022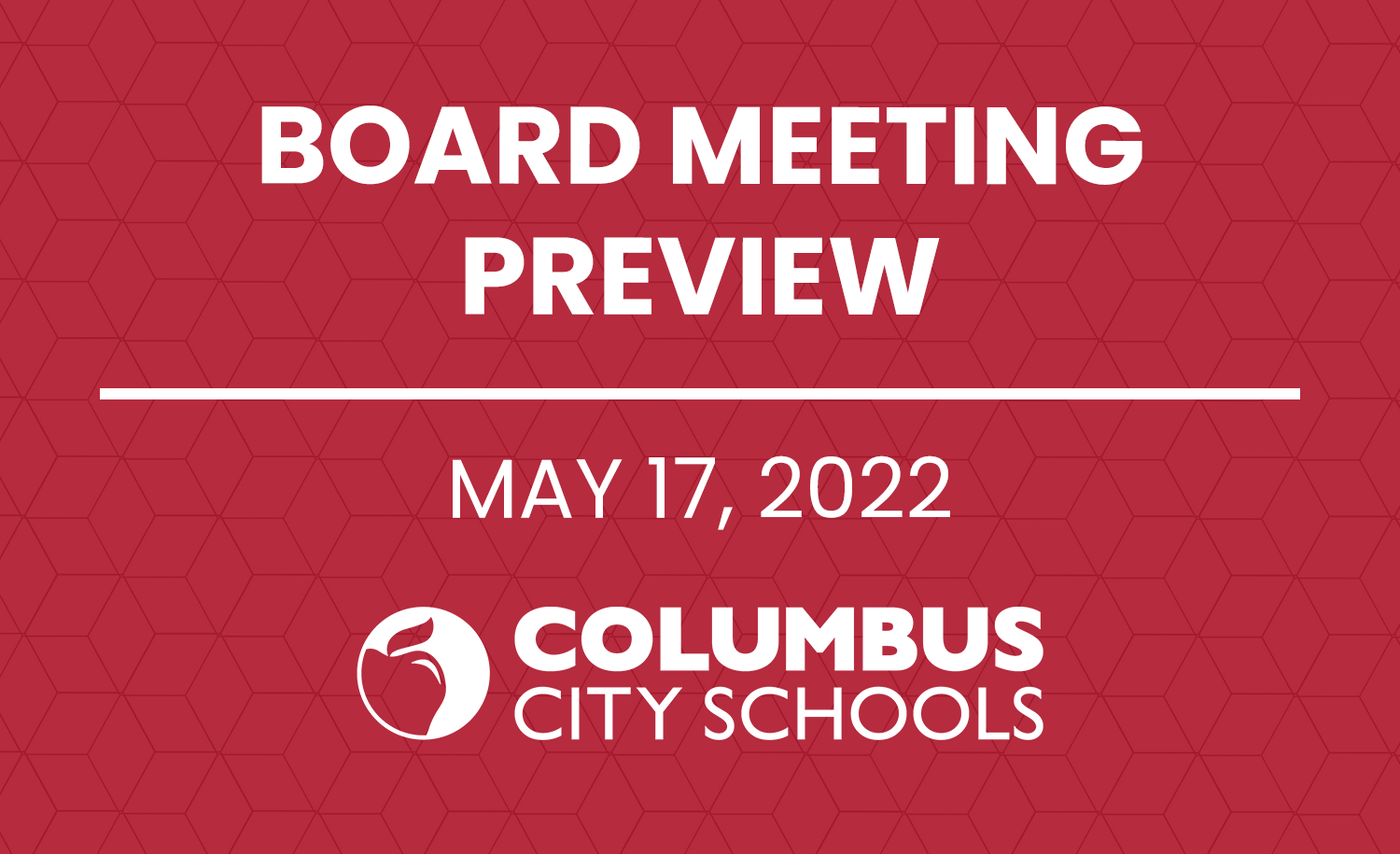 Columbus City Schools
Board of Education Meeting
Tuesday, May 17, 2022, at 5:30 p.m.
VIEWING THE BOARD MEETING
The Columbus Board of Education (BOE) regular business meeting will begin at 5:30 p.m. at 3700 S. High Street. Meeting attendees will need to enter the north-facing door toward the west end of the building.
Any public participant wishing to make comments has the option of addressing the Board in person or by telephone. To sign up, public participants must call to leave a voicemail with Customer Relations at 614-365-8888 or email customerrelations@columbus.k12.oh.us by 3:30 p.m. on Tuesday, May 17. Speakers will need to provide their name, topic, and phone number. Click here to view the meeting agenda.
The meeting will be streamed via Facebook Live and on the Columbus City Schools' YouTube Channel. For more information on meeting dates and times, click here. To view past Board meetings, visit the Columbus City Schools Board of Education YouTube Channel.
Tools for CTE Students
The Office of Career Technical Education (CTE) is seeking Board approval to purchase Snap-On Industrial tools for $250,000 to assist students entering the job force or additional educational training. These tools allow district CTE students to demonstrate mastery of skills and industry-recognized credentials. These credentials provide students an opportunity to earn a livable wage while pursuing additional education. Some industry-recognized credentials can be used as evidence of prior learning and can be awarded college credit.
Facility Renovations
Board Members will be asked to use the Facility Task Force Fund for $758,000 so that Miles-McClellan Construction can complete a variety of infrastructure improvements at Columbus International High School and Columbus Global Academy. The work includes the following:

New dugouts for the existing ball field

Concrete sidewalk and curb replacement

Site signage and graphics improvements

Courtyard upgrades

Auditorium seating replacement, including new ADA accessible seating and new acoustic panels for the auditorium
All facility improvements are scheduled to be completed, weather permitting, and pending any supply delivery issues by the start of the 2022-2023 school year.
Developing Portrait Ready Graduates
The Department of Equity requests the authorization to renew the service agreement for three years with Panorama for $670,000 to create positive school climates and portrait ready graduates. The Panorama surveys have provided relevant data and feedback analysis to assist buildings and the district with identification and action steps to improve practice and service delivery. The purchase of this service will continue to provide a comprehensive platform with targeted, intentional evidenced-based student support that aligns with our Multi-Tiered System of Supports (MTSS) process. In addition, this purchase will allow the district to gather data through relevant and reliable measurements and assist our work in developing "portrait ready graduates" while building strong networks of support with families, staff, and the community. CCS has partnered with Panorama since 2020.
Crisis Prevention Training
It is recommended that Board Members purchase training materials from the Crisis Prevention Institute to provide district staff with the necessary skills to maintain a safe environment for the staff and students. The training consists of:
Non-violent crisis intervention

Verbal intervention

Non-Violent crisis intervention with advanced physical skills

Advanced supplemental training
By offering verbal de-escalation training valued at $167,000 to all student-facing employees, who would normally not receive it, CCS further promotes the safety of our students and staff within the District and reduces the overall cost of Workers' Compensation Claims.
Student Mentoring
Board Members will be asked to approve a partnership with the State of Ohio Collective Institutes Summer program to mentor 200 CCS high school students. The Collective Leadership Institutes, Ubuntu & Nina Imani are intensive educational, leadership, and workforce development programs designed to offer development and mentoring. Students will be immersed in an environment conducive to enhancing and equipping their leadership skills, character development, problem-solving, and critical thinking skills to become positive change agents for their communities and families.
Ashland University Partnership
Using $300,000 in Elementary and Secondary School Emergency Relief (ESSER) Funds, Board Members will be asked to approve a partnership with Ashland University for the principal licensure program. This project will allow selected current CCS teachers to receive tuition assistance in the Ashland University principal licensure program. Teachers in this cohort will be selected through a rigorous application process intended to identify aspiring equity-centered school leaders. This project partnership will assist the district with staffing needs, including an increased need for principals and assistant principals.
Ohio State Partnership
Board Members will also be asked to use ESSER funds totaling $687,000 for a program partnership with The Ohio State University. This project will support CCS in addressing educational issues exacerbated by the COVID-19 pandemic while also advancing the work of up to six Ohio State faculty members to pursue research for two years in the district. All research must address initial strategies for providing equitable and adequate educational opportunities that address the impact of COVID-19 on students, educators, and staff, focusing on evidence-based strategies.
Upcoming Meetings

May 26: Neighborhood School Development Partnership Committee (8:00 a.m.), Audit & Accountability Committee (3:30 p.m.)