Return to Headlines
Former Columbus City Schools Student Blazing Trail to Success, Remembers Where She Started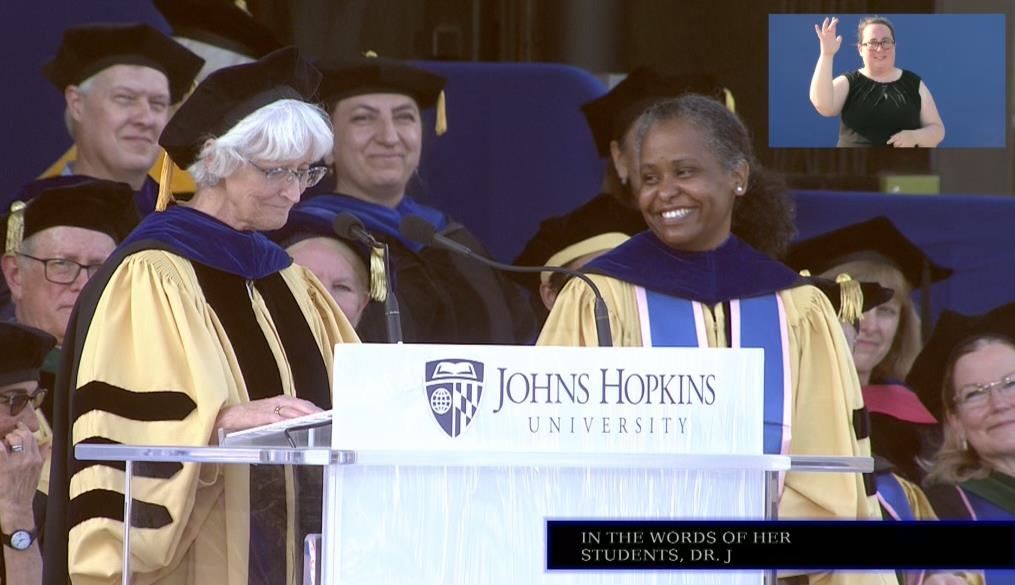 May 24, 2022 -- From Columbus City Schools to Johns Hopkins University and numerous achievements along the way, one Northland High School 1992 graduate is proving there are no limits to success with hard work and dedication.
Vanya C. Jones grew up in Columbus and attended Northtowne Elementary School, Champion Middle School, and then Northland High School. She spent her entire primary and secondary school career with CCS. She credits the CCS community for shaping her into who she is and preparing her for a successful career path.
Jones said she still keeps in touch with her third-grade teacher, Lucille Duncan, and her high school cheerleading advisor, Nancy Sheumaker. She also met her best friend of more than three decades at Champion Middle School.
"I think that really speaks volumes about how Columbus City Schools helped shape me. The adults and students who supported me and invested their time in me; they are fundamental to who I am today and what I have accomplished," said Jones.
Jones, a first-generation college graduate, received her Bachelor's degree from Bowling Green University. However, she only applied to two schools, Bowling Green and The Ohio State University.
"I applied to these schools because they waived the application fee," Jones said with a smile. "Fifty dollars may not seem like much, but when you don't have $50, that means everything."
After earning a Bachelor of Science degree in Health Education, Jones began her first job as a Health Educator for the Delaware City/County Health Department. She soon decided to further her education. This time, rather than choosing schools with waived application fees, Jones applied to four of the top Public Health schools in the nation. She received offers from all four. With full tuition paid, she chose The University of North Carolina at Chapel Hill and received her Master's in Public Health.
Jones did not stop there. She went on to earn her Ph.D. from Johns Hopkins Bloomberg School of Public Health, where she now serves as an associate professor. Collectively, Dr. Jones has been at Johns Hopkins for 22 years, 11 as a faculty member.
Now, she is being honored by the school, as she was unanimously selected to receive the 2022 Ernest Lyman Stebbins Medal. The award is in recognition of her extraordinary contributions to the educational programs of Johns Hopkins Bloomberg School of Public Health as a teacher and mentor to students.
Dr. Jones provides leadership, instruction, and guidance toward developing and implementing training for the Schools of Public and Nursing. Her expertise highlights the importance of service-learning to public health training and has contributed to Hopkins being viewed as a top school for public health training through community engagement.
Equally important, by contributing to diversity and inclusion by being a visible and available underrepresented minority faculty member and drawing from a diverse and inclusive evidence base, she furthers Johns Hopkins' goals of cultivating a climate of inclusion.
"It was such an incredible feeling to accept this Medal," said Jones. "And to receive accolades from individuals I look up to and respect, I was truly humbled and honored."
With high school graduations nearing, Dr. Jones reflects on where she started and her journey to success. She offers words of wisdom to Columbus City Schools Class of 2022.
"First, try the hard things. Time is going to pass regardless, so you might as well go for those hard things to get where you want to be," said Jones. "And finally, remember that it's ok to do it for yourself. Those who love you, will be there to support you. It is the essence of finding your voice."
Congratulations Dr. Vanya C. Jones. Your CCS family is proud of you.