Return to Headlines
South HS JROTC Army Program Receives Multiple Honors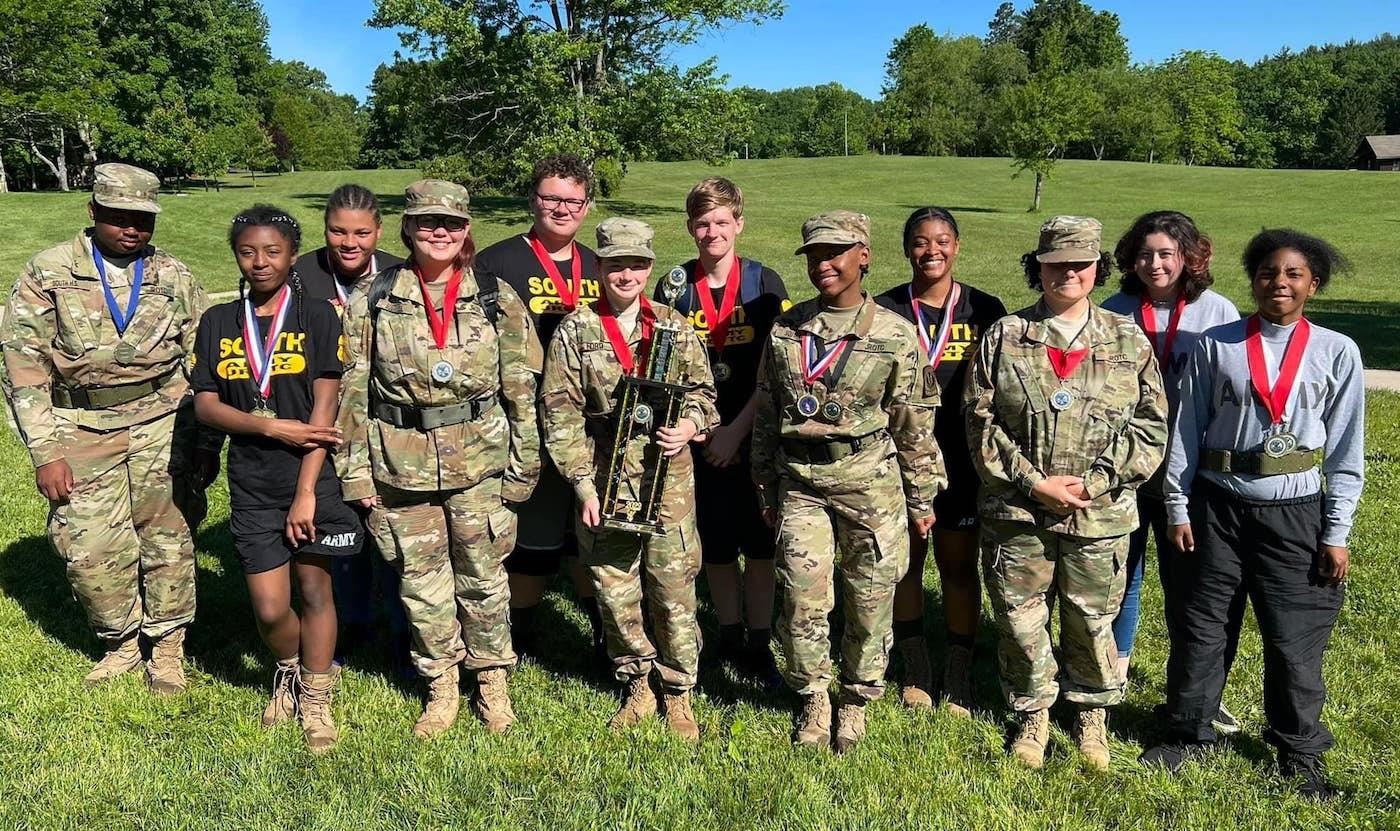 September 27, 2022 -- For the first time in over 20 years, the Junior Army ROTC Program at South High School attained the status of Honors Unit with Distinction (HUD), the highest evaluation an Army JROTC program can receive.
"We had a great Spring and Summer. So far, it has been a great start to the new school year," said Ret. Lt. Army Colonel and Senior Army Instructor Paul Allmon.
South's JROTC program had its triennial inspection before the end of the 2021 - 2022 school year. The purpose of the review is to provide feedback regarding the performance of South's JROTC program. South High School cadets have performed exceptionally well and take great pride in leading and accomplishing their goals.
"This is the highest evaluation an Army JROTC program can receive. We have a streamer we get to fly on our Battalion flag for the next three years, and our cadets get to wear a gold star on their dress uniforms to signify the HUD status," said Allmon.
As summer approached, 18 cadets were chosen by Instructor Allmon and Master Sergeant Benjamin Zumock, Junior Army Instructor at South High School to attend the JROTC Cadet Leadership Challenge (JCLC) at Camp Manatoc in Peninsula, OH. South's JROTC program had the second largest school representation at the camp.
Instructor Allmon shares how cadets were chosen to attend the JCLC camp based on their performance throughout the school year.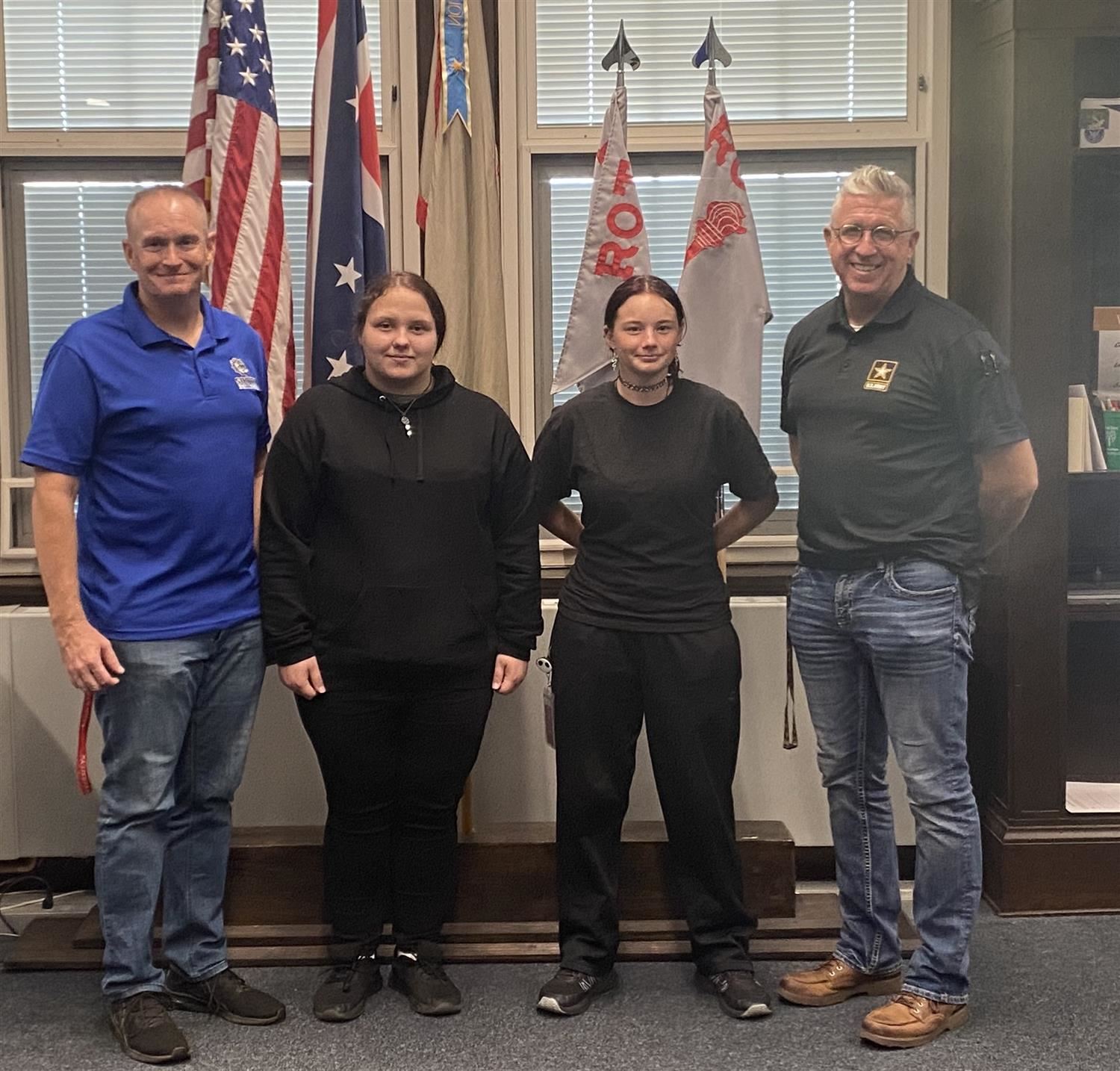 "We started evaluating students on day one. We looked at how well students participated in extracurriculars such as the color guard, drill team, and archery," said Allmon. "We watched how cadets handled themselves; there were 19 other schools throughout the State of Ohio in attendance, and we wanted to ensure that we represented South High School and Columbus City Schools in the best possible way," said Allmon.
JROTC Cadet Leadership Challenges are Brigade level events for Army JROTC cadets that take place worldwide. The curriculum for the JCLC camp consists of a physical fitness test, leadership reaction course, high ropes course, rappelling on a 50-foot tower, construction of a one rope bridge, obstacle confidence course, land navigation, rafting, and water survival training.
"Our cadets excelled during these challenges, especially in archery. We are very proud of their leadership and performance skills," said Allmon.
As JCLC concluded, South High School Senior Cadet Kateri Coontz-Wardia was recognized as the camp's top cadet, making her the number one JROTC cadet in the State of Ohio for 2022.
Instructor Allmon recalls a moment when Cadet Coontz-Wardia put the needs of others before her own.
"Kateri is a team player. There was a junior rising senior cadet who would be unable to attend next year's JCLC camp as a senior. Kateri voluntarily gave up her spot on a team so that this rising senior would be able to participate and gain more experience. She's a quiet leader," said Allmon.
Smiling, a humble Cadet, Coontz-Wardia shares why she believes she was chosen as JCLC's number one cadet in the State of Ohio.
"There were a few candidates besides me. I believe they chose me because of my spirit," said Cadet Coontz-Wardia.
In sharing what South's JROTC program means to her, Coontz-Wardia shared that South's JROTC program means family. Similarly, Senior Battalion Commander Leader and Cadet Lieutenant Miranda Parsley shared her thoughts.
"Being in this program means a lot. As a freshman, I didn't know what I wanted to do. Then I joined the program, and it became like a whole other family for me. The most exciting part about being in this program is being in charge," said Cadet Parsley. "If you give me instructions, I can get them done."
Additionally, Instructor Allmon received notification from South's Brigade leadership team that he was named Brigade Senior Army Instructor of the Year for the 2021-2022 school year. The Brigade encompasses all JROTC schools throughout Ohio, Kentucky, Tennessee, Indiana, and the area Instructor Allmon refers to as "that state up North."
"I was pretty surprised and humbled to receive this honor as many fantastic instructors are out there. I care about the students and moving the JROTC program at South forward. We worked hard to be in the position we are in," said Allmon.
The 2022-2023 school year is the first year eighth grade students could enroll in the JROTC program. There are currently 100 students on the JROTC roster for this school year, including one section of eighth grade students.
"Our upper grade levels have the right students, and they are motivated. The outlook for this year is pretty good so far," said Allmon.
---