Return to Headlines
History Made (Again): Marion-Franklin Graduate Sworn in as City of Columbus Firefighter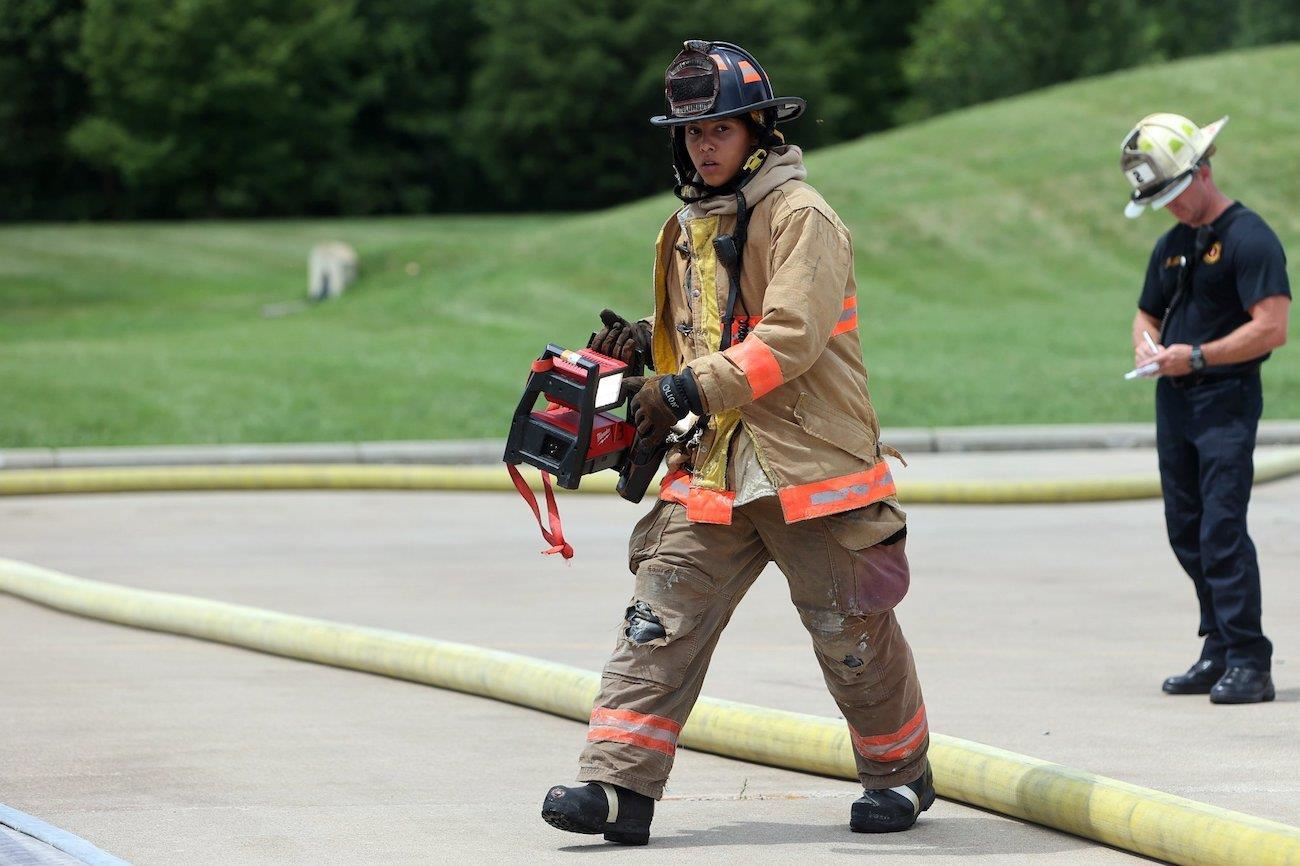 September 29, 2022 -- As the commencement ceremony begins for the 114th Columbus Division of Fire (CDF) recruitment class, fire cadets enter the Maurice Gates Memorial Gymnasium in perfect formation. Cadet Aaliyah Reed stands at attention, awaiting the next directive.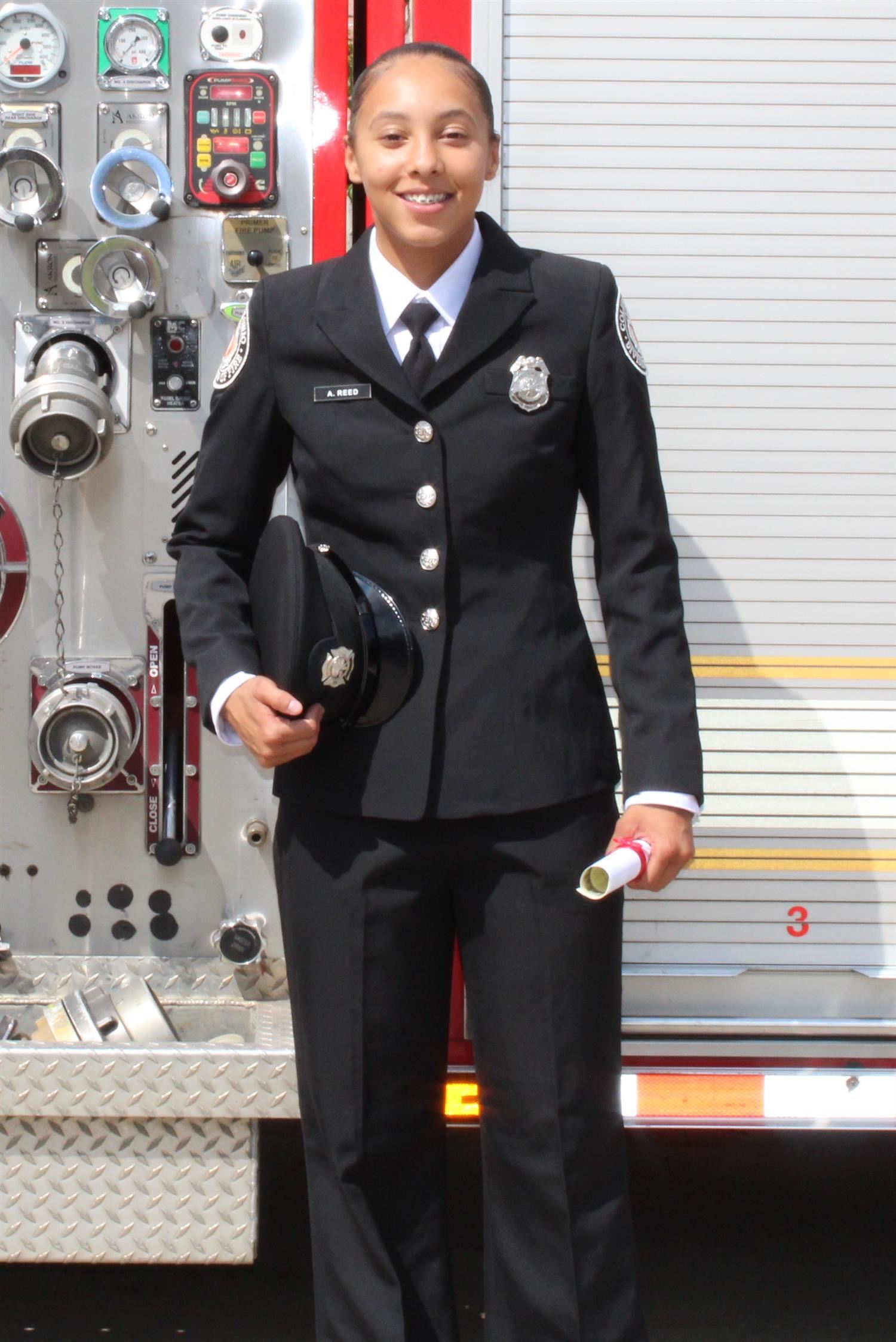 Upon command, Reed proudly raises her right hand, preparing to take the Firefighter Oath of Service. At age 20, Reed is the youngest African American female in CDF history to be sworn in as a City of Columbus Firefighter.
"It's an awesome feeling," shared Reed.
Throughout the recruit training academy, Reed accomplished things she never thought possible. Standing at 5'7" tall and about 140 pounds, she worked hard and remained dedicated, showing her commitment to completing cadet training. Firefighter Quinton Echols worked closely with Reed, recognizing how much of an asset she was to the team.
"She has always been solid and grounded. She was all the way in. On those hot days, she was right there in the pocket. We were all out there sweating, doing the work. While Aaliyah was in the academy, she was dedicated and confident. She never missed a beat," said Echols.
Those in attendance at the commencement ceremony were Columbus Mayor Andrew Ginther, Columbus City Council President Shannon Hardin, and City Council Public Safety Chair Emmanuel Remy. Mayor Andrew Ginther shared remarks of congratulations.
"Today, we celebrate your accomplishments and the incredible careers ahead of you. Through your hard work and sacrifices, you will join one of our city's most essential, dynamic, and respected professions," said Mayor Ginther.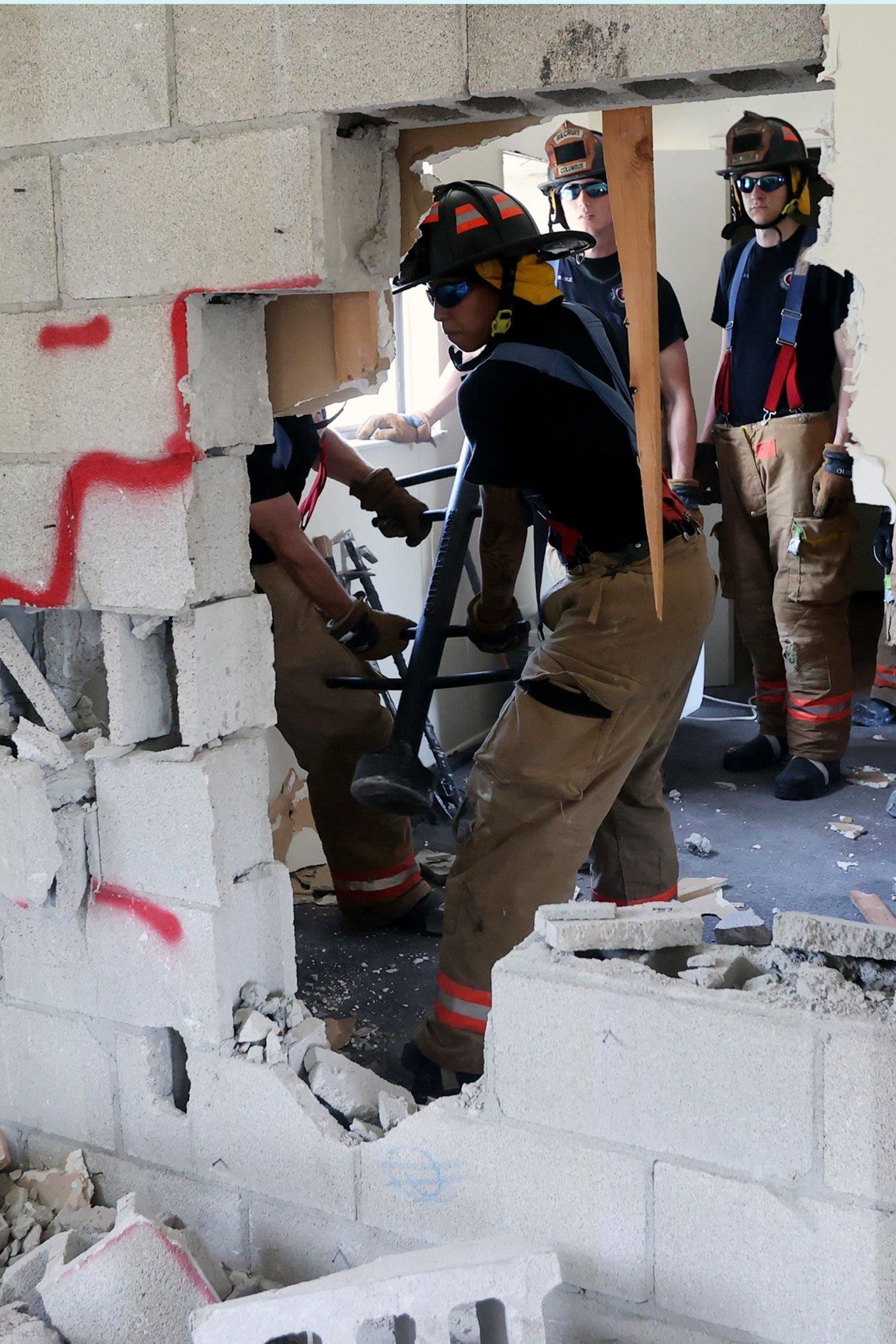 Columbus Downtown High School (CDHS) Public Safety Instructor Commander Thomas Caine IV was also in attendance. Caine, one of Aaliyah Reed's CCS teachers and mentor at CDHS, reminisces on Reed's humble beginnings.
"Aaliyah was a senior during my first year as a teacher at CDHS. She had always been respectful in class and to her classmates. When the application period opened, I informed the class, and was thrilled when she informed me that she had applied," said Caine.
Instructor Caine shared that Reed obtained more training and exposure once she was accepted into the cadet program. He kept in contact with her and her instructors, checking on her progress.
"She was excited, and her instructors were very impressed with her. I am so proud of how much she has accomplished," said Caine.
Although The Columbus Division of Fire Cadet Program is a two-year commitment, Aaliyah Reed completed the program in 15 months. Reed studied every night after work for hours, preparing for the highly competitive civil service test.
"Something just clicked inside me while working and studying with the other cadets. I wanted to become a Columbus Fighter more than anything," said Reed.
Now, cadet recruit Aaliyah Reed is Columbus Firefighter Aaliyah Reed. Certificate in hand, she walks across the graduation stage with all smiles. Graduating from the academy affirms Firefighter Reed's commitment to herself, her family, community, and membership in the CDF.
For that reason, Firefighter Echols offers the following advice to Firefighter Reed.
"As you begin your journey, keep your tenacity. Keep your confidence and keep your drive. Throughout your fire career, your body breaks down; sometimes, life happens, and that tenacity, confidence, and drive can waiver. Your God-given confidence and talent is what will shine through, and it is what will carry you well throughout your fire career," said Echols.
The six attributes of a Portrait of a Graduate align well with Firefighter Aaliyah Reed's professional endeavors. As a CCS graduate, she learned a valuable skill set, allowing her to exhibit those attributes beyond graduation. Her journey is an excellent example of how the District's priority of a whole-child focus works in the real world.
---