Return to Headlines
Columbus Global Academy Students Build Community, Hone Literacy, and Soccer Skills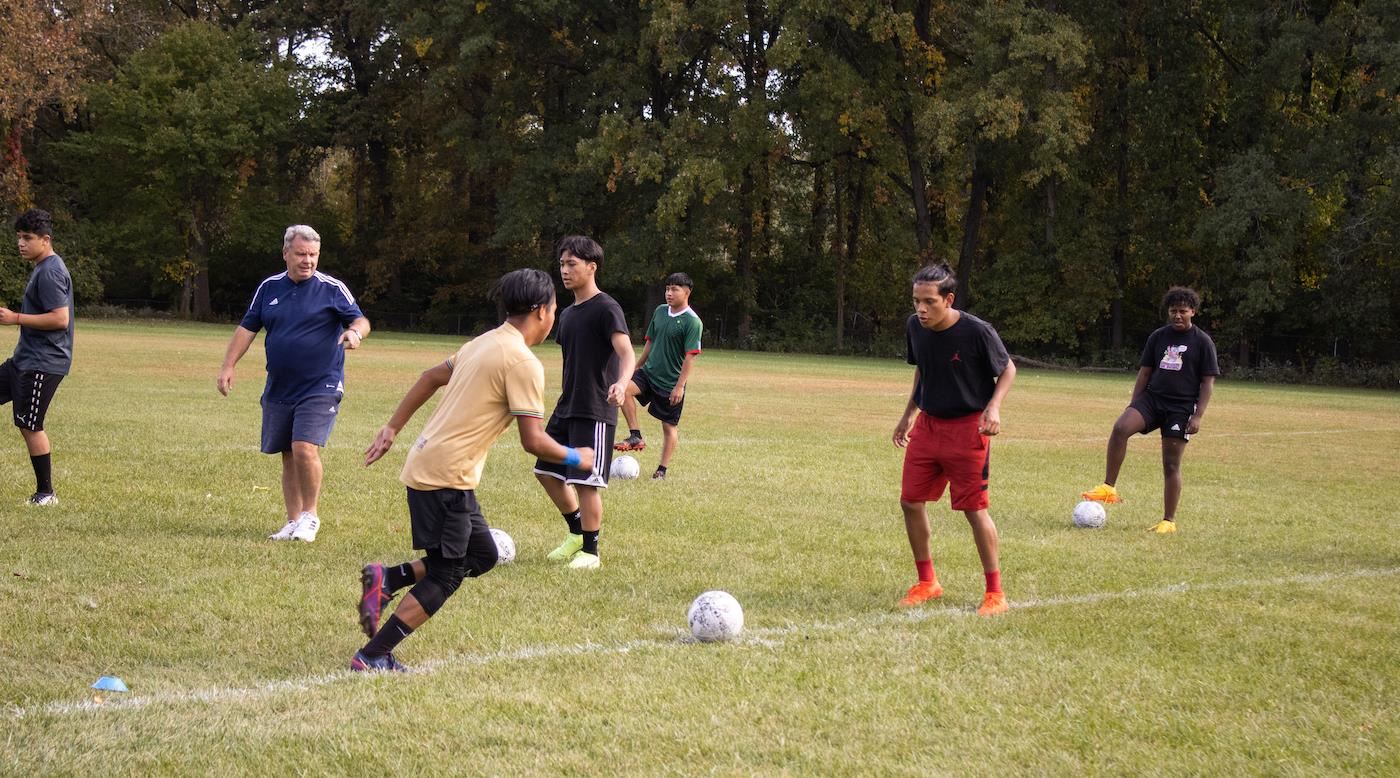 October 19, 2022 -- What may look like an ordinary soccer practice from afar is much more for the students at Columbus Global Academy.
Students are building community and working on their English and literacy skills.
"We're trying to give them a more well-rounded experience than what they've had in the past as far as school programs," said Columbus Global Academy Director Derick Vickroy. "We sought out strategic partners to help us fulfill that role. That's what we have for the Final Third Foundation."
The Final Third Foundation after-school soccer and literacy club runs 10 weeks during the fall and then resumes in the spring. Coaches come in twice a week, honing literacy skills and leaving time for play.
"The great thing about the program is that it works on literacy, building community, and language skills, which are difficult to achieve in isolation," Vickroy said. "This allows us to tie all those things together, and the kids seem to enjoy it."
Students at Columbus Global have been new to the country within the last two years, and are dually enrolled. They have a primary 'home' school and Columbus Global is their secondary school. Although students have the option to participate in sports at their home school, this after-school program presents another option at Columbus Global.
"We've had an after-school soccer club before," Vickroy said. "Last year, we had staff who were willing to help and cobbled together an after-school soccer club. They're not soccer coaches but wanted to give kids an opportunity to have a different experience. We did this once a week, and students got some scrimmages against other schools too."
The program's literacy component uses the universal language of soccer to build upon literacy for English Language Learners.
"Another thing that connects with our students who are learning English is the literacy component that ties everything together," Vickroy said. "They start each day reading, talking about the book, and from there, they go outside, train, and play."
However, this is the first year for the Final Third after-school soccer and literacy club for Columbus Global. About 25 students signed up for the program. Vickroy hopes that in the future, students will be able to compete against other teams.
"We're still thinking how we can do scrimmages because boys and girls soccer seasons are almost over as far as fall sports, but we are working toward that," Vickroy said. "There may be other clubs we can try to link up with in the spring."
Overall, Vickroy hopes students not only cultivate their literacy and language skills but also gain valuable life lessons.
"Sports can be a big part of school identity, and it's a cool opportunity for our kids," Vickroy said. "Sports also teaches a lot of life lessons, such as teamwork, working toward a common goal, and working hard to improve your skills. These lessons are valuable for the rest of their lives."
---