Return to Headlines
TRANSPORTATION UPDATE: Bus Routes Are Changing After Winter Break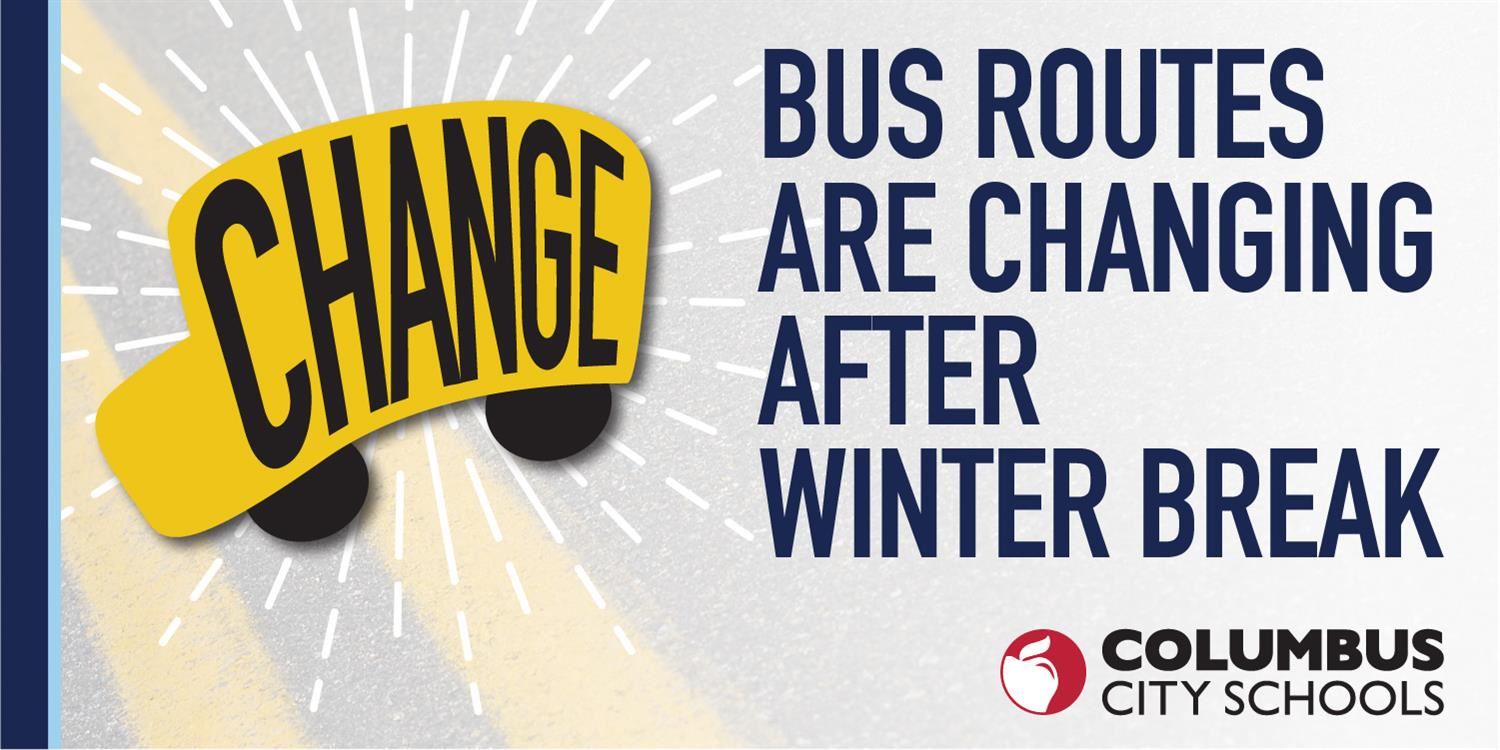 Transportation Reliability Improvement Measures (Fall 2022)
Safely busing more than 38,000 students in Columbus each day to school and back home is a priority for the Columbus City Schools Transportation team. Just as important is our ability to be a reliable partner with parents and families, school staff, and stakeholders. However, the combined impacts of a national shortage of bus drivers and a routing software misstep created an unprecedented challenge to our transportation reliability. We appreciate the grace shown by our community so far this school year as we've worked through this challenge, but we also understand the frustration and difficulty it's placed on many of our families. That's why we are implementing unprecedented measures to improve our transportation reliability moving forward.
Our Transportation Reliability Improvement Measures (TRIM) include the following:
1. Improving Bus Route Management (Versatrans by Tyler Technologies)

We are undertaking an unprecedented mid-year action to update ALL bus routes across the city, effective January 3. This means nearly every student who currently receives yellow bus transportation in Columbus (both CCS students and Charter/Non-Public students) will likely have a new bus driver, new pick-up and drop-off times, and/or a new bus stop location.
Our Transportation Team is able to make this major shift in routing by changing out the software that was originally used at the start of the school year (AlphaRoute) and replacing the system with the Versatrans by Tyler Technologies software previously used by the District.
This change in software will restore the ability for CCS transportation staff to update bus routes, add or remove riders, and adjust the number of routes to better match the number of available drivers.
Recognizing the need to help address this crisis, the District's union partners (OAPSE) have agreed to the unprecedented mid-year reassignment of routes for drivers who typically bid on and retain the same route all year long.
By the end of November, the CCS Transportation team will have completed all of the new bus routes, schedules, and assignments, which will be shared with parents and families, school staff, and stakeholders.
Improving bus route management - and having the ability to make immediate adjustments throughout the year - is an important part of addressing some of the reliability challenges around late or uncovered bus routes.
2. Increasing Family Notification (EZDistrict)

We recognize that our parents and families, school staff, and stakeholders were often most frustrated by simply not knowing if their students' buses would be late or not show up. That's why our Transportation team is also taking new steps to improve how we engage and notify everyone about changes.
Prior to the new bus routes and schedules taking effect when students return from winter break in January, the District will dedicate significant time and resources to providing parents and families, school staff, and stakeholders with information, including a specially written notification sent by mail to the families of all bus riders (both CCS students and Charter/Non-Public students). That's roughly 38,000 letters in the mail.
The Transportation team will also send out emails and text messages to families with the new routes and schedule. That's why the District is asking all CCS families to double-check their contact information in the Parent Portal (including a cell phone number for text messages) and asking non-CCS families to update contact information with their children's Charter/Non-Public Schools, who then enter the information in our Infinite Campus system.
Even though our schools are closed, the CCS Transportation Call Center at 614-365-5074 will be open during most of the Thanksgiving and Winter Break to help answer families' questions.
In addition, the Transportation team is implementing a new direct communication tool called EZDistrict, which will be used to send emails and text messages directly to parents when a bus route is delayed or uncovered.
NO SIGN-UP IS NEEDED. The EZDistrict tool uses the contact information in Parent Portal/Infinite Campus to send out messages to families - which is why it's important that contact information is up-to-date.
To streamline how delays and uncovered routes are reported, the transportation dispatch center and the call center will be directly responsible for uploading information into EZDistrict, including mandatory reporting deadlines in the morning and afternoon when routes are uncovered.
Information about delayed and uncovered routes will also be shared with principals/administrators at the schools served by CCS yellow buses (both CCS schools and Charter/Non-Public) so parents can also get updates from trusted sources.
3. Addressing the Charter/Non-Public Challenge

Families at many of our city's Charter and Non-Public Schools have been impacted by these transportation challenges. Our District takes the state-mandated responsibility seriously to transport ALL students, even if they do not attend Columbus City Schools. We want to work collaboratively with our Charter/Non-Public School partners to resolve this disconnect.
CCS cannot mandate changes to the start/end times for Charter/Non-Public Schools, but we will continue to ask these schools to consider adjusting their bell schedules to better match driver availability. Unless these schools are willing to change, current bell times will be maintained for the remainder of the school year.
Prior to the new bus routes and schedules taking effect in January, the Transportation team will send the information to the principals/administrators at the Charter/Non-Public Schools and ask for their support in informing their students of the changes.
Prioritizing the need to keep Charter/Non-Public families informed, the District chose to invest in using the new EZDistrict notification system because of its ability to also reach out to non-CCS families (otherwise, we could have used our existing CCS notification systems).
4. Seeking Bus Driver Alternatives

Columbus City Schools values its bus drivers and continues to invest in recruiting, training, and retaining drivers. Still, the national driver shortage crisis does not appear to be waning, and we need to seek other remedies to finding drivers or identifying alternatives.
The District will continue proactively recruiting drivers of all experience levels. Our job fair is virtually around the clock: interested candidates can apply at any time, 24/7, online at www.ccsoh.us/jobs.
The Transportation team will enlist the help of our Charter/Non-Public schools to identify additional drivers who could be assigned to work specifically with the schools that recruited them (pending any labor agreement process).
The Transportation team will also continue to use outside transportation agencies for routes that are increasingly difficult for CCS buses to cover reliably. We appreciate that many of these transportation companies have been able to take on more routes in these last several weeks.
Our district leaders will seek additional support and relief from state mandates from our partners at the Ohio Department of Education and local legislative leaders. We cannot resolve the impacts of a national crisis on our own, nor should our city's taxpayers be punished as a result of factors outside of our local control. We look forward to collaborative solutions with our state partners.