Return to Headlines
Student Artist's Photo of Little Brother Earns Her a Chance to Win Thousands of Dollars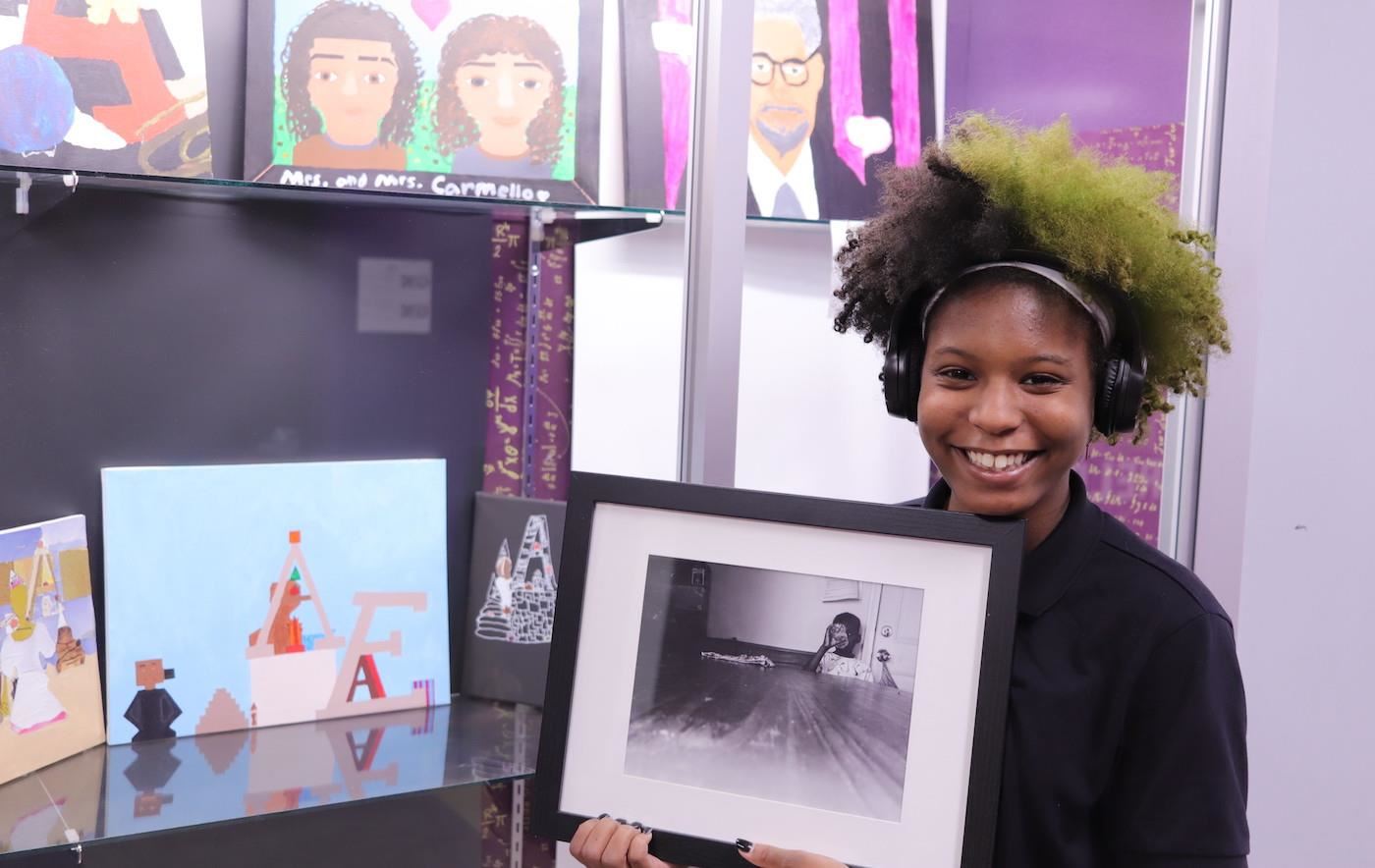 November 28, 2022 -- After her little brother said "no," Jaliejhnae Brown snuck a photo anyway with her phone propped up inconspicuously on the table. She captured the perfect angle of him, which earned her entry into a prestigious art exhibition and the chance to win a $2,000 talent award.
Brown, an 11th-grade student at Columbus Africentric Early College PreK-12, was one of only 65 Ohio high school artists selected out of 250 for the Juried High School Art Exhibition at Otterbein University. She submitted the candid photo of her younger sibling and fittingly titled it Little Brother.
She felt giddy and overjoyed when she found out her artwork was chosen by the exhibition.
"My parents were super proud of me and they were surprised when they saw the picture," Brown said. "When I showed them, they thought it was a drawing and I explained it was a photo. They loved it!"
Brown's little brother was not initially as thrilled with the photo but changed his mind.
"He ended up liking it because he thought it made him look scary like Chucky the doll," Brown said.
Brown snapped the photo when she was assigned homework for photography class. She originally wanted to take some pictures of her mom. However, since her mom was too busy, Brown started capturing shots around the house of her pets, but she still needed one more for her assignment.
"My brother said 'no,' but I took the picture anyway," Brown said. "He always says 'no' when I need him to do something for me. Our relationship is like cats and dogs – we don't get along, but the picture turned out great."
The exhibition said they thoroughly enjoyed seeing so many quality and diverse works made by high school students throughout Ohio. In addition, their juror, Professor Eliane Calle Saari, was thrilled to see the level of competency in the submitted work. Saari said she found the selection process both enjoyable and challenging.
For her photo, Brown used a Samsung Galaxy Note camera phone. Occasionally she uses a digital single-lens reflex camera (DSLR) for photos and videos that she takes for her mom's business and fun. In addition to photography, Brown enjoys all different genres of art and wishes to continue her artistic talents in the future.
"I would like to go into fashion design as well as own and operate a themed cafe inspired by my parents, extended family, and Asian art/culture," Brown said. "I'd also enjoy continuing dance and modeling as part of my future."
Her art teacher, Sidney Irvine, is pleased with her efforts and couldn't be more proud of her accomplishments.
"Jaliejhnae Brown is a very creative student and I'm proud to have had her participate in my art classes," Irvine said. "I believe she has a bright future ahead of her and [I] look forward to seeing more of her creative work in the future. I'm excited to see her represent CAEC in the fourth annual Juried High School Art Exhibition at Otterbein."
The fourth annual Juried High School Art Exhibition will have the selected artwork installed in Miller Gallery in Westerville. Artwork can also be viewed by the public at the Virtual Exhibition. Additionally, an in-person reception and award ceremony will be held 3 – 5 p.m. on Saturday, Dec. 3, in the Miller Gallery. At the reception, Saari will describe her jurying process and respond to the submitted works.
Winners will be announced at that time as well. In addition, a Zoom link for family, friends, and educators who cannot attend in person will be available on the exhibition website.
---