Return to Headlines
The Case of the Forgotten Fort Hayes Emmy, Solved Four Years Later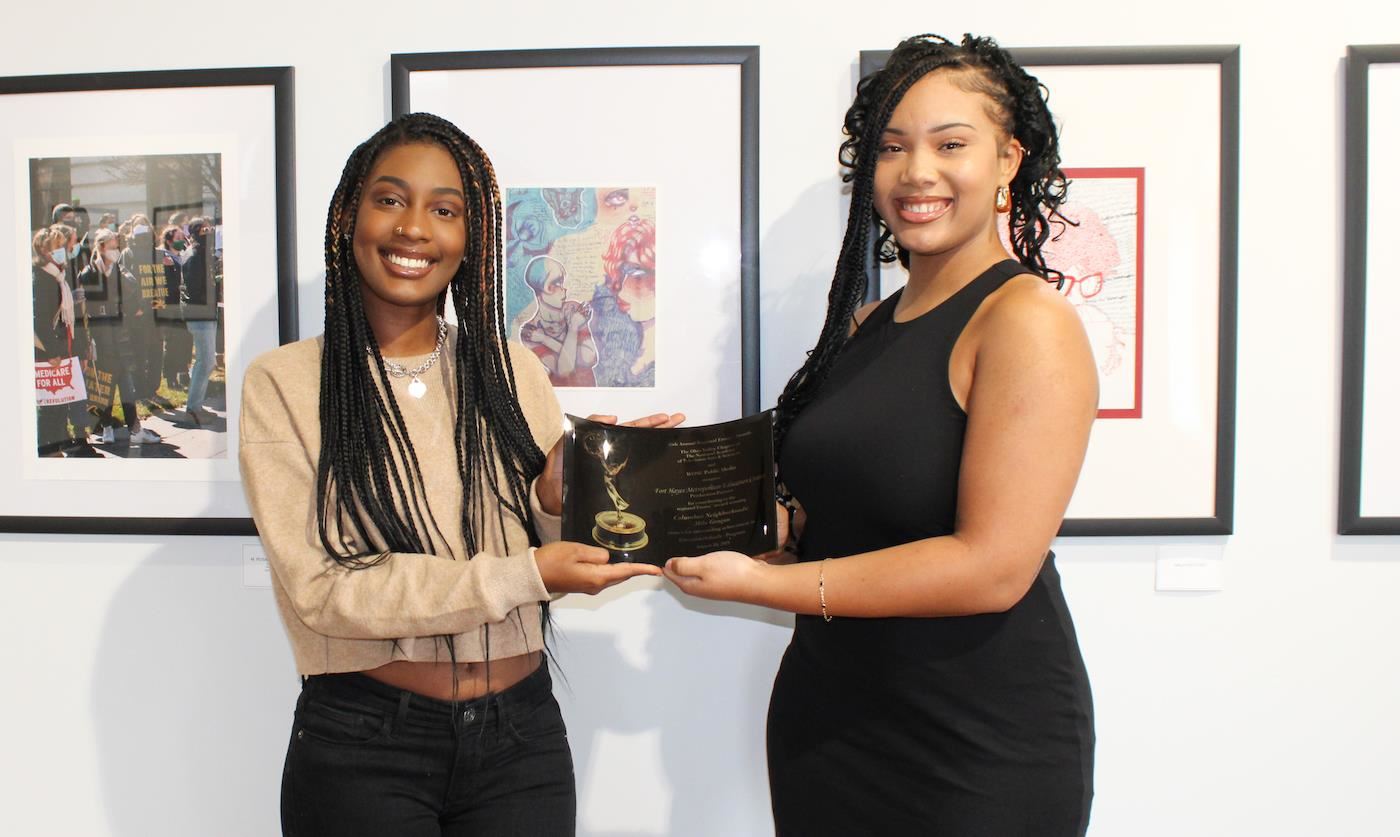 November 29, 2022 -- And the Emmy for Best Educational/School Program award goes to...Columbus Neighborhoods: Uncovering the History of Milo Grogan!
When Fort Hayes Arts and Academics students participated in a school project, they never in their wildest dreams imagined their hard work would win an Emmy.
It was 2018, and Fort Hayes students in Eric East's class were assigned a history project. East worked with Historian Doreen Uhas Sauer to create a Milo-Grogan classroom assignment. Milo-Grogan is the closest neighborhood to Fort Hayes, with a rich past. As part of the project, students researched and learned about its people, businesses, and how the area developed.
"We were just having fun and learning things with our historical society," said former Fort Hayes student Nadalee Noble. "When I found out we won an Emmy four years ago, I was surprised, shocked, happy – just wow! Something I did a long time ago really made an impact, and I was completely unaware of it at the time."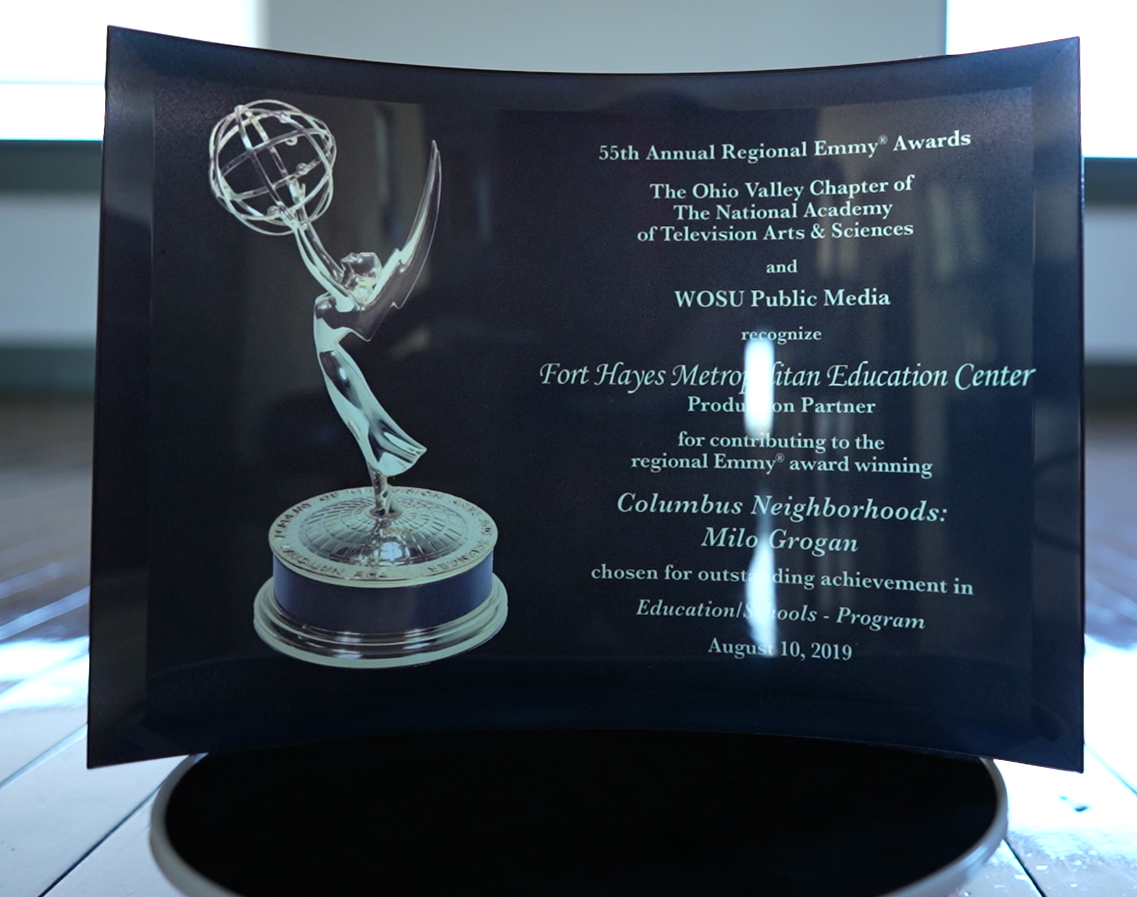 These students didn't know the television documentary they participated in years ago was nominated - let alone WON an Emmy - until this fall.
WOSU, along with Producer Mary Rathke, filmed the students over a month as they conducted research that would eventually air on WOSU as part of the Columbus Neighborhoods series. After seeing its potential, WOSU submitted the episode Columbus Neighborhoods: Uncovering the History of Milo-Grogan, to be nominated for an Emmy.
"What sparked our interest was that this community was right over the freeway by Fort Hayes," Noble said. "We wanted to know what it was like way before Fort Hayes or anything was here."
Sauer and Rathke previously worked together on an episode of Columbus Neighborhoods: Discovering a Historic Columbus Homes Photo Collection. The Milo-Grogan episode was intended to be a follow-up story. The Home Photo Collection was a 2017 collection of the 1950s-1970s real estate cards found in a former historic real estate office.
Doreen, Rathke, and East found a way to use the real estate cards as part of a local history research project for the Fort Hayes students. The result was a 30-minute Columbus Neighborhoods special, Columbus Neighborhoods: Uncovering the History of Milo Grogan.
"When we learned about the red-lining and gentrification, that stuck out to me," said former Fort Hayes student Ianna Turner. "At the time, I noticed that was happening in my neighborhood. They are building highways in the middle of neighborhoods and moving people out."
The 2018 episode won a Regional Emmy award in the Educational/School Program category. However, WOSU decided to keep it a secret and surprise Mr. East and his students with a "Thank You" statue.
Emmy recipients can purchase a "Thank You" statue to give to organizations that participated in the creation of videos so that they, too, have something to display for their integral role in the episode.
A string of bad luck prevented the secret statue from getting into the hands of Fort Hayes, leaving them without knowledge of the award and their success. Between the pandemic and WOSU moving into a new building, the statue was forgotten in the shuffle. The shiny trophy remained hidden in a sealed box like a buried treasure for four years.
Fast forward to the summer of 2022. Amid cleaning and unpacking boxes, a WOSU staff member found the statue tucked away in the new building. The statue was then delivered immediately to Fort Hayes with a heartfelt apology.
CONGRATULATIONS WOSU, Sauer, East, and the following students that were part of the Emmy award-winning Milo-Grogan episode:
Mason McFadden
Miles Balfour
Lauryn Burgess
Ianna Turner
Jordan Tanner
Nadalee Noble
Jordan Hartway
Stephanie Butler
Aza Hancock
Malaysia Jackson
Jazlyn Reed-McFarland
Shanise Collins
For those that do not know, Fort Hayes already has a Grammy to their name, and now with the Emmy, here's to hoping Fort Hayes can get the EGOT!
---