Return to Headlines
CCS Superintendent/CEO Dr. Talisa Dixon Announces Intention to Retire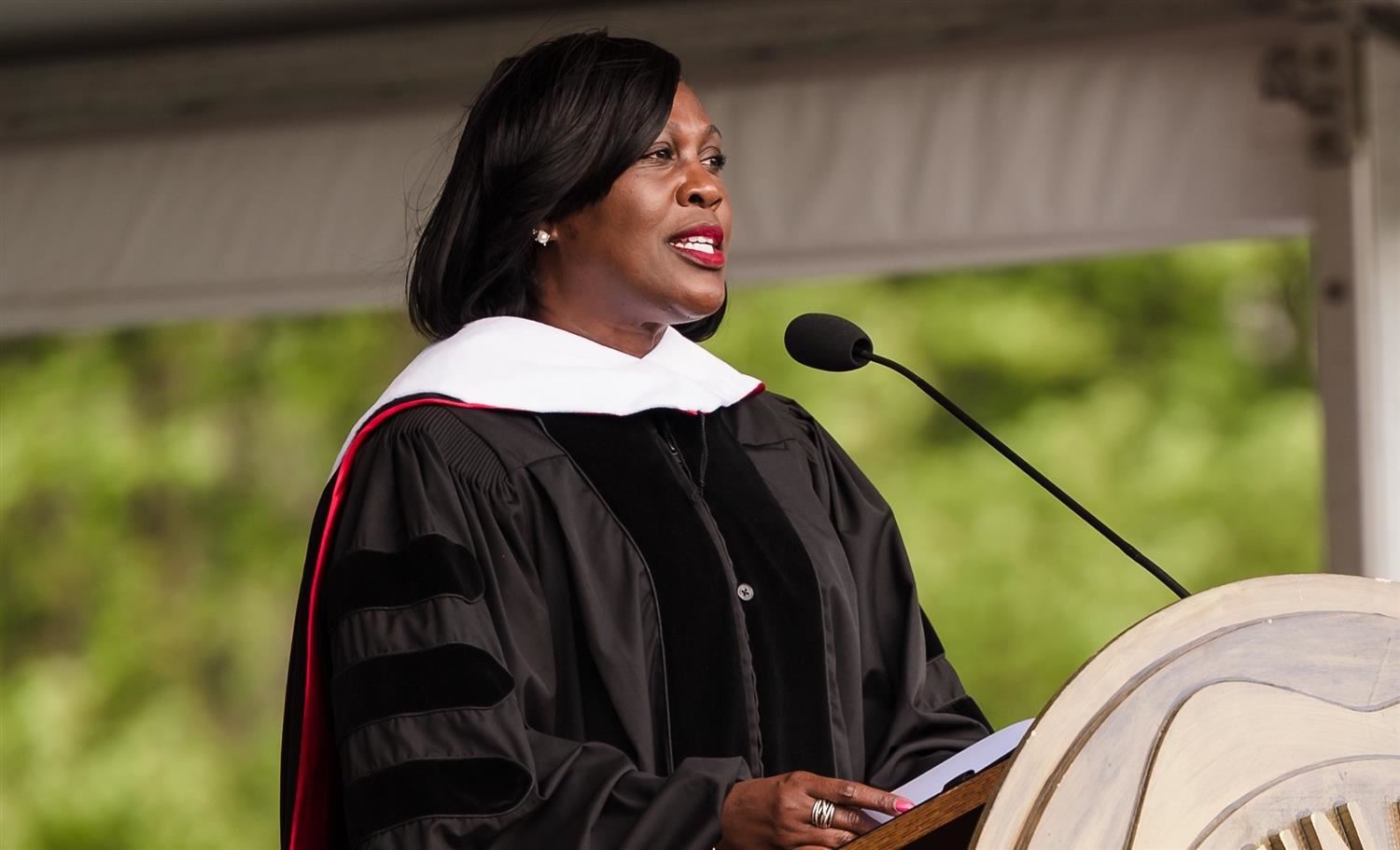 December 8, 2022 -- Columbus City Schools Superintendent/CEO Dr. Talisa Dixon announced today that she intends to retire at the end of the school year, effective June 30, 2023, after four years serving as superintendent of the largest school district in Ohio.
In a letter to the school community, Dr. Dixon expressed sincere gratitude and pride for the entire CCS community.
"I would like to say thank you. I have grown personally and professionally during my time here, and I thank each of you – every teacher, every staff member, every student and their families – for being a part of that journey," said Dr. Dixon. "I am grateful for the opportunity to have served the Columbus community alongside so many talented people and I will cherish the relationships I have built here.
"To all of our CCS students – you have always been my 'why.' I will forever be proud of your passion, resilience, and fortitude. Keep lifting your voices and advocating for a better tomorrow. The future of this community is in great hands with you Leading the Way."
Dr. Dixon took the reins as Superintendent/CEO in March 2019 after five years of leading the Cleveland Heights-University Heights City School District in Northeast Ohio.
She previously spent nine years as a high school administrator in CCS from 2001-2010 – at the former Brookhaven High School and at Columbus Alternative High School (CAHS).
During her tenure as Superintendent/CEO, Dr. Dixon:
Successfully led CCS through the global COVID-19 pandemic, making shifts from remote to hybrid to full in-person learning while implementing creative strategies to meet the needs of students and their families.
Amidst the backdrop of the pandemic, continued the important work of engaging the community and establishing priorities to create and introduce CCS' five-year Strategic Plan – the Power of One – and Portrait of a Graduate, outlining the community's hopes, dreams, and aspirations for all CCS students.
Facilitated a Phi Delta Kappa curriculum management audit to evaluate curriculum, operations and governance, and how each supports teaching and learning in the classroom. This helped inform the work around a comprehensive strategic planning process.
Created the Department of Transformation and Leadership and divided the District into six regions, each with an Area Superintendent, to provide an intentional focus on leadership development and guided regional support for principals and schools.
Created the Department of Engagement to more meaningfully connect with families and community partners, and the Department of Equity with the District's first-ever Chief Equity Officer to bring Equitable Opportunities for All to CCS.
Facilitated the implementation of a new Student Outcome Focused Governance model, with the Board of Education and the Council of the Great City Schools, recognizing that student outcomes do not change until adult behaviors change.
Opened World Language Middle School, ensuring a rigorous bilingual language immersion continuum for the District's two immersion schools – Ecole Kenwood French Immersion and Columbus Spanish Immersion Academy, along with students from Columbus Global Academy, and on to grades 9-12 at Columbus North International School.
Launched the successful Summer Experience and Pathway Express programs, two unique community-based initiatives that provide immersive, hands-on lessons at some of the city's top family-friendly sites.
Joined City leaders, Columbus State Community College, I Know I Can, and area business leaders to launch the Columbus Promise, an initiative providing free tuition for CCS seniors to attend Columbus State and continue their education after high school.
Partnered with the City of Columbus, The Ohio State University, and Columbus State to introduce STEAMM Rising, an initiative focused on developing the next generation of teachers and students focused on innovation and ensuring STEAMM (science, technology, engineering, arts, mathematics, and medicine) talent continues to thrive in Columbus.
Partnered with Nationwide Children's Hospital and Primary One to develop school-based health strategies, including the establishment of new clinics at Fort Hayes and Columbus North International/Columbus Global Academy.
Partnered with United Way to implement the Success by Third Grade reading initiative in two regions, focused on addressing the needs of entire families and removing community-based barriers that hinder academic success.
Secured a $7 million grant and business partnership with JPMorgan Chase to create pathways for students to obtain jobs and continue their education after high school at Columbus State and Ohio State.
Secured an $8.2 million multi-year grant from The Wallace Foundation to further the District's efforts to develop and support highly-effective school leaders, while addressing equity-centered practices that directly impact student achievement.
"The Board is grateful for Dr. Dixon's contributions over the past four years, especially in navigating the challenges of the COVID-19 pandemic," said Board President Jennifer Adair. "She has set the District up for success in the years to come with the implementation of a new Strategic Plan and the creation of our Portrait of a Graduate.
"As both a former school principal and Superintendent, Dr. Dixon has served this community well and remains a champion for the students and families we serve. We thank her for her steadfast dedication to Columbus City Schools and wish her the best in her future endeavors.
"Despite this change in leadership, the work will not stop or diminish. Our dedicated teachers, administrators, and staff will continue to serve our students, their families, and our community," added Adair. "The Board of Education remains committed to improving student outcomes and developing Portrait-ready graduates."