Return to Headlines
CCS Students Participate in Made for Medicine Program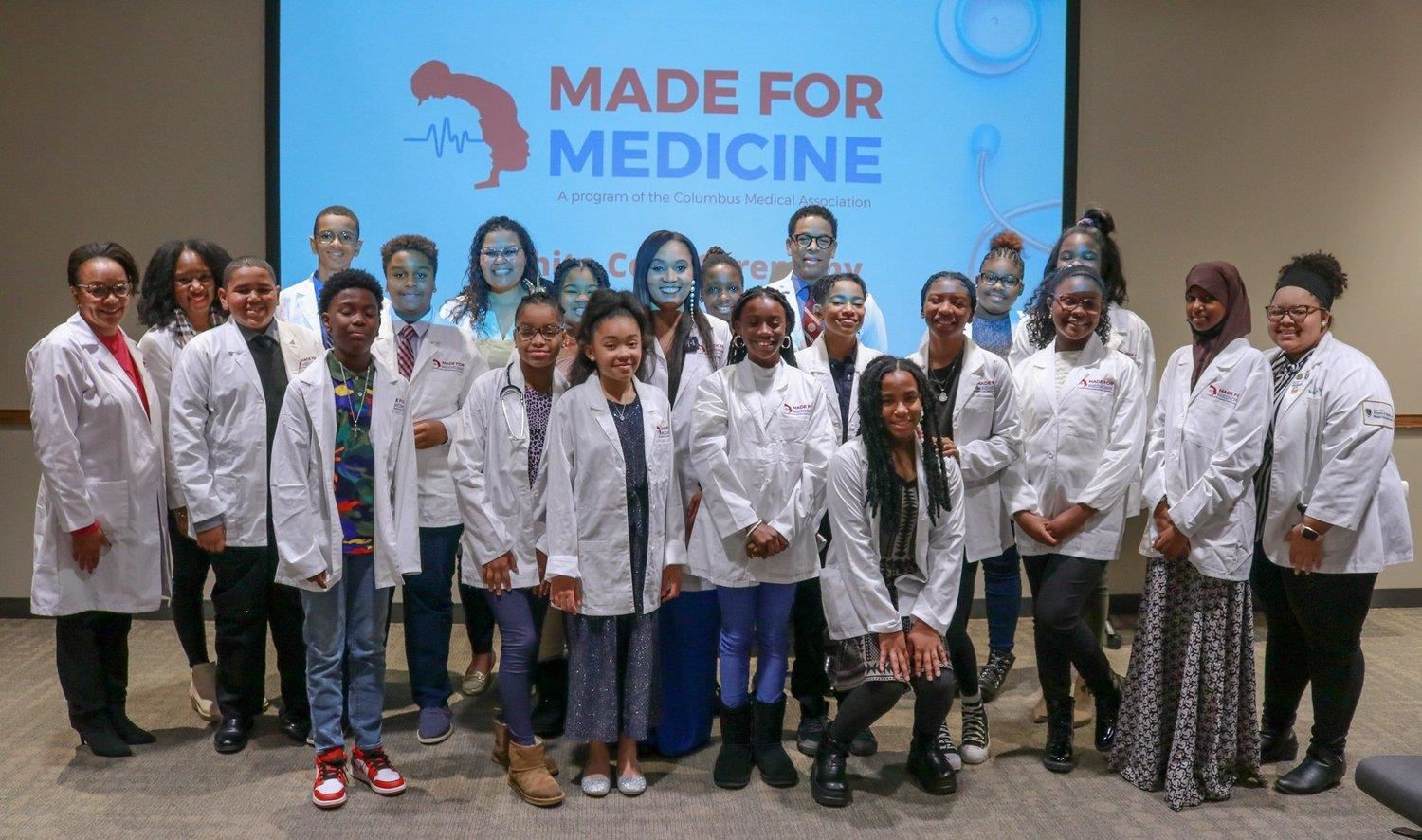 Photos courtesy of Credit CMA
December 15, 2022 -- Stewart Elementary sixth-grade student Sharlette Whitfield says Made for Medicine (MFM) is an excellent opportunity for students to learn more about the medical field.
"This is a good program," said Whitfield. "It teaches black students how to become doctors. My mom shared that African Americans are only five percent of the U.S. physician workforce, and two percent are black women. I want to change that statistic."
Whitfield is interested in becoming a pediatrician.
MFM, a program of Columbus Medical Association, provides students one-on-one interaction with doctors, critical foundational knowledge, hands-on learning, case-study analysis, and more.
Created in 2021, the MFM initiative was founded and led by Dr. Laura Espy-Bell, Fort Hayes Arts & Academic alumna. The vision behind MFM is to create a pipeline for African-American middle and high school students, exposing them to careers in medicine.
Dr. Espy-Bell, an emergency medicine specialist with Mid-Ohio Emergency Services, shares her journey in selecting the core faculty for the program.
"I want students to see themselves in us. It was intentional that most of the physicians in the program are from Columbus and are physicians of color. Representation matters," said Dr. Espy-Bell.
MFM is divided into three phases: an Introduction to Medicine for grades sixth through seventh, a Deeper Dive for grades eighth through ninth, and a Commitment to Medicine for grades tenth through twelfth.
Once in their respective cohorts, students receive a hands-on educational experience, including handling human brains and kidneys!
"Dr. Espy-Bell's motto is, "if it is to be, its up to me," said MFM Program Director Erica Womack, Ph.D.. Our goal for MFM is to create affirming spaces for black youth to realize their full potential in the field of medicine."
The most recent 2022 Fall session was MFM's fourth cohort. Consisting of 16 participants, six students represented CCS proudly throughout phase one. Those six students are:
Sharlette Whitfield—Sixth-grade student at Stewart Alternative ES
Cheyenne McConnell - Seventh-grade student at Berwick Alternative ES
Zakiya Obayuwana—Sixth-grade student at World Language MS
London Stewart—Seventh-grade student at Berwick Alternative ES
DaNaisha Howell-West—Sixth-grade student at Berwick Alternative ES
Alexa White—Sixth-grade student at Berwick Alternative ES
Bertha Obayuwana, mother of World Language 6th grade student Zakiya Obayuwana, explained how positive the MFM Program is for African-American students, sharing how Dr. Espy-Bell is a strong advocate for students in the program.
"What Dr. Espy-Bell and Dr. Womack have put together here is something special. It's so unique," said Obayuwana.
Obayuwana continued her praise of MFM.
"What's amazing to me about this program is that, yes, there are other area school students that are represented, but the fact that our district is present is huge," said Obayuwana. "There's so much more our CCS students have to offer than what the media portrays them to be."
CCS Department of Transportation employee Erika White, mother of Berwick 6th grader Alexa White, shares in Obayuwana's excitement about the MFM program.
"I love the program. I am entirely impressed with what Dr. Espy-Bell and the program physicians have taught our students," said White. "Alexa loves the program as well; it is a game changer. I am in awe of the doctors in the program and their commitment to our CCS students."
Students participated in two-day intensive sessions led by local expert physicians. The Introduction to Medicine session covered topics in Neurology, Cardiology, Pediatrics, Nephrology, Obstetrics & Gynecology, and Emergency.
"I want to work in pediatrics," said Berwick sixth grader Alexa White. During orientation, I was excited to find out there would be a session teaching pediatrics." I am so happy to be in the program," said White.
Zakiya Obayuwana shared that she wants to be a doctor as well. Obayuwana joined MFM after her sister Zalika graduated from phase one this past summer.
"I had to have a recommendation from one of my teachers to enter the program. My sister joined the program first, and after she graduated and received her white coat, I became interested. We found out about the program at our school," said Obayuwana.
Additionally, students are greeted and respected as doctors throughout the sessions and addressed as such. Dr. Espy-Bell explained the importance of addressing students as doctors.
"Seeing is believing. If you can see and hear it, you can achieve it. We want students to see the vision. By addressing our students as doctors, we are preparing them for a rewarding career in medicine. We want our students to know they can become what they aspire to be," said Dr. Espy-Bell.
As the MFM program concluded, cohort four students prepared for the highly anticipated White Coat Ceremony.
Surrounded by their family and friends, students were presented with their MFM certification of completion.
In addition to their certification, students officially received their white coats.
"You're looking at the next generation of future doctors," said Dr. William J. Hicks, co-director of the Comprehensive Stroke Center at OhioHealth Riverside Methodist Hospital. "We are so excited about their progress and are thrilled to be part of their journey into medicine."
The room filled with applause as MFM physicians assisted students with putting on their white coats. Those in attendance were proud of what these students have accomplished. MFM core faculty consists of 10 medical physicians:
Dr. Christopher Brown, Nephrology
Dr. Lamont Clay, Emergency Medicine
Dr. Michelle Golla, Pediatrics
Dr. William "BJ" Hicks, Neurology
Dr. Christen Johnson, Family Medicine
Dr. Joshua Joseph, Endocrinology
Dr. Reversa Joseph, Neurology
Dr. Maureen Joyner, Family Medicine
Dr. Jessica Motley, Sports Medicine
Dr. Dana Moulton, OB/GYN
"My mantra is if it is to be, it's up to me. I've shared this with our doctors from day one. From its inception, my goal was to create MFM, to leave a mark, and make a difference," said Dr. Espy-Bell.
Dr. Espy-Bell continued.
"Through my lens, this was the best way to give back to the black and brown students living and attending the same schools in the same community I grew up in, exposing them to the world of medicine," said Dr. Espy-Bell.
As the White Coat Ceremony concluded, Dr. Espy-Bell offered these parting words to the students of cohort four.
"I say to you all, practicing medicine is a marathon, not a sprint. Take one step at a time. You now belong to a network of physicians that care for you, that will be there for you throughout your journey. There will be challenges, but how you respond to those challenges will make the difference," said Dr. Espy-Bell.
---