Return to Headlines
Columbus Police Officers Building Mentoring Relationships with Columbus Students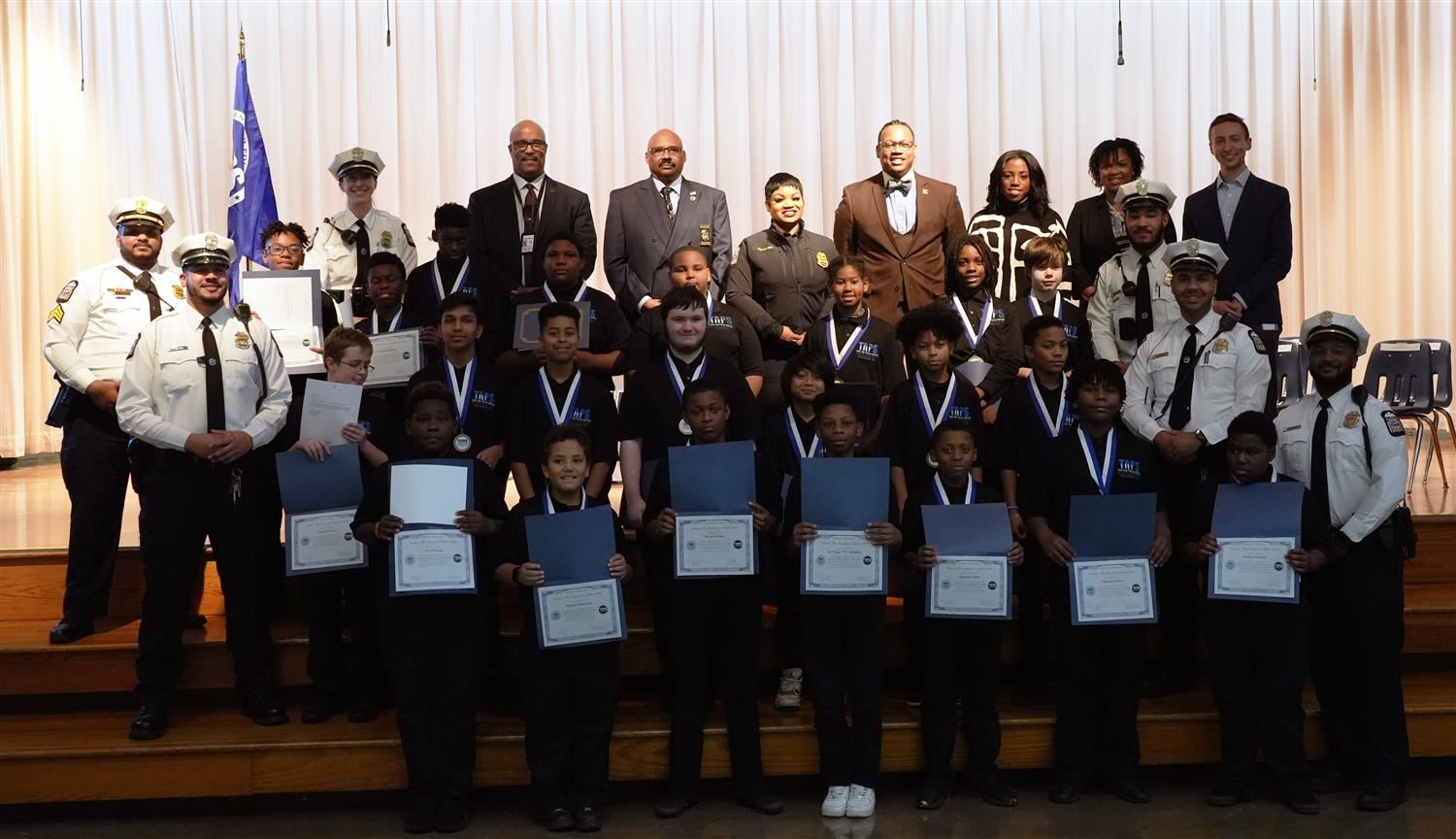 December 21, 2022 -- "Something's about to go down."
Seventh grader Michael Williams said that was what he often thought when he saw police officers out patrolling. That was a similar thought he had about 12 weeks ago when he saw officers inside his school, Columbus City Preparatory School for Boys.
"I was kind of confused; like, why would they be here?" Williams said.
He and a handful of other young men at the school were selected by teachers, school staff members or family members to participate in the Teen and Police Service Academy or TAPS. The program involves Columbus Police Officers visiting schools over a several weeks long course to break the barriers between students and police.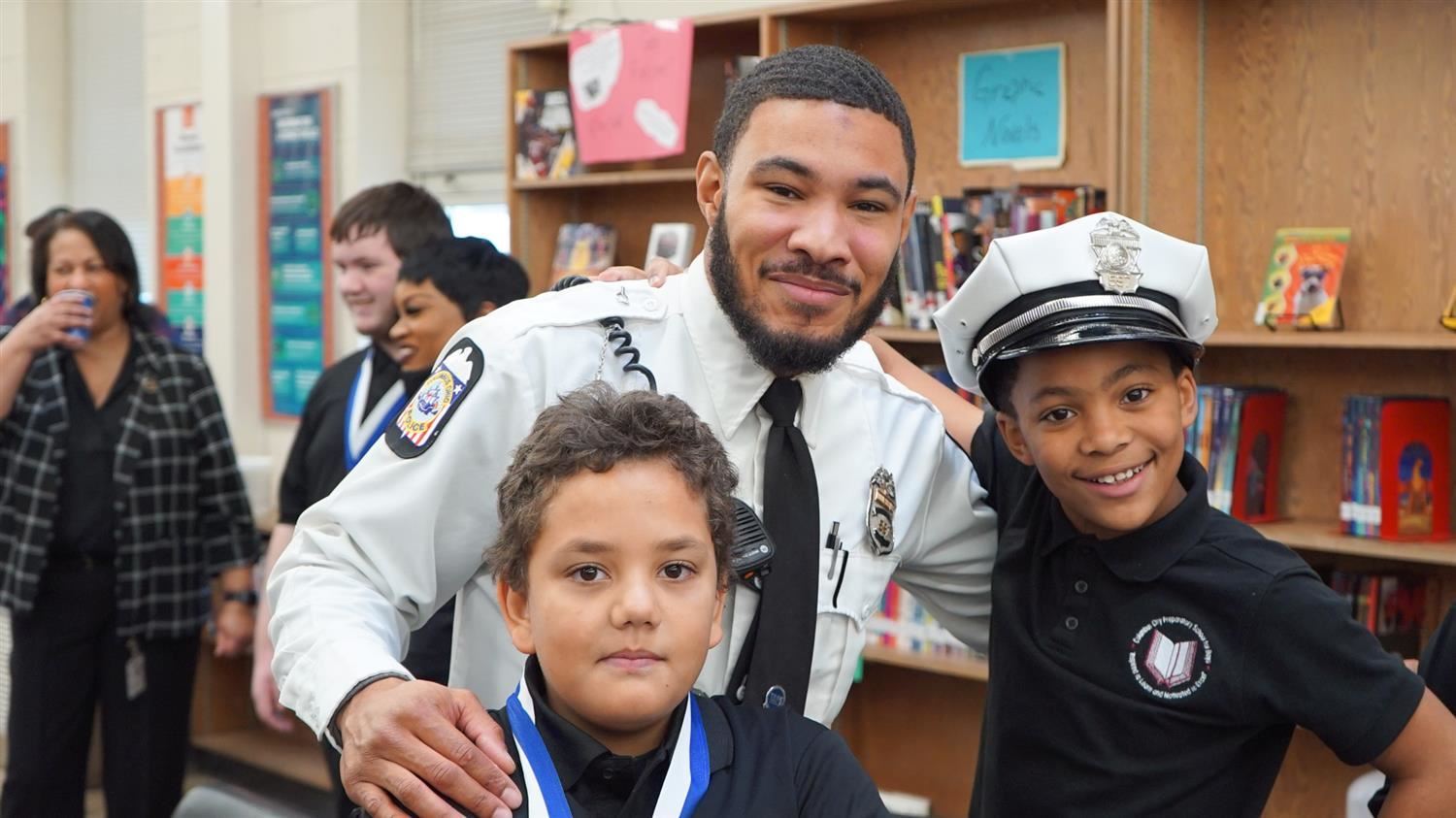 On December 14, Williams and his peers crossed the stage at CCPSB for their TAPS graduation ceremony. Among the officers giving Williams a high five was Shawn Smith-Davis.
"They don't know us until we let them in. To let them see that we are human and don't grow up in situations with a silver spoon in our mouths," Smith-Davis said.
With his arm around Williams, laughing over jokes, Smith-Davis proudly said, "good job." While it appeared the two had known each other for years, their friendship was new, which Smith-Davis had to work hard to earn.
"Some of these kids lack paternal or maternal figures in their life; they've lost brothers, sisters, and other loved ones like that. I wanted to be someone stable who could be there for them every week," he said.
Smith-Davis joined the TAPS program to connect with children who need a helping hand, as he did growing up.
"I grew up in the same areas as a lot of these kids. I grew up in a domestic violence household. I had cousins that were in the street."
When it came to his view of police when as a child, "I never really saw them as a threat or a problem, essentially I just thought they were doing their job, what they were called there for," Smith-Davis said.
He carried that viewpoint with him until he became an officer, hoping it would be a chance to help his community and the kids who live there. Smith-Davis said he quickly joined the TAPS program after becoming an officer so kids could see anything is possible with goals and determination.
"Even though they're not our children, they're our children. We're a part of their community," he said.
In the program, students learn about career choices, how to handle money, and even the dangers of gangs and drugs. It's an opportunity for students to hear about making the best choices from those who see life's positive and negative through their work.
Smith-Davis is one of several officers who intends to follow up with students who participate in the program at schools. His ultimate goal is for students like Williams to know when he sees an officer, it's not something he should fear.
"What they did was really good and the conversations we had with them were about being the safest teen I can be. I'm just glad they were here," Williams said.
Johnson Park Middle School, Columbus City Preparatory School for Boys, and Woodward Park Middle School participated in the 11-week TAPS course this semester.
---