Return to Headlines
The Family Connector | November 17, 2023
The Family Connector ‌ ‌ ‌ ‌ ‌ ‌ ‌ ‌ ‌ ‌ ‌ ‌ ‌ ‌ ‌ ‌ ‌ ‌ ‌ ‌ ‌ ‌ ‌ ‌ ‌ ‌ ‌ ‌ ‌ ‌ ‌ ‌ ‌ ‌ ‌ ‌ ‌ ‌ ‌ ‌ ‌ ‌ ‌ ‌ ‌ ‌ ‌ ‌ ‌ ‌ ‌ ‌ ‌ ‌ ‌ ‌ ‌ ‌ ‌ ‌ ‌ ‌ ‌ ‌ ‌ ‌ ‌ ‌ ‌ ‌ ‌ ‌ ‌ ‌ ‌ ‌ ‌ ‌ ‌ ‌ ‌ ‌ ‌ ‌ ‌ ‌ ‌ ‌ ‌ ‌







Get ready for Wellness Week! From November 20 to 24, we're dedicating a week to prioritize our physical and emotional well-being. To fully embrace this initiative,
ALL CCS SCHOOLS, ADMINISTRATION BUILDINGS, AND DEPARTMENTS WILL BE CLOSED
throughout this period.
Take advantage of this opportunity to relax, recharge, and indulge in some well-deserved time off.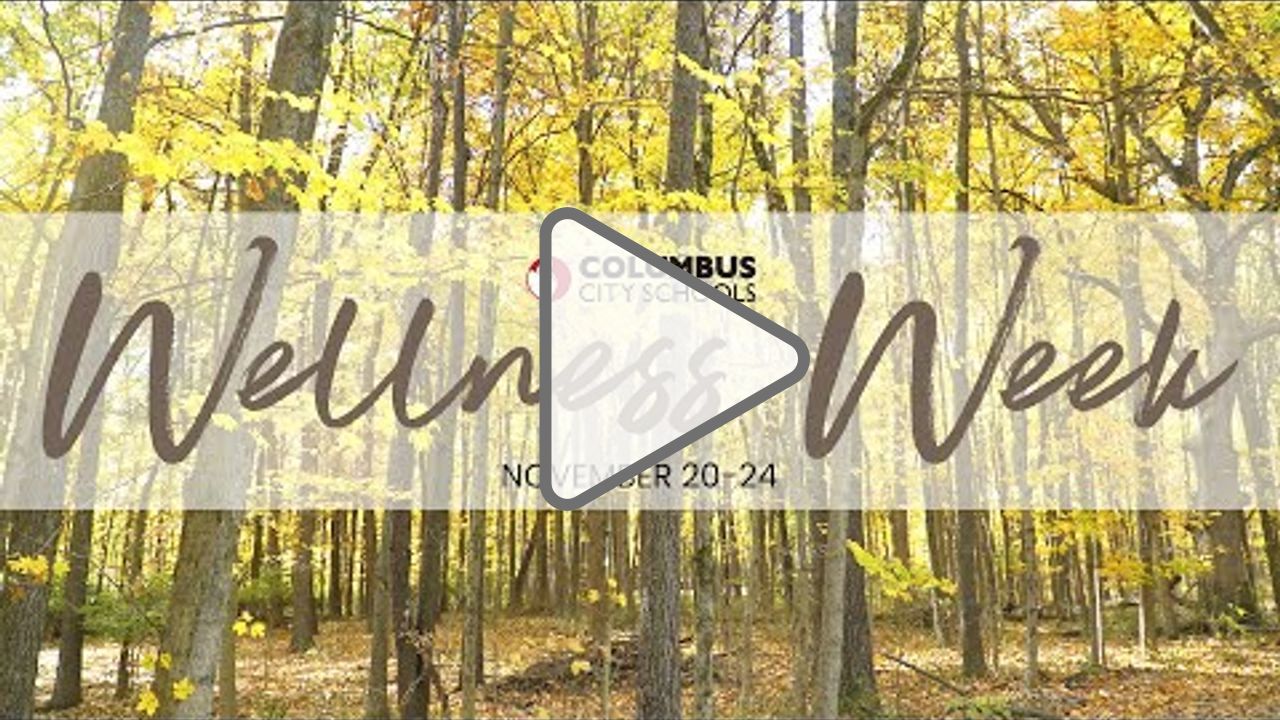 The Columbus City Schools Health Services team would like to take a moment to provide an update on the current respiratory viral season and share tips on keeping all of us healthy through the holidays and upcoming winter months.
Currently, the respiratory viral season is just beginning. Cases of flu and RSV have been circulating at low levels but will likely increase throughout the winter months. Students may become ill with respiratory symptoms such as cough, runny nose, fever, and even shortness of breath.
Here are some tips to keep you and your loved ones healthy during our upcoming holiday season!
The flu shot is also now available and can be given alone or with the COVID-19 vaccine booster. Please consider vaccinating the whole family for added protection this winter.

Holiday traditions and time with family are important ways for all of us to recharge during wellness week. As you celebrate, please consider these tips to stay safe and healthy:



Wash your hands frequently.

Stay home if you are sick and/or have a fever.

If you are at high risk for viral illness complications, consider safe distancing and/or wearing a mask if in a large gathering.
If your student has symptoms such as cough, fever, sore throat, headache, congestion, vomiting, or diarrhea, please keep them home and consult their physician. Staying home when sick lowers the risk of spreading infectious illness to others and their school community.
We hope you enjoy Wellness Week and have an opportunity to recharge and spend quality time with family and friends.
At the November 8 Board business meeting, the District approved proposed changes to the previously adopted 2023-2024 Traditional and Year-Round Academic Calendars per Ohio Revised Code Section 3313.48 (B) due to the Total Eclipse that will occur on April 8, 2024.
Specifically:
Traditional Calendar: The revision to the Traditional Academic Calendar moves the April 24, 2024, Professional Development Day to Monday, April 8, 2024, as a remote Professional Development Day; there will be no classes.

Year-Round Calendar: The revision to the Year-Round Academic Calendar makes Monday, April 15, 2024, an intersession day on the year-round academic calendar. There will be no classes.
* Please note: no other dates on the Traditional school year calendar or Woodcrest's year-round schedule are impacted.
The District's Academic Calendars are created in collaboration with the Columbus Education Association (CEA) and consultation with principals and district administrators.












CCS Pathway Express arrives at the Wexner Center for the Arts in December. Students and their families will get the chance to enjoy FREE admission to the Wexner Center to enjoy exhibitions, performances, screenings, educational programs, artist residencies, and publications offered by the Arts Center. The Wexner Center for the Arts is The Ohio State University's multidisciplinary form for contemporary art and culture.
Fun Family Learning Experiences include:
Art Workshops

Art Gallery Exploration

Short Film Screening

Free books and giveaways while supplies last!

Enjoy a meet & greet with author Innosanto Nagara. A children's author, activist, and graphic designer.
Free Parking for families in the Ohio Union North Garage, Ohio Union South Garage, and Arps Garage. Please bring your parking ticket inside the Wexner for validation.
FREE TRANSPORTATION IS AVAILABLE - DECEMBER 9 ONLY
Transportation is available from the following locations:
Northland High School - 1919 Northcliff Drive, Columbus, 43229

South High School - 1160 Ann Street, Columbus, 43206

Walnut Ridge High School - 4841 E. Livingston Avenue, Columbus, 43227

West High School - 179 S. Powell Avenue, Columbus, 43204
Departure times will be provided once you register for the December 9 event.
Event Details
The Wexner Center for the Arts

1871 N. High St., Columbus, OH 43210

Saturday, December 9, 2023
10:00 a.m. to 1:00 p.m.








Columbus City Schools proudly presents FACES, the online Family and Community Engagement Series program created to inform and connect families, the community, and schools. You can find FACES, the Family and Community Engagement series, exclusively on CCS's Facebook and YouTube channels.
Are you ready for the HoliDaze? FACES episode 7 explores the joys and stressors of the holiday season! Watch the recap as expert roundtable guests Dr. Ameena Kemavor, ADAMH, and Pia Fitzgerald, The WOWW! Factor share valuable tips, tools, and strategies to help you throughout the holiday season!
Tune in every second and fourth Tuesday at 6:00 p.m. for FACES, and let's build a stronger CCS community together!








The State of Ohio's College Credit Plus Program can help students earn college and high school credits simultaneously by taking college courses from colleges and/or universities. This program promotes rigorous academic pursuits and provides various options for college-ready students.
Taking a College Credit Plus course from a public college or university is free, which means no cost for tuition, books, or fees. You may have limited costs if you choose to attend a private college or university.
In place of regular high school classes, students can take college courses and earn credits that can be transferred to colleges and universities after graduation.
Please attend one of the CCS information sessions for more information regarding College Credit Plus.
Sessions:
December 6, 2023
Live Webinar
6:30 p.m. - 8:00 p.m.
January 24, 2024
West High School
6:30 p.m. - 8:30 p.m.
February 8, 2024
East High School
6:30 p.m. - 8:30 p.m.
February 21, 2024
Live Webinar
6:30 p.m. - 8:00 p.m.
Please note that registration is REQUIRED as seating is very limited for in-person events. Walk-ins may be asked to attend another date.
Live webinar links will be emailed to the registrant's email address.









As your seniors embark on their final year, the Office of School Counseling supports you and your students in the exciting journey toward graduation! We understand the importance of this milestone and want to ensure a smooth transition into the next chapter.
What to Expect:
Stay tuned for valuable tips, tools, and strategies to navigate the senior year successfully.

Our team will provide guidance on college applications, scholarships, and other post-graduation options.

Learn about upcoming events and important deadlines as we countdown to the big day.
Stay Connected:
Follow our newsletters for regular updates and announcements.
Celebrate the Journey:
Join us in celebrating your senior's achievements throughout the year.

Be part of the memorable moments leading up to graduation day.
We are committed to ensuring your senior's success and seamless transition to the next chapter. Together, let's make this senior year unforgettable!







Join our Columbus City Schools MS/ HS Transition & Postsecondary Opportunities Fair to learn and explore many opportunities to help your students achieve their goals! This event will have many community partners who can assist with the services, skill building, and knowledge to assist in making choices and to help each student reach his or her postsecondary goals. We will have organizations to spotlight all the different opportunities for programs, education, employment, independent living, community services, social and recreational services, and adult day programming.
All students have different strengths, abilities, and talents. For teenage students with an IEP, it's imperative for families to explore the possibilities that exist beyond high school. This event allows students ages 14+ and their families to learn about transitioning from high school to adulthood.
CCS Transition Fair
December 9, 2023

East High School
1500 E. Broad St., Columbus, OH 43205
10:00 a.m. - 1:00 p.m.



Students Lead the Way with Columbus Downtown Gardening Program

Lunch at the Columbus Downtown High School Cafe is anything but typical. Student culinary trainees cook up daily specials for fellow students and staff and ensure they have a quality dining ...
Columbus Africentric Students Bring Curriculum and Tough Topics Center Stage in School Girls Play

The Nubian Thespian Group is bringing their school curriculum front and center stage with the Ghanaian play, School Girls.
High School Equestrian Hits Her Stride at West High School

Brianna Varney is a freshman at West High School, and she has a connection with the school that goes beyond academics. Varney is not a West Cowboy, but a West Cowgirl... literally.











Applications for Christmas TOYS for children 14 years of age and under and a hearty Christmas FOOD BOX will be taken:
11/18: 10:00 a.m. - 4:00 p.m.
11/27: 10:00 a.m. - 1:00 p.m., 5:00 p.m. - 7:00 p.m.
11/29: 10:00 a.m. - 1:00 p.m., 5:00 p.m. - 7:00 p.m.
11/30: 10:00 a.m. - 1:00 p.m.
No Appointment Necessary
Locations:
The Salvation Army Citadel Worship and Service Center 3662 Karl Road, Columbus, OH 43224 614.262.8450 ext. 205
The Salvation Army Hilltop Worship and Service Center 2300 West Mound Street, Columbus, OH 43204 614.274.7600 ext.

201

The Salvation Army/Stowe Mission Center 888 Parsons Avenue, Columbus, OH 43206 614.449.8066 The Salvation Army East Main Worship and Service Center 966 East Main Street, Columbus, OH 43205 614.437.2153

The Salvation Army Chapel at Worthington Woods 760 Worthington Woods Blvd., Columbus, OH 43081 614.846.1884 ext. 10
Required Documents to Bring:
Picture Identification for Head of Household (Ex:

Driver's license; State ID card;

Employee ID card; Human Services ID card)

Proof of Dependents with Birth Dates for all Household Members (Ex:

Birth certificates; Current health card with date of birth; Shot record; Job and Family Services printout)
NO SOCIAL SECURITY CARDS OR NUMBERS
For more information, call: (614) 221.6561 x600
*Parents/Guardians will select toys and pick up a food box the week before Christmas. The time and location will be shared at Registration.












Join the City of Columbus Recreation and Parks for a special food giveaway on Sunday, November 19, at the Marion Franklin Recreation Center, 2801 Lockbourne Rd, Columbus, Ohio 43207! From 2:00 PM until supplies last. Nourishing meals will be distributed, generously donated by the Byron Saunders Foundation's "One Meal at a Time" program.
This drive-up food giveaway is part of the APDS initiative, and to add a little extra to your basket, each box comes with a $20 Kroger gift card! It's their way of giving back to the community and ensuring everyone has a hearty Thanksgiving meal.
Take advantage of this opportunity to make a difference! Join us at the Marion Franklin Recreation Center, and let's come together to support our community one meal at a time.








Get ready for an exciting season of hoops! Registration for our Youth Basketball Leagues is now open until Nov. 18 or until leagues are full. Don't miss out on the chance to join the action.
Important Dates:
Registration Closes:

When leagues are full or November 18

Games Start:

Week of January 8, 2024
League Fees:
$60 for 10U, 12U, 14U, and 18U

$35 for 6U and 8U

$25 PLAY Scholarship available for Youth Sports
Your Registration Includes:
Seven regular-season games

Uniform (jersey and shorts)

Officials for 10U, 12U, 14U, 18U

Participation awards

Postseason play for 10U–18U
Age Groups:
6U Coed

8U Coed

10U Coed and Girls

12U Coed and Girls

14U Coed

18U Coed
To view offerings or secure your spot on the court, click the button below. Lace up your sneakers, and let's make this season a slam dunk!
Don't hesitate—secure your spot and be part of the basketball excitement in your community!












The Huntington Holiday Train has delighted people of all ages since 1992. This downtown holiday treasure was generously loaned to Columbus Metropolitan Library by Huntington National Bank in 2009 and is displayed in Main Library's Grand Atrium.
Bring your entire family to see the display with its trains, tracks, tunnels, bridges, castles and other features to delight visitors of all ages. On display at Main Library during regular library hours November 22 through January 7, 2024.
Free one-hour parking in Main Library's attached garage.
Office of Engagement

Office of Engagement is using Smore to create beautiful newsletters