High School News
Page Navigation
Return to Headlines
Marion-Franklin's Meditation Room to Bring Focus to Student Mental Health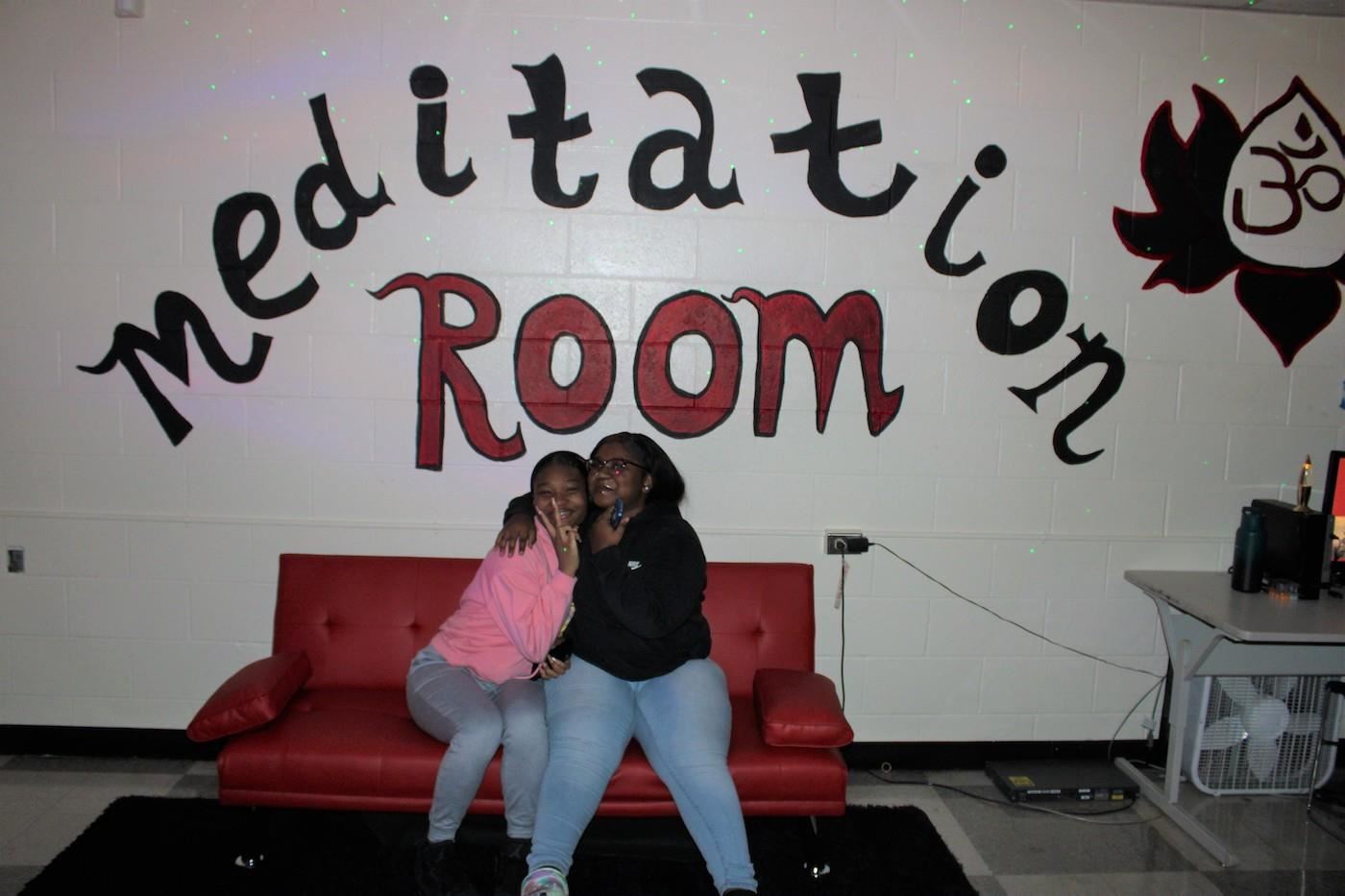 March 14, 2023 -- Step inside Marion-Franklin High School's newest addition. You'll find a tranquil haven perfect for students looking to de-stress and unwind.
Marion-Franklin is taking a bold step toward promoting student well-being by unveiling its brand-new meditation room.
In recent years, there has been a growing recognition of the importance of mental health in schools. Students face various challenges, including academic pressure, social struggles, and personal issues, which can all affect their mental well-being.
Columbus City Schools Area Superintendent for Region III, Dr. Sandy Womack Jr., highlights the value of the Marion Meditation Room as a resource for students to develop tools and strategies for managing their mental health.
"The students are bringing some unique perspectives to the table," said Dr. Womack. "They're seeing things nobody has seen before, like the pandemic and its after-effects. It's hard to know what the future holds, but the fact that they're working with the administration and social-emotional services to develop coping skills and strategies is a positive step toward growth. We live in a tough world, and I hope these tools will help them navigate through any challenges."
In response to these challenges, Marion-Franklin has created a meditation and mental health space known as the Marion Meditation Room to provide students with a quiet and peaceful place to address their mental health needs.
"I want to help our students become equipped with some of the tools to help address some of the social and emotional issues we've seen, especially post-pandemic, said Marion-Franklin Principal Tanita Fleming. "So if it's meditation, deep breathing, or using manipulatives to help relieve anxiety, I want to provide a space for students to address those issues better."
The Marion Meditation Room is a dedicated space within the school where students can meditate, practice mindfulness, and engage in other activities that promote mental well-being.
Open to all students, the Marion Meditation Room is designed to provide a welcoming and supportive environment. The room is decorated with calming colors and features comfortable seating and soft lighting to create a serene atmosphere.
Senior and Superintendent Student Ambassador Electra Sims shares the vision behind the creation of the Marion Meditation Room.
"I participated in the citywide Big Table Talk discussion with Ms. Fleming," said Sims. "Me and my classmates had a big discussion on ways to improve our school. We discussed ways to improve mental health for students. From that we decided to create the Marion Meditation Room."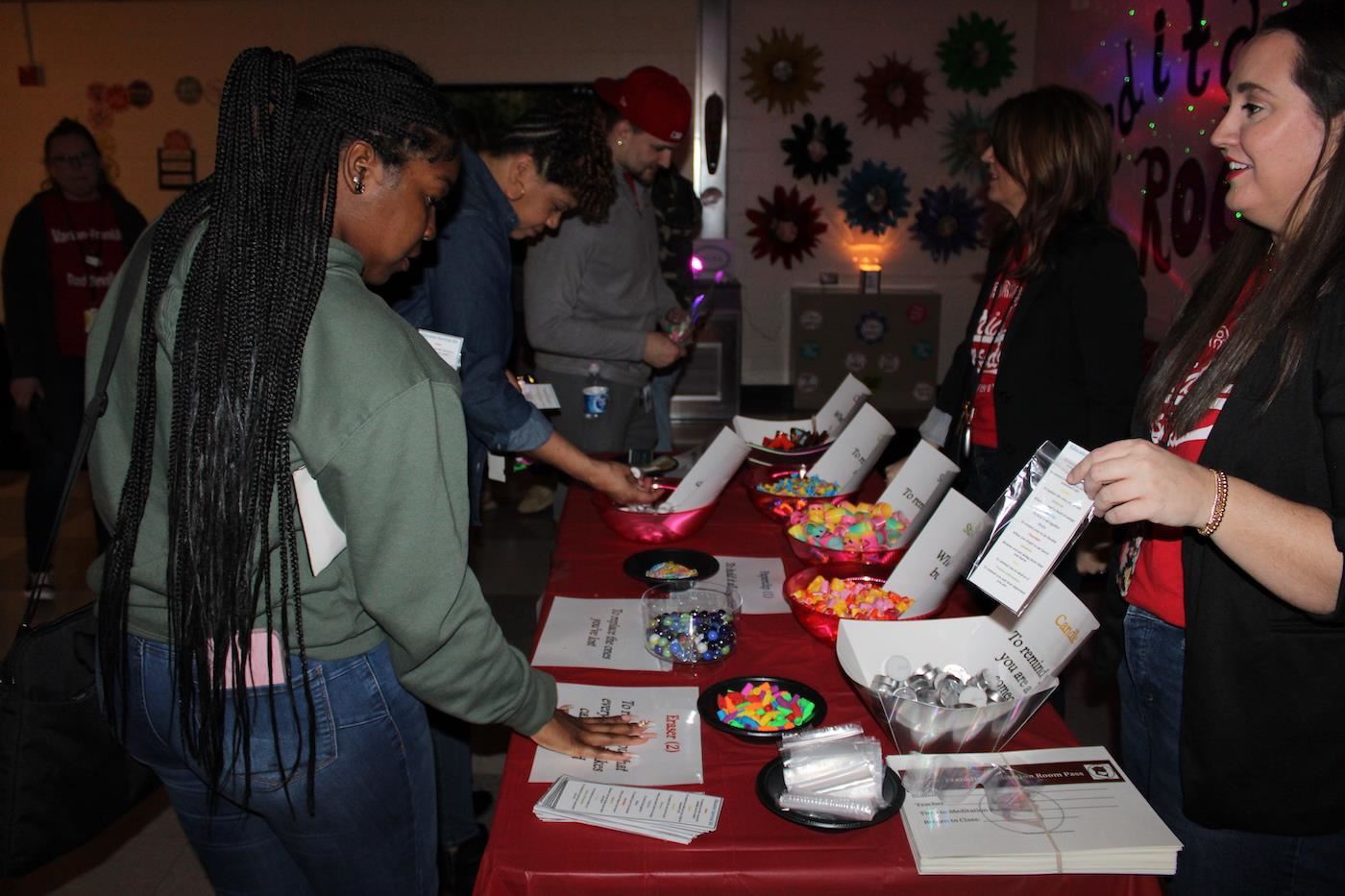 Sims is one of ten students who make up the Principal Panel at Marion-Franklin. This panel meets monthly with their Principal, Ms. Fleming, to discuss important topics relevant to students.
Gabriel Blankenship, a freshman student and member of the Principal Panel, shared why the Marion Meditation Room is important to him.
"I began experiencing mental health issues around age ten, including multiple suicide attempts," said Blankenship. "But my mother helped me realize that I have a purpose. The meditation room is a safe space for students to express their feelings and find support; to recognize that they also have a purpose."
To access the meditation room, students must obtain a pass from their current period teacher, who will confirm availability via phone with the meditation room mentor on duty.
Each student is permitted a maximum of 15 minutes in the room, with a capacity limit of five students at any given time.
According to school counselor Judy McCormick, providing students with a safe and comforting space means they feel heard.
"It is important that our students know that we are listening to what matters to them," said McCormick. "It's not just about getting to class on time and completing tasks. Sometimes, you need a time-out and a safe space to take care of yourself. That's what this place is for."
The creation of the Marion Meditation Room is part of a broader effort by Marion-Franklin to address the mental health needs of its students.
The school has recognized that mental health is a crucial component of student success and has taken steps to support students in this area.
As the mentor and facilitator of the Marion Meditation Room, Social Emotional Learning Practitioner Susan Mazur is essential to supporting students' emotional well-being.
Additionally, Mazur offers insight into social-emotional learning as part of the Marion Meditation Room experience.
"Our approach involves practicing restorative techniques with students and training staff members to provide appropriate support in the meditation room," said Mazur. "Our staff will be able to recognize when to offer support and when to allow space. We will prioritize balancing both."
By creating the Marion Meditation Room, Marion-Franklin has demonstrated its commitment to supporting its students' well-being and ensuring they can access to the resources they need to thrive.
The Marion Meditation Room is a significant resource for sophomore Georgia Gillum and her classmates.
"Marion-Franklin holds a special place in my heart because of the meditation room," said Gillum. "I know whenever I need to take a personal break, to decompress when life gets overwhelming, that I can come here to relax and recharge. The Marion Meditation Room will be a valuable resource for all students at our school."
---